How One Business Professor Merged His Expertise and Passion to Create a Healthcare Management Simulation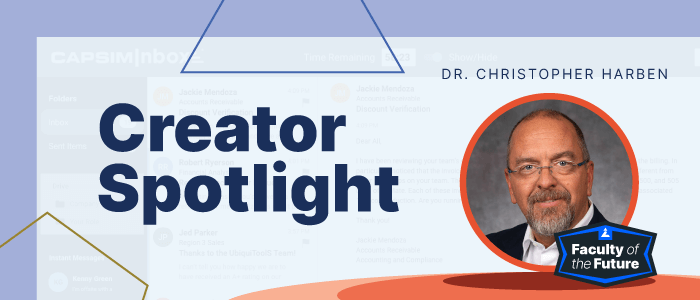 Throughout his career, Dr. Harben's commitment to hands-on learning has remained a common thread in his experiences. It's even what drove him to become an EMT.
"When I was at Bowling Green, I used to work on an ambulance a couple of days a week in between teaching," Dr. Harben began. "I didn't make much money. But I was passionate about helping people hands-on."
But when it came to learning in the classroom, he had a stark realization:
"Academia doesn't always do a great job connecting to the real world," Dr. Harben began. "We're very strong at transferring knowledge based on books and cases, but we don't always look for ways for students to benefit from real-world experience. And unless I'm going to go out there and create a business and have students work in the business with me, simulations are the best way of doing it."
How One Professor Proved Hands-On Learning Prevails as Real-World Learning Experiences
This realization led him to start using simulations early in his teaching career.
"Simulations allow students to get the experience without accumulating the risk of experience," Dr. Harben shared.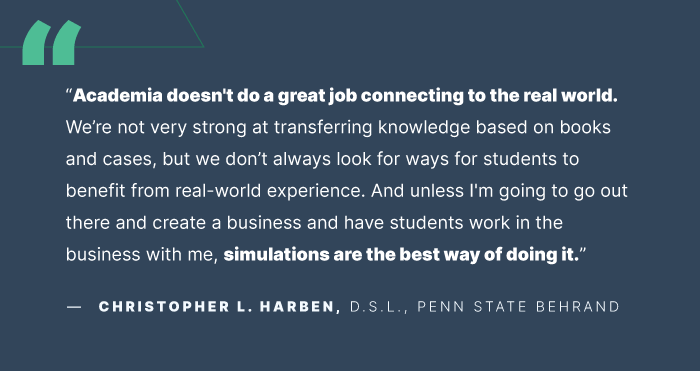 "You need a way for students to be able to connect to the real-world aspects of it. Simulations are a natural fit to my philosophy about what I think is important in teaching."
The Pandemic Elevated the Importance of Classroom Engagement
After experiencing teaching in a pandemic, simulations emerged as even more important. "We realized we had to teach differently," The days of students sitting and nodding their heads while instructors talk to them are long gone. And, Dr. Harben added, that doesn't translate well to live, remote instruction.

When it comes to remote classes, educators need a way for students to be able to connect to the real-world aspects of learning. "If it has a connection to the real world, students are going to be a lot more interested than if your instruction is all theory-based," Dr. Harben said. "More importantly, real-world application gives an example of how that theory works."

Dr. Harben's love for sims may be more than most. From teaching a business strategy seminar in Ghana to conducting student interviews for "CEO" positions to lead Capstone groups, he looks to incorporate simulations whenever possible.

Ever since his first day in the classroom, Dr. Harben has continued to be a long-time user and advocate of Capsim's tools, integrating Capstone, GlobalDNA, and CapsimInbox into his courses. While Dr. Harben was a hands-on learning advocate from the beginning, a new simulation authoring tool from Capsim opened up his mind to even more possibilities.

When Harben first learned of the CapsimInbox Authoring Platform, he knew this was the perfect opportunity to take his love for simulations to the next level.
"Anytime we can find a way for students to get their hands dirty, figuratively, that's a good thing. And that's why these simulations are so valuable," Dr. Harben shared. "CapsimInbox is designed for participants to experience stress. If learners open up the platform and see a flood of emails they have to deal with, they have to figure out how to prioritize. That's real life."
After seeing the CapsimInbox Authoring Platform, Dr. Harben knew he had to create his own simulation to take advantage of the innovative technology at his fingertips. But he also knew that the technology itself wouldn't teach his students.
"The effectiveness of a simulation, I think, is directly related to how well a professor uses it. The sim in and of itself isn't going to produce those 'aha moments,'" he began. "But the sim, coupled with an engaged professor can create those 'aha!' moments."

Dr. Harben combined his experiences from the healthcare industry and his passion for teaching to bring the intertwined worlds of business and healthcare to life for his students.

Experience a sample of CapsimInbox: Healthcare Administration. Choose and submit a response below.
But What to Build? A Diversity of Experiences.
In addition to teaching business, Dr. Harben has been immersed in the world of healthcare.
He worked toward his EMT training while earning his doctoral degree in Strategic Leadership. While Dr. Harben comes from a business background, he has a family deeply embedded in the medical field. With his mom as a nurse, his dad as a former paramedic, his brother as a physical therapy assistant, and his sister as a perfusionist, it's safe to say Dr. Harben is familiar with the medical world.
The self-proclaimed "learning-by-doing" type even provided hospital systems with management and leadership consulting throughout his career.
He came to a realization. "I can speak the language of the medical world pretty well. I look at it as a business. It's not counterintuitive to think that some training to improve administration in a healthcare setting is also a business interest because really, everything is a business in some sense," Dr. Harben said.
Dr. Harben thought back on conversations he had with hospital CEOs, medical staff, and his family when he realized there was a gap that needed to be filled. Each hospital system he worked with had someone responsible for the patient care experience.
But what ends up hurting hospitals the most, he realized, isn't so much whether or not the medical treatment is correct. It's how the patients are treated. Were they offered water? Were they asked if they were comfortable? Did the nurse or attending physician inform the patient of what medications they could expect in the next four hours?
A hospital was a business, too, Dr. Harben realized. Patients are their customers.
And the experiences patients had with hospital staff directly impact the hospital surveys and ratings. All of those interactions and conversations filtered into content to build CapsimInbox: Healthcare Administration.
Dr. Harben set out to merge the worlds of business within the healthcare industry and simulate the "hands-on" aspect from his experiences as a healthcare consultant.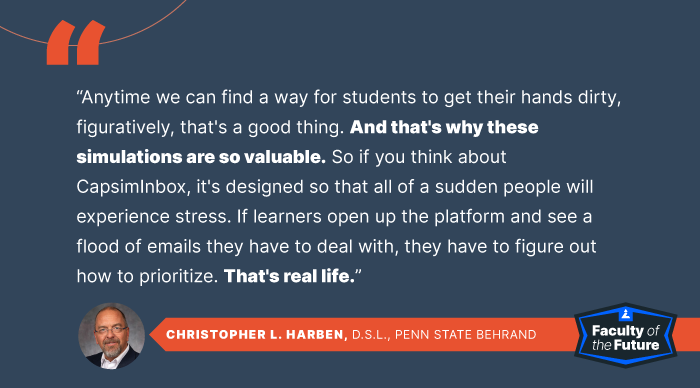 Under the Hood of CapsimInbox: Healthcare Management
The Role
In CapsimInbox: Healthcare Administration, participants experience a simulated day in the life as the Vice President of Operations at Frederick County Health System's Smithville Hospital location.
The Scenario
Tasked with improving the financial position of the hospital, participants take actionable steps to improve the quality of care as the "face" of Smithville Hospital for public events.
The simulation incorporates fiscal and budgetary responsibilities and budgeting the hospital's needs to include staffing, HR issues, stocking medical supplies, and addressing medical staff concerns.
The Skills Assessed
Throughout the experience, participants will master the soft skills necessary for a future career in the medical field.
Delegation: Properly choosing the right person for the situation
Leadership: Establishing the Vision of the organization & motivating others
Problem Solving: Exhibiting sound judgment by developing an understanding of situations
Prioritizing: Choosing the right thing to do at the right time in the best order
Bring Your Expertise to Life in the CapsimInbox Authoring Platform
Dr. Harben's story illuminates how you can bring your expertise and passions to life for students–without stepping foot outside the classroom.
In a matter of minutes, participants delve into realistic roles and navigate the challenges they can expect to face after graduation. And the best part? It's risk-free. Learners can make mistakes–and learn from them–without adverse repercussions.
CapsimInbox is the best simulation tool to expose participants to real-world challenges and scenarios. The authoring platform offers you an easy way to build simulations around specific skills and roles you want learners to experience.
Dr. Harben shared more of his insight on why he created CapsimInbox: Healthcare Administration and offered advice on integrating it into your course. Click here to view the webinar.
We also have a suite of off-the-shelf inbox simulations ready to be incorporated into your classrooms or workplace. If you have an area of expertise you're passionate about, you can start building with a free account on the CapsimInbox Authoring Platform today!