From "Textbook Traditionalist" to Simulation Author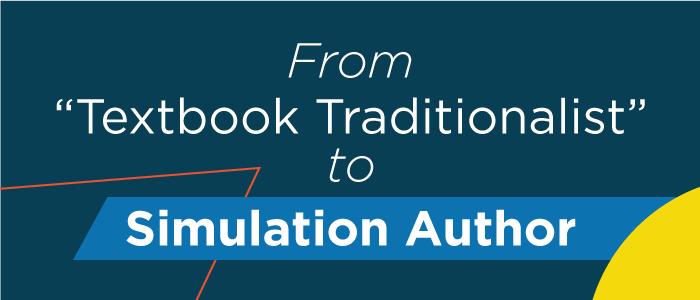 Although Dr. David McCalman is a long-time user of simulations and a believer in experiential learning, he still considers himself a traditionalist.
"I'm a traditionalist too, by the way. I always use a textbook," Dr. McCalman, Assistant Professor of Management at University of Central Arkansas, said. "I'm not a non-textbook, brave-new-world kind of Professor," he said with a chuckle. "I teach with traditional methods as well, but I certainly am always looking forward to supplements that can help."
Dr. McCalman once served at an institution that received about a million-dollar grant to look at various pedagogical tools. He assessed many existing solutions on the market, but none of them hit the nail on the head–until he found CapsimInbox.
"I wasn't always that impressed. But the Inbox platform is fantastic," he said.

While many authors have different building methods, Dr. McCalman had another approach when building CapsimInbox: Managerial Accounting.
The management professor at University of Central Arkansas and author of CapsimInbox Managerial Accounting saw the value of making textbooks come to life with experiential learning.
Dr. McCalman realized the foundational knowledge from textbooks provides a great starting point to create engaging experiences that deepen and accelerate student learning. CapsimInbox is a vessel for professors and educators to bring key concepts to life in a real-world context.
After looking at about half a dozen latest-edition accounting textbooks, Dr. McCalman wanted to hit some of the salient skills common across the texts typically found in course curricula. Those consistent skills that emerged were the basis for Dr. McCalman to recreate a managerial accounting realm for his students to grasp.
"'Perfect,' I thought. 'Accounting is begging for something like this, as far as I'm concerned.'" Dr. David McCalman has been using Capsim products for over a decade.
He set out to recreate a day in the life experience for his students' future selves–as accountants.
"Simulations deepen and accelerate learning when a student is receiving emails and instant messages from people that they work with," Dr. McCalman said.

Students experience the realistic role of Senior Accountant at a consulting firm.
In CapsimInbox: Managerial Accounting, students experience a day in the life as a Senior Accountant at a consulting firm that performs a variety of services and specializes in asset valuation and acquisitions.
Dr. McCalman chose an accounting position that allows for a broad range of activities and interacting with company leaders ranging from CFOs to fellow accountants.
As the firm contemplates a recent significant acquisition, participants must understand and assess the firm's financial health, costs, and profitability of various product lines. Participants are responsible for managing duties across multiple divisions, and they must report and communicate with several team members across various departments.
After investigating for commonalities across curriculums from experts in the accounting field and their approach to teaching and course design, Dr. McCalman wanted his scenarios to measure in-demand skills, including managerial decision-making, cost concepts, financial statement analysis, budgeting, and business communications. The simulation challenges students to capture and analyze business operations to provide valuable financial insights for profitability.
With assessment at its core, there's even value in using CapsimInbox as pretest and post-test assessment tools in classrooms.
"You can begin a class knowing where students land in terms of their competencies," Dr. McCalman began.
Over the quarter or semester, a post-test reveals the progress students made by once again assessing key skills and competencies.
Pressing demands and realistic characters make Capsim stand out.
In addition to textbooks and simulations, Dr. McCalman incorporates traditional experiential exercises with role-playing team projects in his MBA-level Organizational Behavior class. He also uses online simulations in his strategic management courses.
But it's the human actors, simulated clients, and bosses sending questions, requests, and pressing demands into a student's Inbox that "grips students in a way that conventional methods do not," Dr. McCalman said.
"The students—including students that openly confessed that they hated accounting—had a much better time with CapsimInbox," he said with a chuckle.
What's Next in Simulation Building
He's Capsim's first author to continue the narrative and characters from one CapsimInbox world and bring them into another. Dr. McCalman is extending the fictitious universe he built in CapsimInbox: Managerial Accounting into another business focus. The same bosses and CFOs that hounded students with high expectations in managerial accounting will be coming back for more—in the realm of finance. Students who took his previous courses will connect their engaging learning experiences with his fictional world.
In the future, he's looking to continue building momentum with his familiar characters and businesses for an international business microsimulation.
Start using CapsimInbox in your classrooms today.
Now that you've read how Dr. McCalman built CapsimInbox: Managerial Accounting, what's holding you back from engaging students with simulations in your classroom? Get writing with the CapsimInbox Authoring Platform. Your budding career as an author awaits.