Can Inbox Simulations Parallel the Real-World? See What One Engineer Has to Say.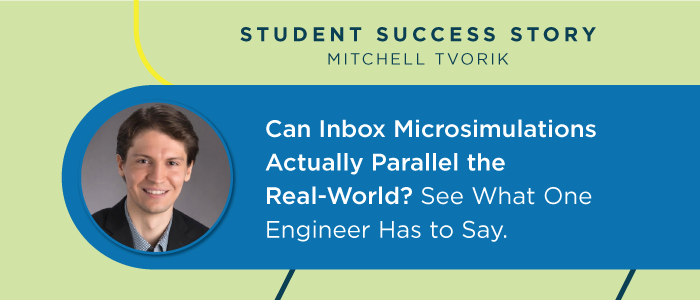 After earning a Bachelor's degree in engineering from the University of Michigan, Mitchell Tvorik knew a world beyond engineering awaited. Spending countless hours drawing up ventilation system plans and creating improved prototype nutrunner tools wasn't the future he envisioned. He wanted to become more than an engineer.
Mitchell wanted to learn more about the business side of engineering and have a hybrid experience to see the cross-functional impacts of integrating science principles with business. At the beginning of 2019, he started his hunt for MBA programs.
Initially, he hoped to pursue a local program within driving distance, for in-person learning. He searched for face-to-face interactions with professors, networking with other students, and natural engagement in the classroom. But now it's all online.
"With COVID, everything is," Mitchell said.
Although in-person learning is no longer an option, a realistic experience still is.
At Baldwin Wallace University, Mitchell signed up to take Dr. Lori Radulovich's Business Analytics course, where he experienced an analytics simulation.
The CapsimInbox Business Analytics inbox simulation helps learners get up to speed in the world of analytics. Students enter a day in the life of a Sr. VP of Brand Management in charge of sales in two different markets due to a recent merger. Learners evaluate the success and profitability of existing product and service offerings and provide recommendations for financial growth.
Mitchell found the simulation reflective of his current role as a Manufacturing Engineering Manager at nVent, a high-performance electrical company, where he works with product marketing managers on various projects.
"It felt like I was looking at Outlook in my normal day," Mitchell said. The simulation resembled what he realistically found on his screen during work, with IMs popping up in the corner and a collection of emails waiting eagerly in his inbox.
The plant manager in the simulation conveyed messages reflective of what Mitchell encounters daily in his role. Emails similar to ones he receives from an operations standpoint and aspects of a company he's involved with daily.
"Honestly, much of the content presented in the emails you hear about in the real world," he said.
Learners might encounter problems such as increasing capacity and distributing a higher volume of products because the commercial teams managed to exceed sales expectations.
Students Embrace Experiential Learning
"I learn better by doing and putting things into application," Mitchell said. "You can talk about components in class, but without getting a job and seeing it all firsthand, the simulation provides students with how these scenarios play out in the real world and how they're relevant."
Mitchell works as a manager in the real world, where he frequently faces challenges, strategizes, and delegates tasks. Yet despite his real-world experience, he was struggling to delegate within the simulation.
"In the back of my mind as a manager, I was overloaded in the simulation, but in the simulation, I would stop giving my colleagues work," Mitchell said.
He'd receive an email with three or four options with how to proceed. Often, what seemed like the best way to move forward, whether that included conducting a regression analysis or adding a component to the simulation, was preceded by guilt in overloading one specific colleague with more work.
The email environment isn't real. But the characters behind the email messages adopt differentiating tones and styles to make them seem as if they are.
"Because it seemed like an actual person in the simulation, I was concerned about overloading them with tasks," Mitchell said.
CapsimInbox serves as a safe space for students to practice the coworker interactions they'll experience in the workforce. The stakes are low, but the potential for learning remains high.
Simulation-based learning creates well-rounded students who can adapt to any situation or job opportunity. CapsimInbox engages and develops students in a simulated email experience that measures critical career skills with every reply.
Learning with Capsim develops skills that translate to the real-world. We challenge students with simulation-based learning that parallel what they'll experience long after they receive their diplomas.
We love to hear about the success of our students and professors. If you have a story you'd like to share, click here.