Capsim Challenge Winners Show Top Requirement for Management: Resilience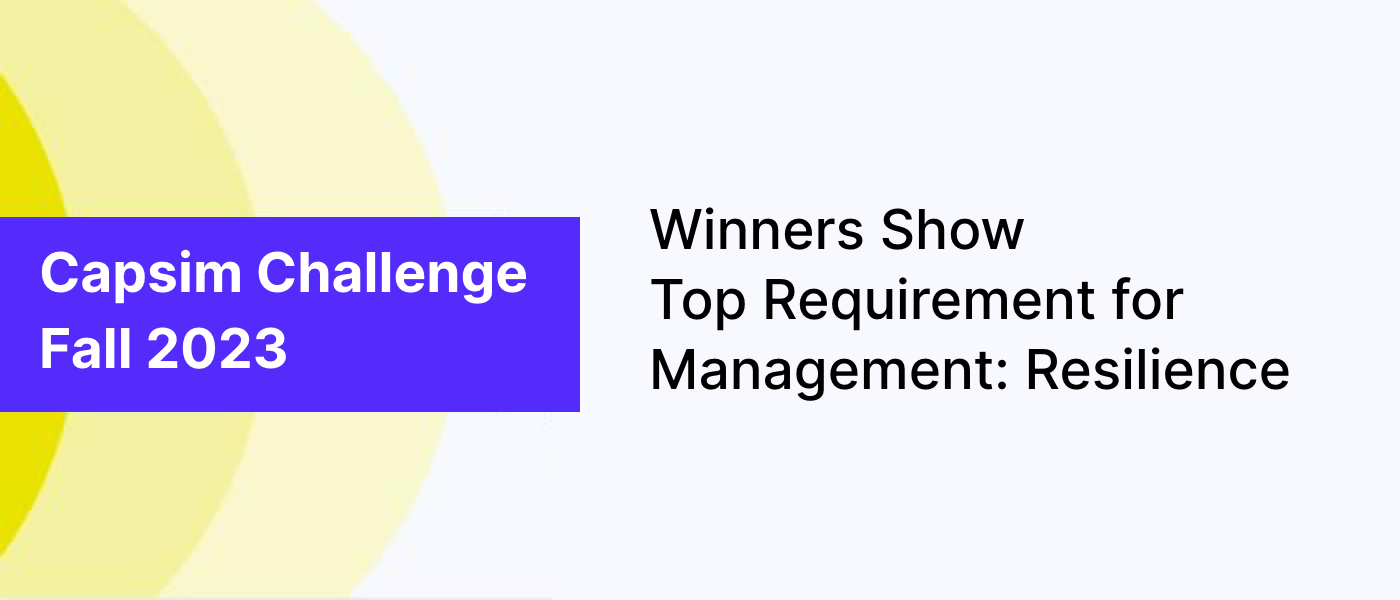 Winners of the 2023 Capsim Fall Challenge demonstrated one of the most sought-after qualities for managers and executives in a risky business environment – resilience. Finalists made eight years of executive decisions for their simulated companies in eight hours straight, under intense pressure.

To join the Challenge, more than a thousand participants repeated a class assignment in their own time, risked facing off against fierce international opposition and, in every round of the simulation, confronted major shifts in their market, competitive position and external economic environment.

A team from Hong Kong University of Science and Technology: Nicole Hong Li, Curtis Ju Wu, Kenny Changming Chen and Ferris Ming Yin Ho – students of Professor Kei-Lung Hui – won the Capstone 2023 Fall Challenge. Mohanad Hany from the American University in Cairo – a student of Professor Irene Shaker – won the Foundation 2023 Fall Challenge.

Challenging competition schedule

This Fall Challenge had a high participation rate from students all over the world with numbers returning to pre-pandemic levels. Finalists in both Capstone and Foundation Business Simulations competed on Saturday November 18th over an eight hour period, during daylight in the United States. For the winning Capstone team in Hong Kong, however, that meant making decisions every hour from midnight Saturday to 8am Sunday morning. The winning Foundation player in Cairo, Mohanad Hany, worked from 6pm Saturday evening to 2am Sunday morning.

"These students weren't daunted by the schedule," said Capsim President Reda Chafai. "They excelled not only in applying what they've learned in business school, but in demonstrating flexibility, persistence and fast, but well considered, tactical responses – all on the fly. These qualities demonstrate their resilience under pressure."

On behalf of her team, Nicole Hong Li said the schedule was "a bit tough," however:

"It is an amazing business simulation game to teach us comprehensive insights for business decision making and high-level teamwork execution."

Executives-in-training

Nicole said everyone in her team was working towards becoming an executive, but in very different industries. "Capsim trained us with P&L experience and in making business decisions as the basic management skill to help make us great executives," she said. "It's a challenge to build competitive strategies in a dynamic market against tough competition."

Mohanad Hany said his career goal was to open his own business: "The Capsim Challenge indisputably helped me by giving me an idea of how to take decisions for my company in all departments," he said. "It offered me the chance to be able to analyze the market before making my move in order to get the optimal results."

When Professor Kai-Lung Hui suggested Mohanad sign up for the Challenge, "I was filled with enthusiasm and excitement," he said, "to enter a global competition in something I enjoyed – and to try my best to win a significant position worldwide."

Resilience – illusive but critical

"Resilience is a difficult quality to recruit for, but one of the most important qualities for a manager to have," Mr. Chafai said.

"Resilience is the capacity to bounce back after a challenge, or even a disaster, and to learn from the experience. It is having the flexibility to take that learning with you into the next problem, but to allow it to evolve and change as the next crisis unfolds. It's flexibility to meet the high levels of disruption and business risk in the world's economies. Business people who can respond to shifts and shocks, from the inside and the outside, are invaluable."

Professor Bindu Kulkarni, whose students have reached the finals in this and earlier Challenges, said: "We believe the Capsim Challenge gives students an opportunity to practise integrative thinking and decision making while competing to outperform competition. It helps them to become better decision makers, risk takers and good team players who can play multiple roles."

Professor Larry Chasteen, who has also seen his students in the finals multiple times, said: "Detailed data analysis is required for a winning score since there is no such thing as a 'gut' decision in this game. The simulation improves critical thinking skills since you must watch the other competitors and then react to them — just like in the real world."

About the Capsim Challenge

The bi-annual Capsim Challenge is open to all students who have completed a Capsim Simulation in their course in the last 12 months. The Fall 2023 Challenge attracted students from universities in Australia, Canada, China, Egypt, England, India, Hong Kong, Indonesia, Malaysia, Mexico, South Korea, South Africa, Thailand, Turkey and the United States. All past winners are listed in the Capsim Hall of Fame at http://www.capsim.com/events/challenge/#/hof.
Final results for Capsim's Fall 2023 Foundation® Challenge:  
| | | | | |
| --- | --- | --- | --- | --- |
| Place | University Name | Name(s) | Professor | Balanced Scorecard |
| 1st | The American University in Cairo | Mohanad Hany | Irene Shaker | 612 |
| 2nd | Brigham Young University - Idaho | David Turner | Brian Page | 609 |
| 3rd | Bowling Green State University | Ben Heitkamp | Jeffrey Snyder | 516 |
| 4th | University of Texas - Dallas | Angelina Mackinaw | Larry Chasteen | 398 |
Final results for Capsim's Fall 2023 Capstone® Challenge: 
Place

University Name

Name(s)

Professor

Balanced Scorecard

1st

Hong Kong University of Science and Technology

Nicole Hong Li, Curtis Ju Wu, Kenny Changming Chen,

Ferris Ming Yin Ho

Kai-Lung Hui

705

2nd

University of Johannesburg

Christy Tadiwa Pendehan

Leon Janse Van Rensburg

637

3rd

Indiana University-Perdue University Indianapolis

Elise Scrogham

Ricardo Guimaraes

589

4th

New Mexico Highlands University

Lucinda Ulibarri

Emmanuel Nkwenti-Zamcho

579

5th

Narsee Monjee Institute of Management Studies

Akanksha Raje Sanjana Bhagtani Sarthak Kumar

Somya Kothari

Nitin Balwani

557

6th

S.P. Jain Institute of Management & Research

Jagannath Srikanth

Sai Krishnakanth KR

Sanyukta Giri

Sawat Mohapatra

Sundar Rajan

Bindu Kulkarni

556