Proven Skill and Tenacity are Differentiators in the Job Market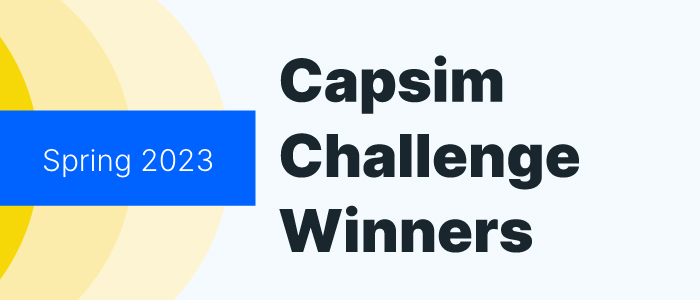 They may be graduating under the cloud of looming recession and into a market contorted by environmental, geo-political, and operational challenges, but winners of the 2023 Capsim Spring Challenge have demonstrated they have the skills and tenacity to succeed in business under any conditions.
Chun Yui Lai and Synge Chin Pok Lam from Hong Kong University of Science and Technology – students of Professor Theodore Clark – won the Capstone Spring Challenge. Shriram Balaji, from Bharathidasan Institute of Management, India – a student of Professor R Subramanian – won the Foundation Spring Challenge.
High-intensity competition
All finalists in both competitions earned their way to the playoffs last weekend from a field of close to a thousand business students from around the globe. The complexity of the competitive business case was ramped up to include labor negotiations, HR and quality management decisions along with recessions in each scenario – a double recession in Capstone. Both competitions required decision rounds every hour for eight hours straight. In the majority of the ten countries represented in the finals, that meant students working overnight.
According to Professor Brian Rohrs, from Bowling Green State University, which has reached the finals for twelve semesters in a row, the extra effort is worth it for students who need to differentiate themselves from their competition in the jobs market.
"During the interview process, students can draw on their Capsim experience to discuss decision making under uncertain conditions, data analysis, and interpretation, working in teams . . ." Professor Rohrs said. "Having "lived through" these experiences makes students more comfortable discussing the situations in an interview."
"Scratching the itch" to go above and beyond
Not only do all students who complete the Challenge repeat a classroom assignment in their own time, they experience running their virtual companies through complex market dynamics while maintaining the enthusiasm to keep improving.
According to Professor Simon Fraser of the University of the West Indies: "This is my only class in 22 years of teaching where students ask to do more at the end of the semester; they are always asking for extra rounds. The Challenge lets them scratch that itch," he said.
"If they do well, their participation is a real differentiator in interview sessions.  There is nothing like being able to say they placed in the top percentile of a global management competition."
Bridging the theory/practice gap
Professor R Subramanian, with a winner in the Foundation Challenge and finalist in Capstone Challenge, said: "This simulation game creates an environment where students can fill the gap between their visualized map of the complex relationships among business functional areas and the virtual business situations.
"Capsim could be rated as one of the best strategy games available today in terms of integrating business functional areas, providing scope for building brands, understanding competitive dynamics, behavior of group members and group dynamics, and finally measuring business performance using Balance Scorecard."
Stepping up to responsibility
Professor Douglas Reid, from Queens University, whose student came runner-up in the Foundation competition, said a benefit of the simulation experience is watching students step up to take responsibility for the consequences of their decision-making.
"I want students to experience as realistic a competitive environment as can be created in a real or virtual classroom," Professor Reid said. "It lets my students become more comfortable with making decisions and owning the results of their choices."
Competitive advantage in the interview room
Professor Krit Patamaroj of Thammasat University in Thailand said: "By simulating the complexities of running a business, students learn how to make strategic decisions, manage resources, and balance competing priorities. They also develop skills in data analysis, communication, and critical thinking, which are all highly valued by employers."
Feedback from his students proves the point: "One student, who now works in finance, credits the simulation with teaching him how to analyze financial statements and make investment decisions. Another student, who works in marketing, says that the simulation helped her to develop a strategic mindset and understand the importance of market research."
Professor Raveh Harush from Bar-Ilan University in Israel, whose student was runner-up in the Capstone competition, said, "Students experience, reflect, and learn in iterations, they must use complex and integrative thinking about strategy, internal integration, and competition, learn to work as a team effectively, and, most importantly, they play and have fun while learning!"
One of Professor Harush's student finalists, "was asked about their experience in the Capsim challenge in his job interview for a CFO position. It was a signal of his motivation and ability to push for excellence in his professional challenges. He got the job!" 
About the Capsim Challenge
The bi-annual Capsim Challenge is open to all students who have completed a Capsim Simulation in their course in the last 12 months. The Spring 2023 Challenge attracted students from universities in Australia, Canada, China, Egypt, England, India, Hong Kong, Indonesia, Israel, Malaysia, Mexico, South Korea, Thailand, Trinidad and Tobago, Turkey and the United States.
All past winners are listed in the Capsim Hall of Fame at http://www.capsim.com/events/challenge/#/hof.
Final results for Capsim's Spring 2023 Foundation® Challenge:
Place

University Name

Name(s)

Professor

Balanced Scorecard

1st

Bharathidasan Institute of Management, India

Shriram Balaji

R. Subramanian

731

2nd

Queens University

Scott Justason

Douglas Reid

686

3rd

American University in Cairo

Mazen Tawfik

Irene Shaker

682

4th

Bowling Green State University

Steven Holly

Brian Rohrs

605

5th

University of Vermont

Bryant Kroeger
Alex Siaton

Rick Vanden-Berg

497

6th

Istanbul Kültür University

Alptug Beteroglu

Fadime Uney-Yuksektepe

391
Final results for Capsim's Spring 2023 Capstone® Challenge:
Place

University Name

Name(s)

Professor

Balanced Scorecard

1st

Hong Kong University of Science and Technology

Chun Yui Lai
Synge Chin Pok Lam

Theodore Henry King Clark

786

2nd

Bar-Ilan University

Natali Cohen
Ofir Ben-david

Raveh Harush

656

3rd

The University of the West Indies

Adon Wilson

Simon Fraser

652

4th

Bharathidasan Institute of Management, India

Haree Krishnan M

R Subramanian

563

5th

T A Pai Management Institute (TAPMI)

Niharika Jayanthi

Shyam Ranjan Shetty

554

6th

Thammasat University

Teerapong Pheungsang

Krit Pattamaroj

460