Capsim Wins Gold and Silver in the 2020 Brandon Hall Group Excellence Awards in Technology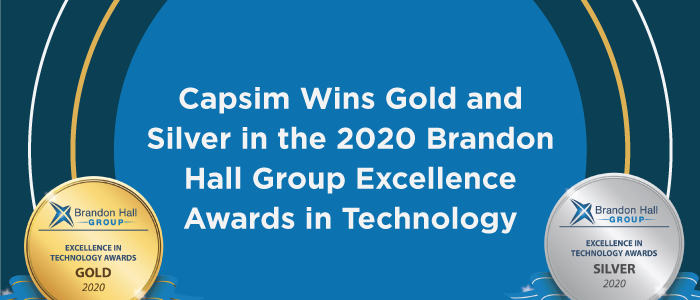 Capsim, a leader in business simulation technology, won coveted Brandon Hall Group Gold and Silver for Excellence in Content Authoring Technology, Emerging Learning Technology, and Gaming or Simulation Technology.
The Excellence Awards feature two annual programs that recognize the best organizations that have successfully deployed programs, strategies, modalities, processes, systems, and tools that have achieved measurable results. The awards attract entrants from leading corporations around the world, as well as mid-market and smaller firms
Brandon Hall Group announced Capsim's awards on December 10, 2020. Visit the full list of award winners here.
Capsim's mission to help educators engage, assess, and develop learners with real-world experiences aligned with Brandon Hall Group's vision to inspire a better workplace experience. Like Brandon Hall Group, Capsim strives to empower excellence in organizations worldwide through simulation-based learning experiences every day.
Many companies are turning to Learning & Development for a sustainable and competitive edge in the marketplace. Hiring the best talent doesn't always work anymore. To be successful, training programs need to effectively train the skills that matter most. Turns out, organizations spending $359 billion globally on training still isn't enough. Not when just 12% of employees apply the skills they learn in training.
CapsimInbox gives companies a safe but realistic environment to evaluate soft skills in a context that mirrors their own organization–enabling them to more effectively allocate training resources and match skill profiles to job functions.
With CapsimInbox, learners experience real scenarios in the context of a day in the life of a role at their company, before having to step foot in it. Feedback reports display participants' performance in the simulation compared to others for more in-depth analysis of skill levels.
"We help organizations leverage their greatest assets to the fullest extent, which is their employees," shared Capsim's Director of Marketing, Evan Meyer.
Brandon Hall Group's Technology Fall Program emphasized a dedicated focus on entries from solution providers offering technologies to learning, talent management, talent acquisition, HR, workforce management, and sales enablement organizations, and technology organizations and departments.
Other contestants in the winning categories included Adobe, Metlife, and Proctor & Gamble, among other competitive products.
"CapsimInbox immerses learners into real-world scenarios in business. Our interface allows users to bridge the gap between knowing and doing," shared Brendan Langen, Capsim's Director of Product Design and Development. "Participants come face-to-face with communication, critical thinking, and problem-solving in an environment where the stakes are low, and the learning capacity is immense."
A panel of veteran, independent senior industry experts and Brandon Hall Group senior analysis and executives judged entries based upon the following criteria:
Product: What was the product's breakthrough innovation?

Unique differentiators: What makes the product unique, and how does it differ from any competing products?

Value proposition: What problem does the product solve and/or what need does this product address?

Measurable results: What are the benefits customers can expect to experience as a result of using this product?
We're Honored to be Honored.
The Excellence in Technology Awards are for companies that develop or implement a technology that measurably impacts Learning & Development, Talent Management, Human Resources, Sales Functions and Business Operations. Solution providers and user organizations that successfully deployed programs, strategies, modalities, processes, systems and tools are invited to submit applications.
"Technology always provides the opportunity to improve human capital management practices within organizations," said Rachel Cooke, Brandon Hall Group Chief Operating Officer and head of the awards program. "This year, we have seen rapid changes in the workforce due to the COVID-19 pandemic. In most cases, it was technology that enabled organizations to rapidly respond."
The 2020 Fall Excellence in Technology Awards Program includes 70 categories in six program areas:
The Future of Work
Learning & Development Technology
Talent Management Technology
Workforce Management Technology
Talent Acquisition Technology
Sales Enablement Technology
For more information about Brandon Hall Group's Fall 2020 Excellence in Technology Awards Program, visit their website.