Flight Now Boarding for CapsimInbox: Financial Management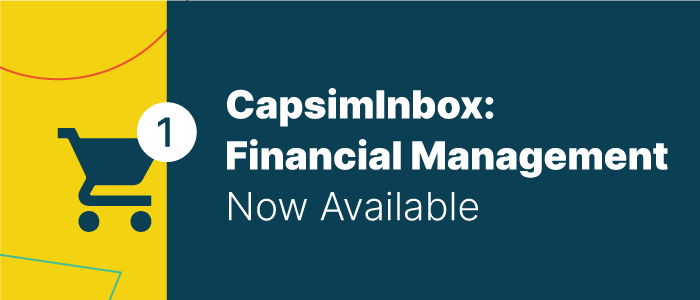 This November, you can give your students the chance to put their financial skills to the test with CapsimInbox: Financial Management.
Dr. David McCalman, Assistant Professor of Management at the University of Central Arkansas, considers himself a traditionalist. "I always use a textbook. I'm not a non-textbook, brave-new-world kind of professor," he said with a chuckle. "I teach with traditional methods as well, but I certainly am always looking forward to supplements that can help."
And one of those supplements, he realized, was the simulation-based learning experiences he built with the CapsimInbox Authoring Platform.
The Role Participants Play
In the simulation, participants experience a simulated day in the life of a Financial Consultant at a firm that specializes in asset valuation and acquisitions. Learners are tasked with managing one of the firm's largest clients, during which they will analyze key financial statements, conduct valuations, and evaluate profitability to provide key strategic solutions regarding potential acquisitions.
The simulation incorporates basic financial concepts and terminology, such as cash flows, debt structures, valuation, dividends, and profitability.

The Skills Assessed
By the end of the simulation, participants can expect to have a greater understanding of the following skills:
Valuation
Time Value of Money
Capital Budgeting
International Finance
Capital Structure
Long-term Finance
Working Capital Management
Get Started Today!
Interested in CapsimInbox: Financial Management? You can Pilot the version today by signing up here. The version is also available for easy checkout in your shopping cart.
If you're a subject matter expert in your field of interest, you can build your own microsimulation in our free authoring platform. Your CapsimInbox might even be the next version we feature in our Pilot Pass!
Getting to Know CapsimInbox: Financial Management
We're thrilled to share CapsimInbox: Financial Management with you. To hear directly from the author himself and why Dr. McCalman decided to create this version, visit our webinar.