How an Operations Management Instructor Built an Inbox Simulation to Recreate Real-World Problem-Solving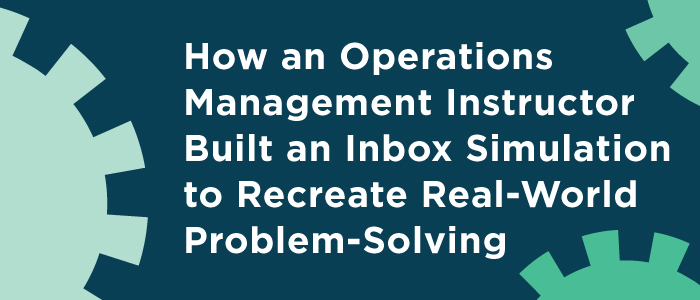 "A lot of people get distracted by symptoms. Much like the medical field, you're seeing doctors trying to figure out the root cause of the problem," Joshua Dwight, Associate Faculty at City University of Seattle said.
"You're doing the same thing in operations management with problem-solving," he said. "You're trying to figure out what's really causing this from the very, very root level."
CapsimInbox gives students the chance to look past the symptoms and uncover the root cause of challenges through various problem-solving methodologies.
There's a high probability Professor Dwight used Capsim 15-20 years ago when he was a student in college. At the very least, he remembers using simulation-based learning. Two decades later, City University Of Seattle uses Capsim for several different strategy courses at the Master's level and high-end undergraduate level courses.
Two years ago, when Capsim reached out to individuals to contribute to the CapsimInbox Authoring Platform, Professor Dwight didn't hesitate to say yes. He thought it would be a fun way to collaborate with Capsim and build an operations management version.
Life Before CapsimInbox was Predictable.
Before CapsimInbox, Professor Dwight created storylines and developed case studies with a series of videos. CapsimInbox provided him with a real-world vehicle to transition his stories from videos and bring them to life in his engaging simulations–something he was already trying to do on his own in a makeshift way.
"CapsimInbox is a more interactive kind of case study," Professor Dwight shared.
"What I tried to do specifically in CapsimInbox: Operations Management? Give my students a real-world feel. Luckily, that's exactly what Inbox does by giving students all these emails," he said.
He throws students into a simulation where they may be chasing after five different tasks and responsibilities. As a process manager, learners often aren't limited to one single area they're investigating. "You're basically going all over the place trying to solve this problem," Professor Dwight said.
The building process in four words: "A very long decision tree," Professor Dwight said with a chuckle. Professor Dwight wove three narratives together with an overarching spotlight on problem-solving.
He took the most pressing problem the organization faced–and challenged his students to concentrate on solving it.
He also brought in his real-world experience as a former eCommerce Program Management Lead at Costco and an Industrial Engineering Methods Analyst at Boeing.
"I looked at incorporating in my experience, working in manufacturing airplanes, technology, and operations, to tie into different points of the decision-making process."
"There might be a little thread in the industry that leads you down one path, and it might lead you down another trail across the organization until you can finally figure out where the problem is coming from", Professor Dwight shared. "And that's what I tried to do was weave the student through different areas in operations until they could make a decision."
Professor Dwight's primary goal in creating CapsimInbox: Operational Management was to create an arena students could use to practice problem-solving.
Throughout his course, Professor Dwight challenges his students with the Socratic method–asking a series of why's. The investigative practice gets to the root cause of issues–something students will benefit from knowing in the working world.
He incorporates challenges to help students grasp key skills like:
Problem-solving

Problem definition

Classification

Root Cause Analysis
"A lot more students take away from simulation learning experiences rather than just reading and regurgitating," Professor Dwight said.
CapsimInbox Prepares Students for Life Beyond Graduation
"I built CapsimInbox to show our students what the real world is like. But also, Inbox is appropriate for new people and new staff that might not have gone through the traditional education route," Professor Dwight shared.
He aims to provide students with an inkling of issues and remind them it's ok not to know everything. "Students realize they have to rely on subject matter experts and be able to communicate–which is sometimes difficult," Professor Dwight said.
The simulation is also a reality check. "If you're thinking you're going to jump right into strategy when you step foot into an organization straight after graduation–that's not going to happen," Professor Dwight said. "You have to solve problems at whichever level you're at."
Getting to Know CapsimInbox: Operations Management
In this webinar, Professor Dwight and the Capsim team provide a general overview of the various skills assessed, the scenario, and the role students play throughout the microsimulation. This webinar also shares a top-level overview of what the CapsimInbox Authoring Platform looks like behind the scenes.