How One Business Professor's Fight Against 'Production-Line Education' Led Him to Build an Immersive Marketing Inbox Simulation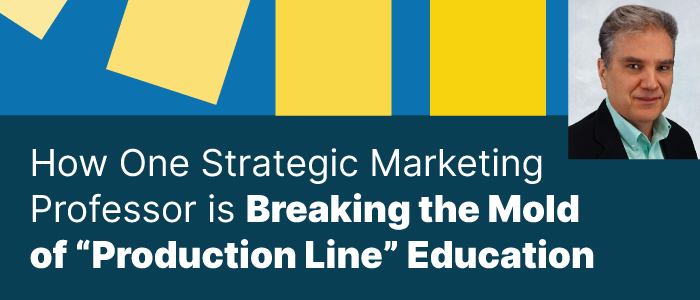 Strategic Marketing Professor Jim Kourmadas was on a quest to break the typical 'production-line' approach to business education. He wanted to meaningfully prepare his students for life after graduation.

He tried virtually every teaching tool under the sun–from textbooks to case studies to traditional simulations–but everything seemed to fall short.

But a catchup conversation with an old colleague led him to learn about a new simulation-based assessment technology that would completely transform the student learning experience.

This is the story of how James Kourmadas, Visiting Clinical Lecturer of Marketing at College of William and Mary, took matters into his own hands and built an immersive inbox simulation that would bring real-world context to the topics he taught while evaluating and developing the essential soft skills his students needed for career success.


Breaking the Mold of "Production Line" Education
As the former VP of Strategic Marketing at McGraw Hill, Professor Kourmadas was well-versed in various instructional tools and methods. Yet, he still saw a massive gap: students weren't learning the essential skills needed to produce career-ready graduates.

"Every student goes through the K-12 production line process," Professor Kourmadas said. While the person is expected to come out as a more developed individual, when it comes time to graduate and get into the workforce, students often have trouble relating their education to the context in front of them in their professional lives.

"Bear with me here," he said with a chuckle. "The way people look at education resembled more of a factory production line. Imagine the student is the raw material, and the University is a factory. The purpose of the factory (or the University) is to take the raw material (the student) and add value (knowledge) to create a finished product: an educated graduate," Professor Kourmadas said. At the end of this process, the impetus is on the student to take their newly found knowledge and apply it to the workplace.

The intellectually messy workplace often provides confusing (or no) feedback on student performance. There are rarely "right" answers to a business problem, but there are usually better ones and worse ones. Professor Kourmadas argues one of the most important aspects, especially for Marketing professionals, is to develop a keen ability to critically analyze a situation from different points of view, synthesize solutions, and dynamically communicate ideas with a sound logical rationale.

The bottom line?

Traditional learning tools were falling short when they mattered most.

But it wasn't from a lack of trying. Professor Kourmadas has seemingly done it all. But no matter what tool he tried, they all had their shortcomings.
No Tools Were the Right Fit for Instructional Approaches that Lasted Beyond the Classroom.
His goal was to provide his students with a learning experience that overcame the most significant challenge–relating his students' education to the context in front of them in their professional lives. And none of his current teaching tools quite got the job done.
Textbooks
"While most instructors still use traditional textbooks as the backbone of their courses, the textbook is becoming a less critical part of the course," Professor Kourmadas said.
"The traditional tools and assessments used in education — readings, essays, exams, research papers, team projects, and class presentations — don't prepare the student for the world they encounter once they enter the workplace," finished Professor Kourmadas.
Case Method
When it came to the case method, it was powerful–and also how Professor Kourmadas learned as a student.
"The problem, of course, is that traditional cases are static," Professor Kourmadas said. "A case is a story of a company at a point in time at some cross-road. The beauty of this is that you can use the case and student analysis in a controlled way to illustrate one or more learning objectives."
Another downside? Students can find crib sheets, cliff notes, and canned presentations on almost every popular case on the internet.
And then there's the problem of relevancy. "Students point to a case study and say, what a grand and brilliant strategic move the company made 20 years ago! But now they're out of business. How do you still use that case?" Professor Kourmadas asked. "You can't."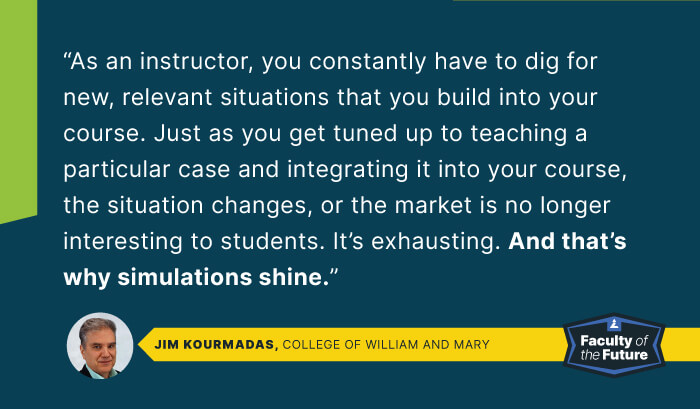 The student said the situation reminded them of the team business strategy simulation project from his course. With pride, the student told Jim, "I was ultimately able to re-frame the problem in a way that made sense to everybody on the team, and we got through it!"

The bottom line? Soft skills are critically important to a Marketer to lead an organization.
Live Cases
To overcome the static nature of the case method, Kourmadas tried lives cases. While live cases served as a powerful way to engage students in real-world examples–companies, markets, and relevant challenges changed more quickly than he could keep up with. And, live cases fell into other challenges like:
Mapping live cases into course learning objectives is tricky. You're not sure exactly what kinds of issues will end up dominating the situation.
The actual results of a company decision may take years to manifest.
If you choose a well-known or popular company among students, it is often hard to get students past their preconceived notions about the company.
Often, publicly available information about a company does not give students an honest inside look at the situation. You end up speculating about what people are doing and why.
"As an instructor, you constantly have to dig for new, relevant situations you build into your course," Professor Kourmadas began.
"Just as you get tuned up to teaching a particular case and integrating it into your course, the situation changes, or the market is no longer interesting to students. It's exhausting. And that's why inbox simulations shine."
Traditional Simulations
Traditional simulations had their merit, but after using them for a while, Professor Kourmadas ultimately decided "the juice was not worth the squeeze." Traditional simulations are great for addressing the interrelationships between marketing decision variables, "but they do not attempt to address the actual personal experience of making and implementing decisions, nor do they focus on how or why the decisions are made," Professor Kourmadas said.

Algorithmically-based business simulation games in marketing have been around for more than 25 years.

"But they have tended to be over-designed and heavyweight by and large," Professor Kourmadas said. The typical simulation involves a student or team of students taking market data, making a set of business decisions sequentially, getting results, and making the next round of decisions until the simulation is over. The students receive a final matrix of scoring that reflects the performance of their sequential choices.
Professor Kourmadas was on the market for a resource that put students' critical thinking and problem-solving skills to the test. But no matter what he tried, the learning experience was coming up short.
How Inbox Simulations Emerged as the Ultimate Teaching Tool
When a former colleague introduced Professor Kourmadas to inbox simulations, he was instantly drawn to the concept. Finally–he found a tool that enabled the transformative teaching experience he sought.

"CapsimInbox sounded like a really neat way to address soft skills and give a sense of real-time urgency to solving problems. And as a way to create assessments and learning objectives around your ability to communicate your decisions," Professor Kourmadas said.

"By and large, a majority of a person's professional life today is spent interacting with others through email." Email is the universal communication platform for businesses.
"I realized there was a need to create tools and exercises for instructors to place students in more realistic settings," Professor Kourmadas began. "Why not in the form of managing your incoming email?"
Not to mention, it's the go-to and medium of choice for documenting essential tasks in the workplace.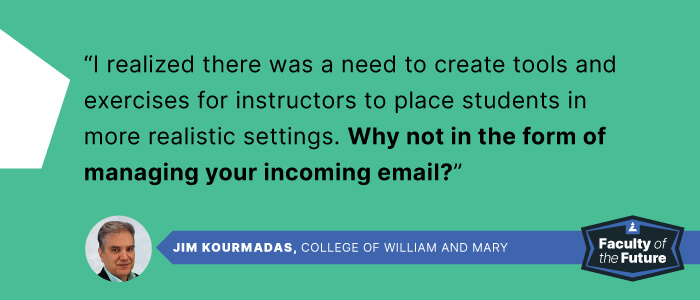 This introduction eventually led to a conversation about authoring an inbox simulation and a natural partnership with Capsim to create CapsimInbox: Strategic Marketing. An immersive, real-world experience where students go through the paces of conducting research, gathering input, and making marketing decisions with "real" people immediately reacting to their decisions. The goal was to assess students on what they decided, why they believe they are correct, and how they arrived at their conclusion.
A key benefit of the email-format simulation is it transfers directly over to the workforce. It helps students reprioritize and triage the responsibilities necessary for the corporate environment many students will face after graduation.
The Strategic Marketing inbox simulation finally broke the traditional "production line" education process and continues to immerse Professor Kourmadas' students in plausible real-world and high-urgency situations.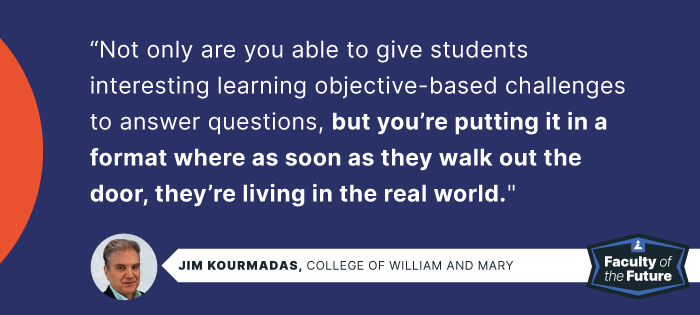 The Secret to Making Inbox Simulations Stick–and Why Students Prefer Them Over Other Instructional Methods
Recreating Realistic Characters
One of Professor Kourmadas' primary goals in this simulation creation process was to illustrate the importance of sustainable growth. The story creates a straw man–a framework for students to think about making strategic decisions.

It's often easy to be influenced by strong, authoritative figures in the workplace, so Professor Kourmadas tried to recreate some of those kinds of characters in the simulation.

"The trick is to separate facts and data from the person talking to you," he advised. The most essential skill you can have as a marketer, Professor Kourmadas argues, "is figuring out what questions to ask."

Ultimately, a brand manager works in two modes, either concentration or concession. In strategy, it's equally important to define what you want to do and what you don't want to do.

Presenting Students with Challenging Scenarios Reflective of the Real World
Professor Kourmadas replicated many of his own experiences as a brand manager–including immediate pressures and expectations new Brand Managers face as soon as they step foot through the door.

"I tried to make CapsimInbox: Strategic Marketing realistically and plausibly overwhelming," Professor Kourmadas said with a chuckle. "The company has a strong culture because every company has a culture, and it's important to understand the culture in the context of marketing decisions."

Professor Kourmadas presented students with scenarios that may seem straightforward on the surface but usually are not that simple. "Nothing in life is ever that easy. Day in and day out as someone working in marketing, you're making subtle, little changes in the direction of your company and your brand," Professor Kourmadas said. "I wanted to allow students to think beyond bullet points and get beyond the obvious."

Amid the flurry of creating a market strategy and plan for the business moving forward, there's a lot of background noise from people in the other roles in the company about positioning and targeting, diversification, sustainability efforts, and segmentation.

Professor Kourmadas wanted to provide his students with plenty of possible futures that all seem plausible. "Different students will pick different paths," Professor Kourmadas began. "This gets to the difference between a realistic environment and a typical simulation where there's usually a kind of right answer."

Successful Brand Managers must learn to traverse various functional roles within a company and coordinate resources to achieve the mission. The whole purpose of a Brand Manager is to bring a customer-focused intention to every strategic decision in the company. Without strong coordination through brand management, companies risk losing the voice of the customer to the individual interests of different departments.

"Accounting will typically look for ways to lower costs," Professor Kourmadas began. "Manufacturing will look for ways to make the same thing more efficiently. R&D typically has a higher risk tolerance for new ideas than the rest of the organization. Sales is motivated to make more revenue. Finance focuses on return on investments," Professor Kourmadas said. "While Marketing must always be focused on: Who is our customer, who should be our customer, and why? What is our value proposition to our target segments? How do we create a sustainable business path?"

Incorporating Real-World Elements and Relevant Companies
In the Strategic Marketing inbox simulation, an opportunity arises to partner with Amazon as a private label manufacturer.

"Private label manufacturing for a large company can be a double-edged sword," Professor Kourmadas said. He challenged his students to consider the larger question: in the long haul, are we better off as the Gorshland Brand, or are we better off dissolving the brand for the promise of sustainable growth as a private label manufacturer?

Today, this is a fundamental question for many small to midsize companies with the consolidation of retail stores and internet sales growth. There is no correct answer, but this does require more than a cursory look at the numbers. There are other real consequences to employees and jobs and the entire legacy of the company.

Partnering with Amazon "doesn't mean you get to sit on the beach in Tahiti with a million dollars in the bank." Professor Kourmadas said. "That's not the end of the story. As a Brand Manager, what becomes of you if you think the company should partner with Amazon?"
Skills Assessed in CapsimInbox: Strategic Marketing
From his experience as a Brand Manager and later teaching Marketing, Professor Kourmadas wanted to create a tool that would help in the areas he thought were a vital nexus of academic goals with real-world skills. CapsimInbox: Strategic Marketing addresses four primary soft skill areas:

Critical Thinking

Exploring available information sources systematically and comprehensively

Developing and testing alternative hypotheses

Objectively questioning data, logic, and evaluating assumptions
Communication

Gathering Information from others

Expressing Strategic Ideas
Marketing Analysis

Situation Assessment/Problem Identification
Applying Marketing Research
Strategic Planning Process
Principled Decision-Making

Using a framework that balances business unit goals with ethical concerns and company culture to make marketing decisions
Professor Kourmadas was mindful of the AACSB Learning Objectives for the Marketing course at William and Mary when he created soft skill areas.
The simulation serves as a framework for these learning objectives that can be expanded if an instructor desires. Professor Kourmadas also worked with Capsim to create a Developmental Tactics Guide that illustrates ways to take an element from the simulation and make separate or additional exercises for students.
"The best educational tools evolve by continuous improvement from people's input using the tool," Professor Kourmadas said. So he continues seeking input to make CapsimInbox: Strategic Marketing an even better learning tool for his students and a teaching tool for fellow marketing educators.
With the creation of this strategic marketing inbox simulation, Professor Kourmadas had the opportunity to develop his course learning objectives and create a personalized tool around assessing them.

"Not only are you able to give students interesting learning objective-based challenges to answer questions, but you're putting it in a format where as soon as they walk out the door, they're living in the real world," Professor Kourmadas said.
Hear it Straight from the Author of CapsimInbox: Strategic Marketing
In this 50-minute webinar, Professor Kourmadas walks you through the creation of his inbox simulation. He realized a problem: although many students graduated with degrees, few were really prepared for the workplace.
He takes us behind the scenes on his thought process in building this webinar to better prepare students for life after graduation.
How CapsimInbox: Strategic Marketing Impacts Students' Roles in the Real World
Kourmadas recalls receiving notes from former students after being in the workplace for a while.
One student described a work situation where everybody on a team had a different idea and solution. Everybody was "solution-minded," advocating for their concept rather than listening and synthesizing different points of view, and the team conflicted.

The student said the situation reminded them of his course's team business strategy simulation project. With pride, the student told Professor Kourmadas, "I was ultimately able to re-frame the problem in a way that made sense to everybody on the team, and we got through it!"
"Students seem to remember the experiential learning aspects of the course rather than the vocabulary or textbook content," Professor Kourmadas said.

The bottom line? Soft skills are critically important to a Marketer to lead an organization.

What Would You Do?
This sample experience is inspired by Professor Kourmadas' CapsimInbox: Strategic Marketing version.
Imagine you're the brand manager at an apparel company specializing in high-tech outwear and footwear when this email surfaces in your inbox. What do you do?
Break the 'Production Line' Process Today
Now that we've shared Professor Kourmadas' story with Strategic Marketing, you can visit our inbox simulations page to learn more about CapsimInbox.
If this article ignited some flames for your own inbox simulation, start building today to build a more immersive and engaging learning experience in the CapsimInbox Authoring Platform.