The Science-Based Guide to Effective Team Projects (Pt. 1): When To Use Them and How to Build Them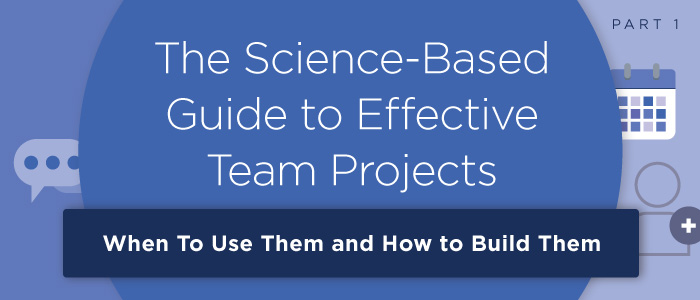 Teamwork is critical to successful organizations. When done right, it boosts productivity and creativity. So it's easy to see why collaboration is a central learning objective in higher education—we want to prepare students for success in a career after graduation.
Unfortunately, team projects don't have an excellent track record. They are dreaded by students and a source of frustration for instructors.
Why?
The Science of Teams is often ignored. Educators buy into common fallacies, such as:
Group projects aren't going anywhere. Even with COVID-19 causing classes and instruction to move online, teams are still here to stay. With much of learning happening in a virtual environment, it's more important than ever to turn to the science of learning to get it right.
That's why, back in August, Dr. Erich Dierdorff, an Organizational Psychologist, Professor of Management at DePaul University, and science of teams expert, came in to speak with us. We know everyone learns differently, so we're including our webinar for your viewing if you'd prefer to tune in. This is our first blog post in a three-part series on the process of team project work.
Before we get started, it's worth mentioning the components of team performance: teamwork and taskwork. Taskwork is the project's technical task; it covers the subject matter on which you're already an expert. Teamwork is the social interactions that facilitate task completion—that's where most people need help in team projects. This blog post focuses on the primary social component of teamwork.
Now that you know what makes up team performance, we'll dive into knowing when it's right to use teams.
Knowing When to Use Teams
Team performance starts with a strong foundation: knowing when to use teams appropriately and how to build them effectively. So how do you know when to implement teams in the first place?
The sole purpose is to create less grading for you

You're complying with administration

As a coping mechanism for online teaching
A project is complex

Multiple perspectives are needed

Tasks are interdependent

Fidelity is enhanced with "real world" use
Even Dr. Dierdorff made these mistakes early on in his career. It's never too late to learn. And he's shared his expertise on the science of teams with many of us who've been in his shoes—educators who are struggling to find effective and proven methods to drive success within student groups.
The composition of a successful team matters, but not as much as we think. And it depends on the criteria used for selection. Using relevant factors such as functional expertise and dispersing different majors; context experience like virtual tools and individual preferences like proficiency in skill sets keep things simple.
You don't need to create overly complicated teams with a scroll of predetermined criteria. And you don't need to overcomplicate the team-building process. The simplest approach? Random assignment. For those of us who want to be more mindful than random peer assignment, include assignment rules like focusing on the relevant background when creating virtual teams, and including functional expertise and context experience.
Don't allow for self-selection.
Homogenous teams are more likely to end up with bickering students and gaps because group members are too similar. Everyone has something unique to bring to the table. And a team full of finance majors may not possess the skills to think outside of the box.
Don't forget to determine roles.
Determining roles up-front in a project ensures team members know what part they play in the project goal's larger schema.
Do build appropriately-sized teams.
Teams that are too large (greater than eight) or too small (less than three) are challenging to manage and contribute to. Eating dinner with a group of 10 people and barking for salt can be challenging, let alone accomplishing the groundwork for highly productive teams.
Do create heterogeneous teams.
Conscious efforts to form heterogeneous teams means mixing up majors, genders, and background experiences. Working in teams with varying skill sets and backgrounds can spark innovation and creativity.
Perhaps you've fallen into the trap of believing the myths that self-selected teams work. You're not alone. How do you make sure groups are divergent enough to create an energized and productive discussion?
Conduct a quick survey using platforms like SurveyMonkey, SoGoSurvey, or ProProfs SurveyMaker. Ask questions like:
What is or was your major?

How much experience do you have working in virtual teams?

How proficient are you in navigating Zoom, Dropbox, Google Docs, Panopto, etc.?

What work or volunteer experiences have you had?

What's your time zone?
From there, compile responses, and make sure there's a healthy mix of students with various replies.
Additional Tips for a Successful Experience
Okay, you're using teams when you should be, and your teams are looking balanced. Now what? It's time to prepare them for success. It starts from the ground up.
Clear expectations and responsibilities help establish productive means and dissuade unproductive norms. Discuss your expectations from the start, so everyone is on the same page. A hands-off approach likely won't result in success. Adopting a "they'll figure it out" mentality is a sure path to demise. Make sure to get into crucial information like availability and how team members will communicate. Be transparent from the beginning with subject matter and why you're choosing to use teams: this is the way it's done in real life. Top-management teams make meaningful and strategic decisions. Talk about your level of involvement in the team project, and be detailed. Are you going to be a facilitator or advisor? Will you help groups through their decisions and individual tasks, or are you more there to field questions when they ask them?
Encourage a Team Kick-Off
A structured team kick-off meeting can break the ice and create a shared sense of purpose. We know face-to-face interactions facilitate team development in the early formation of teams. In-person interactions may be complicated now, especially while most of us are entirely virtual. Our job as educators is to create opportunities that would mimic face-to-face interactions early on in team formation, as best as we can. What works best is a synchronous kick-off, with baked-in meet and greets. Below is an example of Dr. D's team kick-off he implements in his classes.
Requiring students to create charters defines the team's overall objectives, resources, and constraints and encourages students to hold each other accountable throughout the project. Determining what success looks like from the start aligns a team and its members with a shared vision in achieving its overarching goal.
In our next piece, we'll cover what the science of teams says about cultivating team performance during the project.