Seven Steps to Retain Your Employees (that aren't obvious)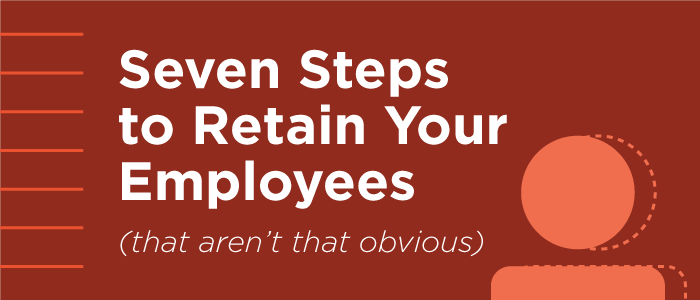 In 2019, U.S. businesses lost a trillion dollars to voluntary turnover. That's right, one trillion. Employee turnover gets expensive when organizations pay up direct exit costs once an employee leaves. Companies incur additional costs to recruit and train new hires. Turnover decreases productivity, solicits unnecessary knowledge loss, and deflates morale.
Don't contribute to the astronomical figure. Avoid self-inflicted damage on your company and retain your employees.
You may be familiar with this scenario: You hire someone you think is doing a great job, and they're getting into the swing of things. Just when you think it's better, they move on to the next best thing.
Boosting retention starts with hiring the right person. And once you hire them, envisioning them as a crucial part of the team ten years down the line. When you imagine a snapshot of your company in the future, do you see them in the picture? Challenge yourself to think, in what ways can I foster their growth?
How to Retain Your Employees and Cultivate Company Culture in 7 Steps
Hire for the Person, Not the Role
As your company's needs grow and change, talented people will help it succeed. Here's the best way to ensure someone can thrive in the long-term.
1. Don't just focus on the role. Make sure the person fits the culture and values of your company.
That doesn't mean you ignore qualifications. But instead of hyper-focusing on GPA, a degree, or years of prior work experience for entry-level positions, investigate the soft skills they may possess. You can't teach someone drive or determination. But you can always teach foundational financial, research, or marketing skills. Hire people with potential that can develop into their roles.
Capsim Hired Two People Applying for the Same Role. Now They're Both Managers.
Nearly a decade ago, Evan Meyer and Brendan Langen both applied for the same position. Capsim's leadership team saw immense potential in the two candidates. Instead of picking one, we hired both onto the team.
Evan started as a marketing intern. Brendan began his role simultaneously, and after a few months of solving pressing product design challenges, he realized he could leverage his skills more effectively on Capsim's design team. Today, Evan leads as Capsim's Director of Marketing and Brendan as the Director of Product Design and Development. Capsim recognized their potential and worked to help them both achieve it.
The Bottom Line: Don't Let the Good Ones Go.
If we have two candidates we love, we don't want to let them go. We're confident they'll become valuable assets to our mission and envision their impact on our company later down the line. That was Brendan and Evan.
But how do you know if someone has potential?
2. Intelligence, initiative, and energy are the three traits Warren Buffett focuses on when hiring. And here's why they're crucial.
"We look for three things when we hire people. We look for intelligence, we look for initiative or energy, and we look for integrity," Warren Buffett said.
These are essential skill sets employers know they can work with to develop employees that choose to stay. It's typical for managers to look at technical skills when fulfilling roles. Focusing on hard-skills may result in short-term success. But it fails to encompass the long-term vision for the individual employee's impact on the company at large.
Learning from the Decline in Labor Turnover in the 1920s
Historically, many employees harbored "womb-to-tomb" employment system mentalities. Altered employment relationships led to an aggregate decline in labor turnover in the 1920s.
The same can't be said today. That's a problem when employee retention emerges as one of the single most essential tasks in organizations impacting business, employees, and shareholders.
Applying the History of Labor Turnover in the U.S. to our Future Success
Internal labor markets, policies strengthening the attachment between workers and firms, establishment of personnel departments, and offering on-the-job training and seniority-based compensation led to workers quitting their jobs less frequently.
Why are so many companies today struggling to retain employees when employees were committed to a company for life just decades earlier?
If you invest in your employees, they feel more committed. As the company's needs grow and change, you have talented people who can help your company flourish.
"I was tricked into Marketing," Monika Adomaityte said with a laugh, "nicely, by Reda."
About a decade ago, Capsim used to offer "TGIF" internships. On Fridays, a group of 8-10 individuals would come into the office, test out Capsim products, provide feedback, and tinker with our processes.
"It seems like you have great attention to detail," Reda Chafai, Capsim's president, told Monika. "We need someone to help us out," he said.
Reda hired Monika as a marketing intern for TGIF. At the time, Monika was pursuing an accounting degree. After stepping her foot into Capsim as a marketing intern, she applied for a full-time internship in an accounts receivable position.
"From that point on, it was one opportunity after another," Monika said. Monika grew into her role with Reda's mentorship and support. Today, she's Capsim's Director of Accounting.
"We're one big family," Monika said. "And that's what I love about Capsim."
3. An aptitude for learning is more telling than a resume.
What shows initiative? For Capsim, it starts with the hiring process. Part of our hiring process takes potential candidates through our own products. Of course, this exposes candidates to our products and interface, giving them a taste of what they would experience as a day-in-the-life of a potential Capsimian.
The simulation reveals candidates' critical thinking and analytics skills. Candidates who dedicate 15 minutes out of their day to experience a simulation as part of the interview process without a guaranteed return shows a willingness to try. And there's plenty of room to shine in our simulations. Open-ended text responses reveal shorter replies versus in-depth answers, which provide us with greater insight into a candidate's thinking process. Potential employees can take advantage of the opportunity to separate themselves from the pack and peer into our company culture before they step foot through the virtual door.
Create a Culture that Fosters Growth
Cultivate a company culture that encourages people to thrive. Make known that your employees are known.
4. Build traditions you're proud to call your own.
Capsim has a series of traditions. Heck, we even call ourselves Capsimians. One of our recent products was born out of Capsim's president recommending a book for everyone to dive into, Exponential Organizations. Creativity inspired the push toward launching CapsimInbox. After months of working together, Capsim celebrated with ornately decorated product-launch cupcakes and backdrops with the product logo.
Pre-pandemic, Capsim had a craft room. Around the holidays, it was a designated space for festivities like pumpkin carving. Hot glue guns splay across tables, paint smears on fingers, faces, and sometimes the walls. And Monika Murzydlo emerged as the defending pumpkin carving champion not once, but four years in a row. "Monika is legit!" Sofia Katopis, International Business Development & Marketing Manager, said of her co-worker.
The pandemic hasn't changed our culture. It's just changed the way we cultivate it. We still have Pumpkin Contests. We still have Monday lunches, albeit virtual ones. But now, babies and puppies are welcome, too.
"One of the strongest suits we have is working together as a group," Sofia said. "And despite the distance, I feel like this group of people is becoming my family."
5. Practice integrity in your workplace.
If you expect employees to possess integrity, your organization should shine by example. Transparency is critical. Here are a few examples of how we exhibit ours.
Every Thursday, Capsim hosts a company-wide meeting. Sometimes, we discuss quarterly objectives and key results. Others, we discuss if we're on-target, falling short, or superseding our revenue goals. Each time we gain a new major client, we celebrate. Each time we lose an institution that contributed to a significant chunk of our revenue, we commit to work harder to secure new partnerships.
Let's take the COVID-19 pandemic. Capsim notified its employees, as soon as it could, of what the "next steps" would look like and how they would impact Capsimians at an individual and company-wide level. The leadership team and the accounting team panned out worst-case and best-case scenarios for the company, and we were bracing for the worst.
6. Create a welcoming atmosphere that few would consider leaving.
Each Thursday, someone new runs the company-wide meeting. And each week, it's a gamble on what new surprise will emerge. We might open up Microsoft Teams at 1 PM, greeted by the Bulls entrance song.
"Most of our roles are creative," Denitza said. "We're innovative, and you have to allow room for growth, experimentation, and room to fix it when you fail."
A few of our employees have created their own CapsimInbox simulations. Brendan Langen designed CapsimInbox: Product Management, a simple, 15-minute situational judgment test that took him half a day to design and two hours to build in the Authoring Platform. Caroline Kurdej, a content strategist, created a microsimulation geared toward helping high school student-athletes navigate recruiting during the pandemic.
That doesn't mean our ideas are always fantastic. But when they fail, we pivot, accept the loss, and move on.
7. Remind your employees about the values that brought them into your (virtual) office in the first place.
Pre-pandemic, our values decorated Capsim's office walls as constant reminders of our mission.
Now, Capsimians can easily access our employee handbook on Atlassian at the click of a mouse. In it, we reinforce our commitment to the people that drive our company forward.
Capsim Management Simulations, Inc. recognizes that our employees are our most important strength. We are committed to providing an excellent work environment, opportunities for self-development and growth, monetary and non-monetary rewards for hard work and commitment to our company. The employee benefits are designed to promote loyalty and longevity. The company promotes from within whenever possible and is delighted to support personal growth.
We Know Employee Retention Remains a Problem.
In a continually changing world, employee retention remains a challenge companies face. Revisit your employee retention strategy frequently to ensure you're hiring the best people and cultivating a company culture you're proud of. Developing an attractive workplace culture starts from within, and we'd love to help you foster yours.
How do you contribute to a welcoming company culture?
What's your retention rate? We'd love to hear your stories. Visit capsim.com to learn more about us, and please send any questions or comments on employee retention and culture to caroline.kurdej@capsim.com.