Business Students Take Winning Lessons from a Tough Year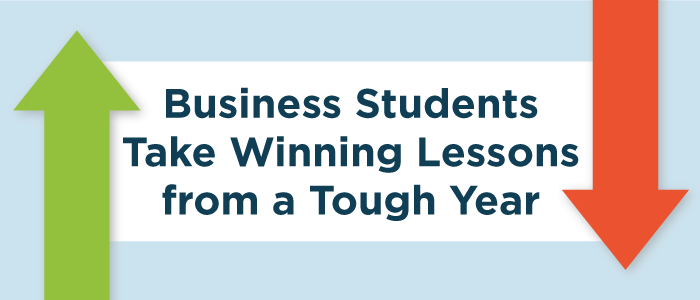 For the first time, women business students won both of the Capsim Fall Challenge competitions, in tournaments made more difficult both by upheaval in the education environment and added complexity in their simulation scenario.
Sisi Ren, of York University in Toronto, Canada, won the Capstone Fall 2020 Challenge; and Cynthia Orton, from Brigham Young University, Idaho, won the Foundation Fall 2020 Challenge.
Eric Smith, Director of Client Relationship Services at Capsim, recognized the achievement of all twelve teams who made the Challenge finals this weekend.
"To qualify, they each competed against hundreds of other students from around the globe, running their own simulated business well enough to achieve a top score on the balanced scorecard," Eric said.
"What makes their accomplishment even more impressive is they did it during a global pandemic while acclimating themselves to a virtual learning environment. Plus, for the first time, Capsim included a recession in the qualifying rounds. This challenge proved our finalists were more than capable of leading their companies through an economic downturn. That experience is tailor-made for the professional world they will graduate into."
Students Apply Theory to Practice
Capstone winner Sisi Ren, who is majoring in finance and will graduate in February 2021, said: "The Capsim Challenge allowed me to put into practice the knowledge I've learned in a practical setting, and to see the drivers behind gains/losses, which will be useful in a finance setting."
Foundation winner Cynthia Orton, who is majoring in Office Management, said the best part of her simulation experience was the excitement of competing: "I love the thrill of success! Watching the stock price rise and calculating the perfect ratio is the payoff for hours of study and hard work." Cynthia joined the Fall Challenge because: "I enjoyed participating in Capsim during class and couldn't wait to participate again. Capsim is an exciting learning experience. It is thrilling to compete in this simulation of real-world events."
Professors Embrace Online Challenges
Professor Norma Juma of Washburn University, whose student Brooke Preston was a finalist in the Capstone Challenge, said there were "gifts" to education from 2020: "Accelerated transition to online learning is certainly on top of the list," she said. "Pivoting to online learning in March was disruptive to both teachers and students. However, with that came the accelerated learning during the summer and moving online with more confidence in the fall. Capsim simulation did a great job giving professors access to free premium content. The videos were very helpful. The students also found the Simulation Chat Feature useful."
Professor Juma said the testimonials of alumni demonstrated the real-world value of "the experiential approach to the accounting, finance, and strategic management concepts" explored in her classes via Capsim simulations.
"Students will not forget how they felt when their team suffered a liquidity crisis in a profitable year," she said. "Such skills are transferable – as is the ability to develop plausible forecasting strategies, developing ethical decision-making frameworks, having a clear understanding of how to deliver on integrated strategies, and more."
Professor Vasant Sivaraman, of S.P.Jain Institute of Management and Research, who also had a team in the finals, said he found conducting Capsim simulations online, "as engaging and exciting an experience as before. The in-person advantage for teams was made up of online break-out rooms. Students combine learning with fun and develop an emotional bond with the company they run, so I find they need no encouragement to participate in the Capsim Challenge!"
About the Capsim Challenge
The bi-annual Capsim Challenge is open to all students who have completed a Capsim Simulation in their course in the last 12 months. The Fall 2020 Challenge attracted students from universities in Australia, Canada, the Dominican Republic, India, Malaysia, Mexico, South Korea, Turkey, and the United States.
All past winners are listed in the Capsim Hall of Fame.
Final results for Capsim's Fall 2020 Capstone® Challenge: