Capsim Announced as 2020 CODiE Award Finalist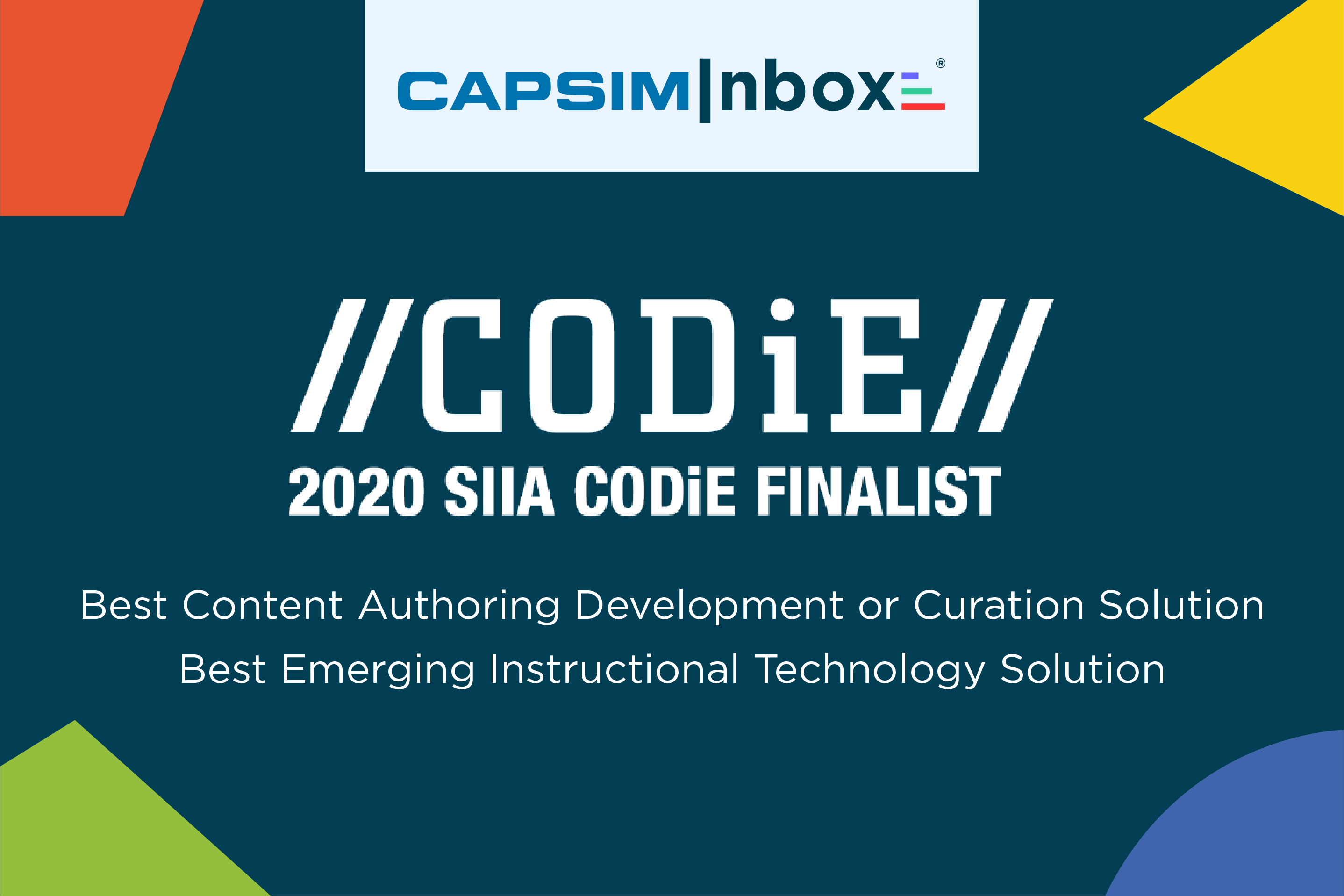 We're thrilled to share that Capsim has been recognized for its commitment to creating innovative simulation-based learning experiences to develop essential career skills. CapsimInbox was named 2020 SIIA CODiE Award finalist in two categories: Best Content Authoring Development or Curation Solution and Best Emerging Instructional Technology Solution.
Capsim competed against worthy award finalists representing applications, products and services from developers of educational software, digital content, online learning services and related technologies across the PreK-20 sector.
Our product was honored as one of 157 finalists across the 35 education technology series.
CapsimInbox, a day-in-the-life microsimulation platform, enables educators to create meaningful learning experiences. In as little as 30 minutes, participants are:
Exposed to real-world decision-making in a familiar email environment
Measured objectively on the effectiveness of their decision-making
Provided actionable feedback for personal development
"We are delighted to have CapsimInbox selected as a finalist in two categories for the 2020 CODiE Awards," said Capsim's Vice President of Products and Services, Jordan Novak. "We believe CapsimInbox is the future of education. We're providing instructors with a tool to create meaningful learning experiences that address the skill gaps continually highlighted by hiring organizations. Now learners have a fun and engaging way to gain practical experience making decisions in real-world situations while also receiving the actionable feedback critical to one's professional development."
Mike Ochyl, Vice President of Engineering, noted this iteration of the platform is "just the tip of the iceberg," stating, "there is so much more we're working on, and we look forward to sharing exciting news on our progress in the coming months."
Acknowledged as the premier awards program for the software and information industries for 35 years, the SIIA CODiE Awards are produced by the Software & Information Industry Association (SIIA), the principal trade association for the software, education, media and digital content industries.
"We are thrilled to unveil the 2020 CODIE Award finalists, the best in education technology," said SIIA President Jeff Joseph. "These exciting innovations are setting the pace to improve outcomes in education for students, educators, and administrators."
The SIIA CODiE Awards are the industry's only peer-reviewed awards program. Educators and administrators serve as judges and conduct the first-round review of all education nominees. Their scores determine the SIIA CODiE Award finalists and account for 80% of the overall score. SIIA members then vote on the finalist products. The scores from both rounds are tabulated to select the winners.
Stay Tuned
Education Technology category winners will be shared during an online winner announcement celebration May 19, 2020.
Details about each finalist are listed at http://www.siia.net/codie/2020-Finalists
About Capsim Management Simulations, Inc.
Capsim is the global leader in creating simulation-based learning experiences that measure and develop the skills needed in today's business landscape. Since 1985, more than 1,500,000 people from over 60 countries have developed their technical and soft skills through fun, relevant, and engaging learning experiences. For more information, visit .
About the SIIA CODiE™ Awards
The SIIA CODiE Awards is the only peer-reviewed program to showcase business and education technology's finest products and services. Since 1986, thousands of products, services and solutions have been recognized for achieving excellence. For more information, visit siia.net/CODiE.
About Software and Information Industry Association (SIIA)
SIIA is an umbrella association representing 800+ technology, data and media companies globally. Industry leaders work through SIIA's divisions to address issues and challenges that impact their industry segments with the goal of driving innovation and growth for the industry and each member company. This is accomplished through in-person and online business development opportunities, peer networking, corporate education, intellectual property protection, and government relations. For more information, visit siia.net.