Capsim Challenge Winners Defy Pandemic Burnout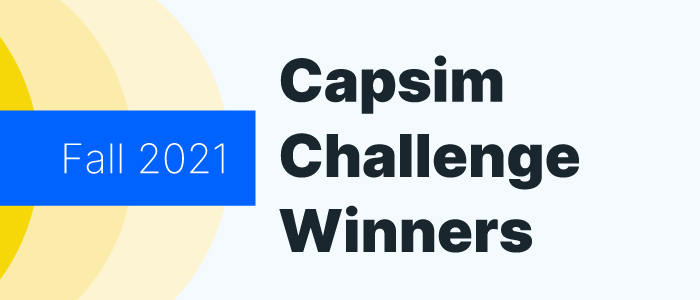 A strong cohort of business students from around the globe has conquered burnout from their pandemic-disrupted education to compete in the Capsim Fall Challenge – repeating their assigned Capsim Business Simulation for the chance to prove their business acumen in the international arena.

Luke Le, of Lawrence University in Wisconsin, a student of Gary Vaughan, won the Foundation 2021 Fall Challenge. Rishabh Chawla, Ravva Subramanyam, and Shubhendu Ojas Tewary from S.P. Jain Institute of Management & Research, all students of Vasant Sivaraman and Bindu Kulkarni won the Capstone 2021 Fall Challenge.

The six finalists in each game prevailed over more than a thousand students from 15 countries, all trying to create market-leading virtual companies in head-to-head competition with their peers.
Business Graduates in Demand
According to Capsim President Reda Chafai, graduating business students are launching themselves into one of the best job markets for some time.

"After another difficult year for education, business graduates are seeing starting salaries increase and employer competition for the best and brightest heat up," Reda said. "All the students who won a slot in the finals this Fall can add this amazing achievement to their resume for a competitive edge."

The Wall Street Journal reports higher salaries and better opportunities await graduating MBAs in a wide range of industries.

"One Dean describes it as an "arms race in terms of compensation" at the moment," Mr. Chafai said. "That's great news for business students able to demonstrate not only good grades, but their capacity to apply what they've learned by guiding a market-leading, multi-faceted business through real-time competition."
Practice Trumps Theory

Foundation winner Luke Le discovered his theoretical understanding of business could not substitute for the simulated experience of real world management in Foundation.

"I am quite exposed to the business world thanks to my family," Luke said, "but I have never understood it as much as the experience from the simulation. Capsim is definitely very similar to real world businesses and it helped me see the complexity and multi-dimensional aspects of an actual business."

The winning Capstone team reported the simulation taught each of them how to work effectively as a business team.

"We hadn't met each other due to our classes being held in a virtual environment," says Rishabh Chawla. "We gelled together as a group while taking part in this simulation. It also helped us enhance our decision making skills because we realized that consulting others for inputs before you take a decision generally leads to a better decision."

All three members of the team want to break into Management Consulting. "This experience helped us understand how different managers of functions like Finance, HR, Marketing etc. work together with each other to enhance shareholder value," Rishabh said.
About the Capsim Challenge
The bi-annual Capsim Challenge is open to all students who have completed a Capsim Simulation in their course in the last 12 months. The Fall 2021 Challenge attracted students from universities in Australia, Canada, China, England, India, Indonesia, Israel, Mexico, South Africa, Saudi Arabia, South Korea, Thailand, Turkey, USA and Venezuela.

All past winners are listed in the Capsim Hall of Fame at http://www.capsim.com/events/challenge/#/hof.
Final results for Capsim's Fall 2021 Capstone® Challenge: