An Uncertain World Needs Flexible Decision Makers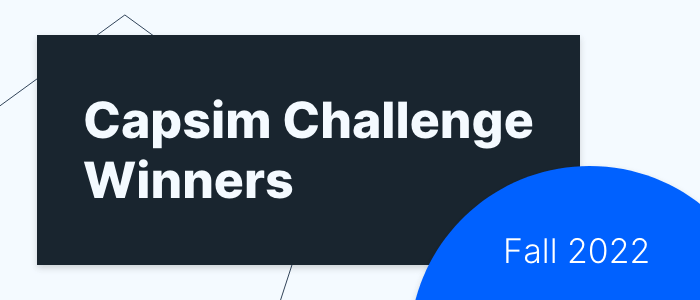 Winners of the 2022 Capsim Fall Challenge have readied themselves to make valuable contributions in an uncertain business world by building flexible decision-making skills.
Ofir Yablonka of Bar-Ilan University, and Reece Stammen from Bowling Green University have proved themselves equal to the challenges of the future by winning the international business simulation competition. Yablonka, a student of Professor Raveh Harush, won the Capstone 2022 Fall Challenge and Stammen, a student of Professor James Zeigler, won the Foundation 2022 Fall Challenge.
Better equipped for an unpredictable future
"The future we are preparing students for is indeterminate and illusive – uncertainty prevails right across the economy," said Capsim Chairman, Reda Chafai. "It is critical for students to invest in themselves, to work with learning tools that equip them to deal with random change.
"Every student who signs up for the Capsim Challenge is making that investment in their future, going further than their course requires to hone adaptive and responsive decision making skills."
Professors focus on real-world application
Professor Harush said the simulation experience allowed students to, "Reflect and learn in iterations. They must use complex and integrative thinking about strategy, internal integration, competition, and learn to work as a team effectively," plus, "they have fun while learning!
"It improves their understanding of how a company works within a competitive environment and builds their confidence by bridging the gap between what they learn and how to implement it. It improves their business acumen."
Professor Zeigler said: "Students soon recognize all elements of business must work together to achieve organizational success. Concerning performance evaluation metrics, students realize no perfect answers exist as they consider trade-offs within the Balanced Scorecard.
Professor Zeigler's students regularly ask "why did this occur and how do we fix it?" offering, "a rich "real-world" dynamic experience not found in any textbook."
Professor Larry Chasteen, who has seen many of his students from the University of Texas at Dallas reach the Challenge Finals, said: "The simulation improves critical thinking skills . . . as a student must watch the other competitors and then react to them — just like in the real world. Detailed data analysis is required for a winning score since there is no such thing as a 'gut' decision in this game."
Winners primed for success
All three Professors report former students crediting the Challenge with future success. Professor Harush said: "One finalist was asked about his experience in the Capsim Challenge in a job interview for a CFO position. It was a signal of his motivation and ability to push for excellence in his professional challenges. He got the job!"
The competition finalists in both simulations prevailed over more than 800 students from 15 countries, all trying to create market-leading virtual companies through superior strategy and tactics.
About the Capsim Challenge
The bi-annual Capsim Challenge is open to all students who have completed a Capsim Simulation in their course in the last 12 months. The Fall 2022 Challenge attracted students from universities in Australia, Canada, China, England, India, Indonesia, Israel, Malaysia, Mexico, South Korea, Thailand, Turkey and the United States.
All past winners are listed in the Capsim Hall of Fame at http://www.capsim.com/events/challenge.
Final results for Capsim's Fall 2022 Foundation® Challenge:
Place
Name(s)
Professor
University
Scorecard
1st
Reece Nicholas
Stammen
James Zeigler
Bowling Green
State University
745/1000
2nd
Tahir Musa
Shirley Kuan
Chien Hui
Nazimah Hussin
Azman Hashim
International Business School
665/1000
3rd
Skyler Bobak
Bryant Harris
Brigham Young
University - Idaho
658/1000
4th
Sachin Shroff
Larry Chasteen
University of
Texas at Dallas
557/1000
5th
Hairul Akmal
Preven Kumar Rajamany Amirtharaaj
Vijayan Arshadah
Abdul Kadir
Vignnesh Rajendran
Dr. Mazuwin
University Technology
Malaysia
534/1000
Final results for Capsim's Fall 2022 Capstone® Challenge:
Place
Name(s)
Professor
University
Scorecard
1st
Ofir Yablonka
Raveh Harush
Bar-Ilan University
760/1000
2nd
Benny Tobolsky
Yaniv Rosenthal
Ono Academic College
733/1000
3rd
Hong Jun Tee
Jia Yi Tang
Randi Barr
Trine University
668/1000
4th
James Monson
Gabriel Chinya
Richard C. Dechant
Ross Harrop
Norma Juma
Washburn University
602/1000
5th
Saurabh Jaiswal
Akshita Agrawal
Dr. Vasant Sivaraman
S.P. Jain Institute of Management and Research
511/1000
6th
Rajeev Sharma
Veer Mehta
Indian Institutes of Management (IIMs)
454/1000