CapsimInbox: EdTech Cool Tools Award Winner!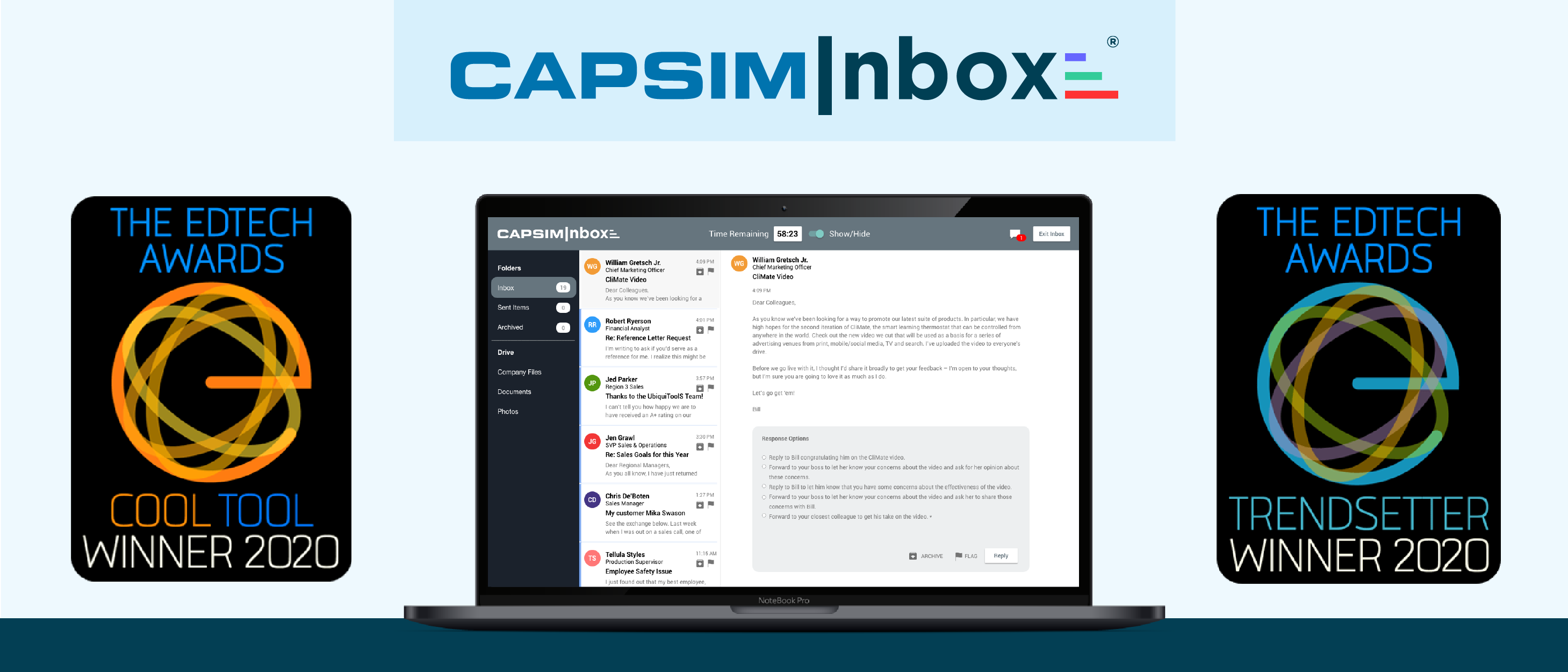 Finalists and winners for The EdTech Awards 2020 have been announced to a worldwide audience of educators, technologists, students, parents, and policymakers interested in building a better future for learners and leaders in the education and workforce sectors.
Capsim is excited to announce our efforts with CapsimInbox have earned us a double win in EdTech's Professional Skills Solution, Cool Tool Awards and Product or Service Setting a Trend (for workforce), Trendsetter Awards.
CapsimInbox is a powerful microsimulation platform that exposes learners to real-world decision-making in a simulated email environment while measuring essential soft skills needed for career success.
Our versions cover a wide array of topics including human resources, business law and sports management, among others. To learn more, visit our microsimulations.
If that wasn't cool enough, Capsim was an EdTech Cool Tool Award Finalist in:
Authoring Tools Solution
Games for Learning/Simulation Solution
Personalized Learning Solution
Professional Development Learning Solution
Skills Solution (21st-Century Skills)
Testing & Assessment Solution
Celebrating its 10th anniversary, the US-based EdTech program is the largest recognition program in all of education technology, recognizing the biggest names in edtech – and those who soon will be.
"This year has been different, to say the least. However, despite formidable challenges brought about by world events—including locked-down cities, standstill travel, and closed offices, businesses and schools—we endure," said Victor Rivero, who as Editor-in-Chief of EdTech Digest, oversees the program.
"While The EdTech Awards salutes all those on the front lines of help, with an extraordinary shift to online learning, really acknowledging the innovators, leaders, and trendsetters—particularly in our field—is more important than ever," said Rivero.
The EdTech Awards recognizes people in and around education for outstanding contributions in transforming education through technology to enrich the lives of learners everywhere.
Featuring Edtech's best and brightest, the annual program shines a spotlight on cool tools, inspiring leaders and innovative trendsetters across the K-12, Higher Education, and Skills and Workforce sectors.