Free Inbox Simulation to Help Students Manage their Time More Effectively

Capsim is excited to offer all instructors free access to use our latest inbox simulation, CapsimInbox: Time Management! From now until June 1, 2020, you can create an immersive and fun learning experience to develop your students' time management skills.
Click here to get started.
What is CapsimInbox?
CapsimInbox simulates a 'day in the life' experience by immersing learners in a real-world work scenario where they manage various situations by responding to emails and instant messages. With the average experience only taking between 30-60 minutes to complete, CapsimInbox is:
Adaptable – use it as homework, an interactive case study, or an assessment
Intuitive – there's no learning curve since the interface resembles the modern email client (e.g. Gmail and Outlook)
Immersive – this high-fidelity experience gives participants the chance to apply key concepts and skills to real-world scenarios
You can take a closer look at the CapsimInbox simulation interface by clicking on the images below.
[carousel_slide id='4920′]
Key Features
The Scenario
Learners take the role of a freelance designer with multiple on-going projects. As they respond to various emails and instant messages, they are presented with a variety of scenarios designed to assess how effectively their decisions structure, protect, and adjust their time resources to changing environmental conditions. These scenarios are designed to measure the following time management skills:
Awareness: recognizing the amounts, limits, and realistic uses of time-based resources.
Arrangement: designing and organizing plans, goals, schedules, and tasks.
Adaptation: monitoring the use of time while performing activities.
Procrastination: delaying or completely avoiding activities that are under one's control.
Prioritization: emphasizing activities that are both important and urgent.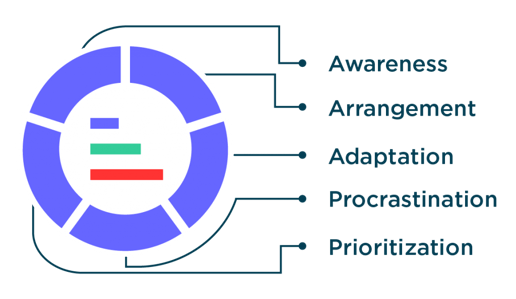 Objective Feedback
Once learners complete the simulation, they receive a report with tailored and objective feedback based on their performance. Learners can use this feedback, as well as the platform's Individual Development Plan (IDP), to create an actionable plan for development based on S.M.A.R.T. goals (Specific, Measurable, Attainable, Relevant, and Timely).
The feedback report consist of learners' overall score, developmental index, self-awareness score, and skill gap analysis. You can view a sample feedback report by clicking on the image below.
[carousel_slide id='4947′]
How To Get Your Free Access
To get started, click here and complete the short registration form.
Looking For More Inbox Simulations?
We currently have six versions of CapsimInbox covering a variety of career topics and skills and are working with more than 50 instructors and SMEs to create many more. Our current versions include:
General Management
People Management
Ethical Decision-Making
Time Management
Strategic Marketing
Business Law.
If you'd like to learn more, click here or contact us at welcome@capsim.com.