How I Used my Student-Athlete Experience to Help High School Recruits Navigate COVID-19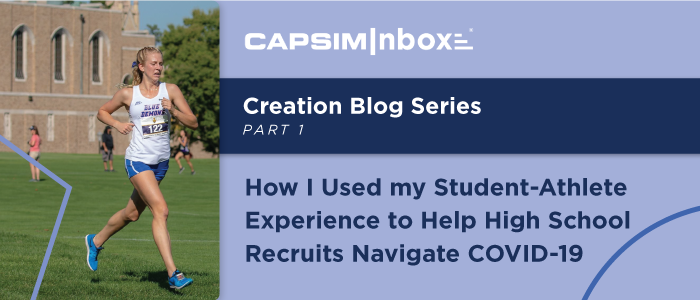 Two months after graduating from Northwestern University with a Master of Science degree in Journalism, and four months into my role as Content Strategist at Capsim, the opportunity to become an author arose.
"Why don't you write about creating your own experience using the CapsimInbox Authoring Platform?" Evan Meyer, Capsim's Director of Marketing asked me.
I've always wanted to write a book and become a novelist. But, how can I come up with a story that hasn't already been told?
And what makes a recent graduate just starting her first job the right person to create a CapsimInbox Microsimulation on the Authoring Platform? I'm far from a novelist.
My love of reading was born in second grade, during the flu. My mom tended to me with homemade chicken noodle soup. But above all, J.K. Rowling's Harry Potter series cured me of my ailments.
Despite my lack of qualifications on paper, I did have previous "expertise." No, not a Ph.D. But a few years of competing as a Division I athlete qualified as my industry of expertise. Sports, and my love of writing about them.
A stampede of doubts surfaced. I haven't written in that context before. I'm a recently graduated student, and not a teacher. Unlike the characters in the Harry Potter Saga, I can't wave a wand and cast a spell into thin air.
And then, I thought about what many of my former college teammates were going through. Final senior seasons, cut abruptly, without a last race or competition.
I thought even further back, to my senior year of high school. When my palms sweated profusely but my face was beaming as I signed the National Letter of Intent and committed myself to run at DePaul University for the next four years. A memory many high school seniors weren't able to experience because of the pandemic.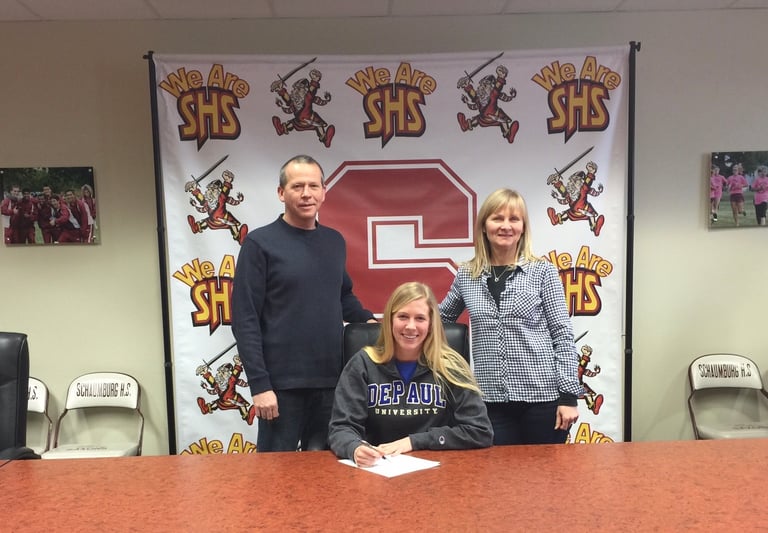 And what about those who were just embarking on their recruiting journey? I can't imagine what the recruiting process looked like virtually. I had to find out.
"I love that idea!" I told Evan, pushing my doubts aside.
Like my childhood wizard heroes, I could use my previous experiences and skills to help others, using the platform I've been writing about at Capsim for the past few months.
Like me, you may be on the fence about using the CapsimInbox Authoring Platform. Maybe you're a teacher's assistant or a professor without a Ph.D. I was feeling some imposter syndrome too. Who's to say you're the right one for the job?
The versatility of the CapsimInbox Authoring Platform makes it accessible to individuals coming from all different backgrounds.
I'll share my lack of qualifications with you to make you feel better:
Recently graduated

Less than one year of full-time work experience

Limited experience in programming (my professor took pity on me and only gave me a decent grade because I badgered him with so many questions)
But more important than all of the qualifications you think you're missing, are those you do possess:
Competed at the Division I level in collegiate athletics for four years and r

an competitively since the age of 12

Went through the recruiting process, and was pursued by, and also pursued schools across Divisions I, II, and III

Sent countless emails to coaches and their respective academic institutions to learn about and acquire information during the recruiting process

Was presented with offers, vouched for myself, and counter-offered based on what other programs were providing me with (who knew haggling for a scholarship could be so fun?)

After two and a half years of recruiting and vouching for myself in high school, I ran happy and (somewhat) healthy at an institution I loved, and where I could strive toward my athletic and academic goals
My "qualifications," while invisible on paper, were incalculable in real life. The learning experiences I've garnered throughout my academic and professional careers played a role in forming who I am today.
The CapsimInbox Authoring Platform served as a vehicle for me to share those experiences, challenges, and mistakes with others before they would have to undergo them in real life.
In the middle of this pandemic, I reminisced on my time as an athlete and realized there were so many unknown variables I clambered to figure out on my own. The student-athlete recruiting process was time-consuming, laborious, and many times, it wasn't pretty.
I learned the most from my mistakes. But what if I could empower current high school athletes, already struggling with the uncertainty of the pandemic, in powering through at least one aspect of their now-virtual learning experiences?
Leverage Your Experiences to Create a Viable Solution
How could I combine my past experiences, successes, and failures, to help others?
I've been out of the recruiting game for eight years now. It's been nearly a decade since I huffed through a 3200-meter run in 10 minutes and 53 seconds. My time can no longer vouch for my perceived value as an athlete.
But my email inbox could serve as a space for navigating what I saw as my biggest crisis at the time: navigating recruiting.
I set to work. I committed to leveraging my skills as a former student-athlete to navigate the recruiting process. This time, from behind the scenes.
For my next blog post, I'll talk about the training plan — in building the high school student-athlete recruiting microsimulation. Unlike training for a marathon, it took far less time and was even less exhaustive. The experience was even enjoyable!
In the meantime, feel free to check out our CapsimInbox Microsimulations page, and the CapsimInbox Authoring Platform for more information. Email us at authoring@capsim.com if you have any questions. We're happy to tackle them.
If you know a high school student-athlete who would be interested in our soon-to-be-released microsimulation, please send caroline.kurdej@capsim.com an email to request access.