How Simulations Made Online Learning Meaningful for One Skeptical Professor and Her 1,000+ Students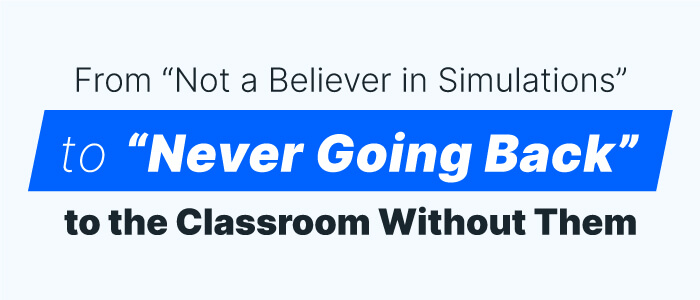 "I'm not a believer in online simulations," Professor Rita Cossa stated. "It can be so frustrating for students that some do not see the value of this pedagogy. I prefer to focus on what is of most value to them."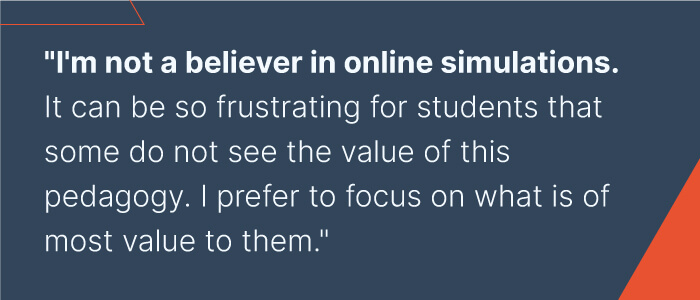 If you had asked about her thoughts on business simulations in the classroom five years ago, this was Professor Cossa's exact response.
So how did someone so adamantly against simulations not only embrace them but also vow to keep them as a cornerstone of her courses once in-person learning returns?
When Professor Rita Cossa, Associate Professor of Strategic Management at the DeGroote School of Business, McMaster University, was asked to teach in a new program--Integrated Business and Humanities (IBH)--she was presented with an opportunity to incorporate different teaching strategies and tools into the course.
"I'm having a meeting with someone from Capsim right after lunch. Why don't you join us?" suggested IBH's program director. "It's your course and it's up to you but just consider it," he continued. So she did.
And what started as hesitation turned into excitement to teach her students and bridge the knowing-doing gap.
Overcoming the Hesitation in Adopting Simulations
Throughout her first semester teaching the new IBH course, Professor Cossa made sure to connect regularly with her students about their experiences. One of her top concerns? Ensuring that the additional cost for the online simulation was worthwhile.
Student cost was essential to consider for a product priced in US dollars. Professor Cossa wanted to ensure her students found value in this investment. Despite costing less than an average textbook, the online simulation would be in addition to a textbook.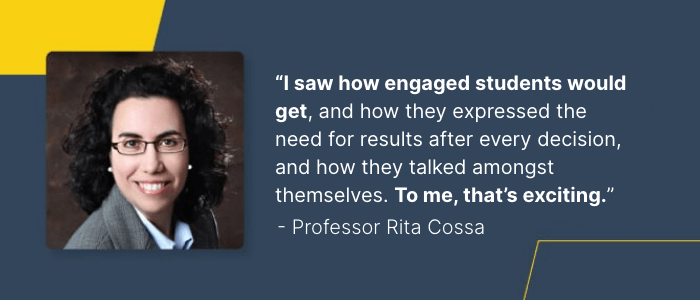 In addition to Canada, Professor Cossa's classes host students from around the world, including the U.S., China, India, Qatar, Egypt, and Brazil. Another concern: what if there were gaps in the learning experience? Could the simulation company support students tuning in from all over the globe?
Access to Capsim support is crucial to help answer specific questions Professor Cossa's students may have during their simulation-based learning experiences. Asynchronous support is an added benefit. One of Capsim's employees, Tyler O'Neill, created a custom video to reflect the changes in Key Performance Indicators (KPIs).
Another support video explains CapsimCore departments, strategies, a breakdown of the report, and what students need to succeed, no matter what time zone or country students are tuning in from.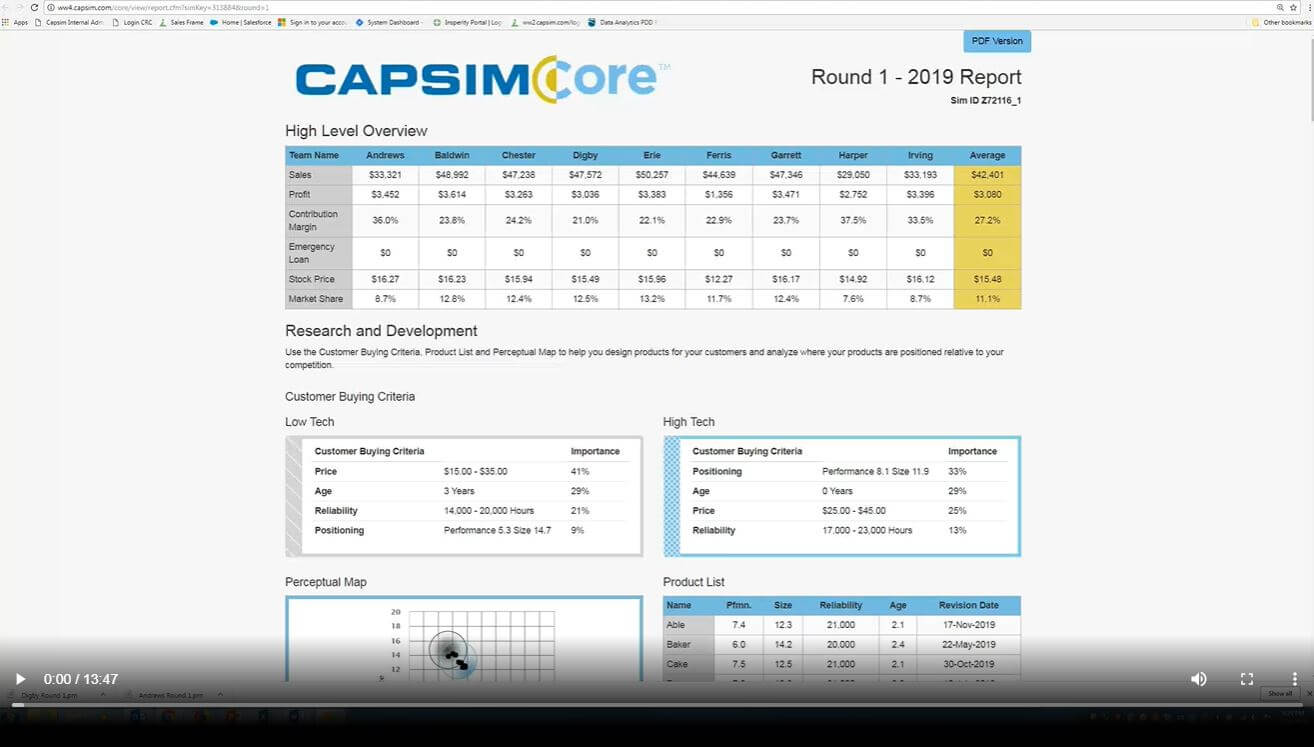 The first time Professor Cossa shared the video Tyler created after the practice round report in IBH, "the students clapped," Professor Cossa began. "He wasn't even there, but they were so relieved to hear someone enthusiastic and engaged explain the results and connect with them."
Supported instructors means supported students. "Let's face it. If, as an instructor, I have a positive experience," Professor Cossa began, "I am more likely to use the product and recommend it to others. More importantly, if my students are supported, they will be more likely to embrace the simulation and have a more positive overall experience."
It helps when students understand the value of their investment as well. "Students have to see the value in a particular component to really be engaged in it. CapsimCore was that product," Professor Cossa shared. Based on Professor Cossa's observations and the feedback provided by her students, she overcame the initial hesitancy and decided to incorporate CapsimCore in her two other foundational business courses.
Click here for a walkthrough of CapsimCore>>

Why Scale Up when Most Departments are Cutting Funding to Scale Down?
"Going online due to COVID really forced an evaluation of 'what can I offer online that ensures consistent quality regardless of where students are learning?'" Professor Cossa asked herself.
Prior to COVID, one of Professor Cossa's other courses, a required course for all Business 1 students, had weekly tutorials focusing on research, citation, writing, and presentations. However, she realized it would be challenging to maintain a consistent level of quality across 24 tutorials and many teaching assistants.
Based on her experience with the IBH course, she felt confident that she could replace the tutorials with CapsimCore as students would be working in teams to make business decisions on a regular basis. While the focus was different, students were still developing critical career-ready skills while applying core concepts.
Another common concern Professor Cossa reflected:
Can this tool scale the size of my course and do it fairly flawlessly?
And the answer was, "Yes, Rita, it can."
Professor Cossa worked with Capsim Support to expand the tools in her course and integrate CapsimCore with her 1,000+ students.
"That flexibility will continue to be important," Professor Cossa said. When considering hybrid teaching, having a platform such as CapsimCore for group work is important as it's reflective of real-world decision-making that business graduates will face in their own careers.
Professor Cossa realized she had students who were nervous already. Adding in an online component could quickly become overwhelming for both her students and her. When considering replacing tutorials with CapsimCore in a virtual environment, questions she considered included the following:
If I'm putting together group members from around the world, can your system manage the capacity?
As a way to show value for the cost of this online simulation, can you handle student queries through Capsim Support so that students feel supported and their questions are immediately answered?
"There's magic when bridging the gap between the theory covered in class and business practice," Professor Cossa shared. Having Capsim Support available is a good way to build on that momentum.
Bridging the Gap and Learning by Doing
Professor Cossa describes adopting CapsimCore as a fairly smooth transition process. CapsimCore bridges the gap between theories covered in class and business practice.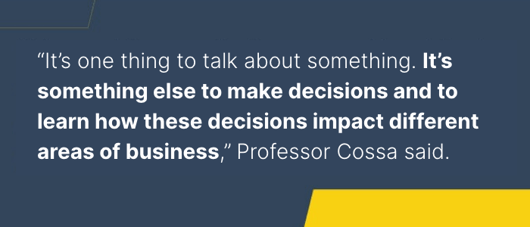 "CapsimCore gets students to 'tangibilize' this idea of business theory, and how do you see it playing out when you've got boots on the ground? And so, for me, that's very important."
CapsimCore encourages students to pick a strategy and make decisions across different functional areas of business. Critical thinking scenarios challenge students to make decisions that can save or destroy companies.
"For example, if student groups decide to create a new product, they have to consider how they will make this happen by asking some key questions: How much will this cost? How long will it take for production to ramp up? How do we pay for this? Do we need to schedule a second shift if we are at capacity already? How do we market this new product? How will this new product impact existing products? By forcing them to make decisions, students have to understand what that means from accounting, finance, manufacturing, marketing, and HR perspectives."
While Professor Cossa regularly incorporates current events that tie into course concepts, an online simulation provides a different perspective. "When you're making decisions week after week, the impact of your decisions becomes more evident as you compete against other teams. You do not operate in a vacuum, so your decisions impact the overall industry. It also comes down to your strategy," Professor Cossa said.
"By truly understanding your strategy, you can make tactical decisions for each round. Students have time to analyze their results and tweak their decisions while they focus on key performance indicators (KPIs). This is not so different from business, and to me, these teaching moments are memorable for students."
And until her students experience the vital importance of making business decisions for themselves, they have a hard time believing it and understanding the connections across company departments. "Making decisions puts the responsibility on students and closes the knowing-doing gap," Professor Cossa shared.
Competition is Key
Some students approach Professor Cossa, asking her to post results after every decision. For some, the first thing they do when they wake up, they tell her, is to read the Courier and to learn how they compared to other teams.
Others say, "We don't want to compete against each other. We're all friends." Then, they secretly pull Professor Cossa aside and whisper, "We're gonna beat everybody else," she shares with a laugh.
Professor Cossa doesn't believe students that say they aren't competitive. Not when they worked so hard in their academics to get into their programs. "We compete for everything, whether it's resources, jobs, programs, or whatever the case might be. If you're considering a career in business, you have to be ready to compete," Professor Cossa tells her students.
Immediate Feedback for All Students
Annually, you can expect 1,000+ students to enroll in Professor Cossa's three virtual (soon to be in-person again) foundational business courses. The number of students and courses incorporating CapsimCore has grown since it was first used in the much smaller IBH course.
Despite her commitments, the best-selling business textbook author still finds the time to restructure her courses. She constantly proves her commitment to enhanced pedagogy, improved learning, and innovative teaching strategies by providing students with feedback.
If you just did some mental math, you're possibly wondering how one professor can provide over 1,000 students with individual and actionable feedback. The IBH course was one thing, but these new numbers were a different proposition.
Professor Cossa did the same math–and the answer didn't exist. So Capsim created a solution for her.
Thanks to Professor Cossa's feedback, all Capsim business simulations, such as CapsimCore, CapsimGlobal, and Capstone provide individual feedback for each student in the form of Success Measures (i.e., KPIs).

Professor Cossa understands the value of speaking to students and explaining their results. But she explains, "When you have 1,000 students and more, it's just not scalable to have one person input KPI results for students as was the case for IBH when I first adopted CapsimCore."
"I love the fact that today CapsimCore's product update allows me to pull an Excel or CSV file, and all of the student data is there," Professor Cossa began. "It minimizes human error, and manual inputting isn't required."
The flexibility of the grading tool and immediate feedback report was just one bonus of incorporating CapsimCore into her classrooms. It certainly helped overcome her initial hesitation to continue using simulation as her course needs changed.
So much so that even when it is safe to return to campus, she claims, "I do not plan to go back to tutorials for my large course. For this course, as well as my two smaller courses. I plan to keep CapsimCore as a key component as this online simulation effectively bridges the learning-doing gap. Positive feedback from my students, combined with the support and responsiveness of Capsim staff during Covid, has given me the reassurance that this tool will continue to contribute to the successful achievement of course learning goals."
Online learning doesn't have to be a compromise. It can be an upgrade to the student learning experience.
For educators like Professor Cossa, simulations can be an integral part of the learning experience that elevate your students' engagement in the classroom.
Capsim has a suite of products that not only maintain the level of authentic learning in your course but elevate it to the point where you won't want to return to your previous lectures.
Click here to learn how to integrate our engaging business learning tools into your course today.