How to Design an Inbox Simulation, Even If You Aren't An Expert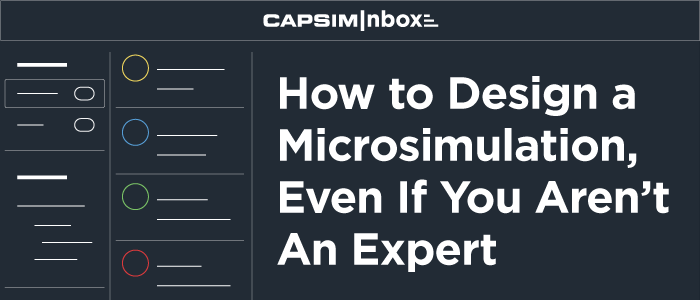 Engagement in learning is a top challenge facing educators today. Whether you're an instructor, learning development professional, or manager, even if your content is quality, it'll fall flat if it's not delivered in an engaging and relevant way.
One of the best ways to connect with your audience is through storytelling. Inbox simulations are a way to bring stories to life so learners can experience relevant, real-world situations. If you're reading this article, you're likely interested in building an inbox simulation of your own.
But, you might be struggling with where to begin.
You may feel out of place when approaching building an inbox. Perhaps you're thinking; am I even qualified? Do I have enough experience and expertise to do this?
But qualifications extend beyond a degree. CapsimInbox is a transformative storytelling vehicle that drives authors to bring concepts and ideas from their experience into a platform to share with others. A degree is excellent. But so are life experiences

Whether you've been a practitioner for decades or you're someone who's just getting started, we have some tips for you. We're delighted to introduce you to Dr. Lori Radulovich. Our seasoned author leveraged her life experiences and expertise to build three inbox simulations.
We had the chance to sit down and talk to her about her process behind building different Inboxes. She was kind enough to share some insight and ideology with us.
1. Start with Your Passion in Developing an Idea
Drawing upon life experiences brings the concepts, stories, and ideas you build to life.
"You have to start with what you're passionate about, or your expertise," Lori said. "If you have passion for something, and if you have experience with it, that helps you develop an Inbox very quickly because you've worked in that area for a while."
What's the first thing that comes to mind when you try to picture yourself as an "expert" of something? Choose a topic you've had experience with, where you can draw from life experiences.
Besides driving her role as the Associate Dean of Undergraduate Business at Baldwin Wallace University, Dr. Lori Radulovich is a professor in the School of Business, a business owner and professional consultant to entrepreneurs and multinational firms.
"I felt my exposure and experience with real-life examples were critical to helping me develop my simulation," Lori said.
It made sense that Lori compiled her decades worth of industry experience to embark on building a cultural awareness simulation. She had experience with it as an unofficial cultural awareness expert.
Dr. Radulovich shares more on building the cultural awareness simulation.
2. Expand Your Horizons if You Aren't the Biggest Expert in the Field
The power of CapsimInbox is its immense propensity to serve as a storytelling tool. It highlights experience and real-life examples in engaging ways.
But suppose you have an idea in a subject area relatively new to you. If you feel like you lack the writing skills, there's plenty you can do to sharpen your authoring skills. In that case, Lori recommends going out and conducting research in multiple areas such as application within companies, theory practice, and investigating trade publications.
Even though business analytics is a topic that's "been in the operations management field forever," as Lori said, those in the operations management field don't always go into data analytics or business analytics.
Lori didn't have the expertise, but she did see a need for more knowledge in that specific area. So she took it upon herself to learn the subject matter and experience it with her students.
This past year, Lori received grants to bring in speakers to showcase what the business analytics field encompasses, learning directly from the expert sources of knowledge.
She tried her best to immerse herself in the field. Lori recognized an invaluable asset: she needed real practitioners' and employees' experiences in the field. Lori read multiple analytics textbooks and attended seminars to feed her brain and stimulate creativity.
It's safe to say Lori does a lot of research and back work when building. She feels those are the expectations of the people who will be using the inboxes: they need to be authentic and accurate. If inboxes are training people to behave a certain way, Lori feels there's an assurance she has to provide. She knew she'd have to master the subject matter to reflect an accurate representation of the field for her students.
3. Even If You're an Expert, There's Still Room for Growth
Lori conducted international market research as part of her doctoral work. It made sense that the first Inbox she built was cultural awareness—she had a strong interest, experience, and passion for the subject.
But even with a Ph.D. and decades of experience in the field, there were still gaps to be filled. So, Dr. Radulovich went to experts to continually immerse herself in various cultures and spent a summer devoted herself to studying it. Lori read analytics textbooks and attended seminars to ensure there would be no room for bias in her Inbox.
As someone born and raised in the U.S., she can't pretend to be someone outside of her cultural context. But she found ways to build her cultural knowledge and address deficits with personal assessments and extensive research.
"You're not an expert in everything, just because you're good at one thing," Lori said. "An author's credibility is on the line."
She realized there were still challenges that people didn't understand when working with individuals from diverse cultures. And she knew she needed to address her knowledge deficit with the tools and experiences at her disposal.
4. Take a Step Back: Reference, Reframe and Rework.
Have you heard of the Curse of Knowledge? According to UserTesting blog, "the curse of knowledge is a cognitive bias that occurs when an individual, communicating with other individuals, unknowingly assumes that the others have the background to understand."
Once we know something, like the melody of a song or the approach to arithmetic, we can't unlearn what's already been mastered. This makes it difficult to teach something to individuals who may have no knowledge on a subject.
By now, you've likely mastered your subject matter, and you tend to form blindspots in your knowledge. Your knowledge has "cursed" you.
A learner coming into an Inbox has no frame of reference. "Go in as a newbie and ask, 'What do I know that I'm assuming everyone else knows already?'" Lori advises.
Present the challenge or the critical question and break it down into pieces. Work through each step of the process and reflect. Did you create a convincing scenario? Does the company reflect the real-world? Are the characters in your story representative of the protagonists and antagonists you've faced in the workplace?
5. There Are Different Approaches, Even for the Same Authors. And That's Ok.
"To me, it's a logical step process in my mind," Lori said. But that doesn't mean she approached the building process the same way for two distinct simulations.
Take pantsters and plotters, for example.
"Some people write everything in one sitting and walk through a situation as it's happening. Those are pantsers," Lori said. "And that was me creating the cultural awareness simulation."
Lori wrote stories and walked through situations as they happened. She managed to capture the essence of the Inbox in one sitting.
In contrast, Lori adopted a plotter approach with business analytics. It was progressive from a beginning stage to a high-level conceptual stage near the end. It took Lori about a week to analyze data and decide how people would perceive the plot before she began to outline her step-by-step story.
"Toward the end, it's a high-level conceptual plan," Lori said.
She frequently asked herself, What do I know that everyone else might not? What is their lack of knowledge?
Whether you're collaborating with a fellow microeconomics professor or venturing on this journey solo, keep an open mind.
"I listen to people with creative ideas because that's how we learn," Lori said. "You don't want to see the same thing 100 times over. You want something new."
Start Building Your Inbox Today
Do you have something new to build? We know you're ready to elevate learning and meaningfully prepare your learners in a contextualized environment.
Visit our CapsimInbox Authoring Platform to bring your expertise to life.