Introducing CapsimInbox: Exporting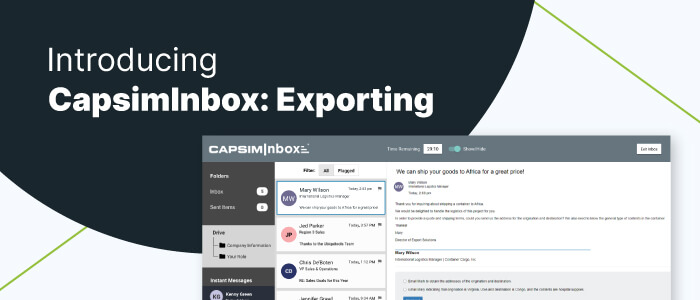 We're excited to introduce CapsimInbox: Exporting as the newest addition to our suite of inbox simulations.
Author and associate professor at James Madison University, Dr. William J. Ritchie, strove to create a real-world experience for participants to navigate the challenges of shipping goods abroad.
While exporting is a common subject in courses like strategic management, supply chain management, and international management – the focus is typically on concepts like currency exchange, hedging, and countertrade.
CapsimInbox: Exporting provides instructors a way to emphasize the logistics and processes behind shipping goods to another country.
In this inbox simulation, participants experience a day-on-the-job of the Director of International Logistics for Congo Medical Supply, Inc. (CMS).
As political unrest strains healthcare resources in the Democratic Republic of the Congo, participants must help coordinate the shipment of medical supplies from the U.S. to the DRC. Time is of the essence due to the possibility that COVID-19 may shut down logistic channels.
Participants need to facilitate and expedite the export process of medical equipment to Africa under the impacts of the COVID-19 outbreak and ensure the company delivers on its promise to provide high-quality and cost-effective goods for its international recipients.
The Scenario
Political unrest and a recent Ebola outbreak in the Democratic Republic of Congo have significantly strained healthcare resources. Hospitals lack basic treatment equipment such as beds, lamps, and surgical supplies. Dr. Mark Jones, the CEO and President of Congo Medical Supply, Inc. (CMS), has amassed a storehouse of needed supplies in Virginia.
The Role
Participants enter the inbox simulation experience as new employees at Congo Medical Supply, Inc., which needs your services as the new Director of International Logistics to help speed up the preparation and paperwork to get the shipment of Congo medical equipment on the water. This new role is critical.
The Congo healthcare marketplace needs are new to CMS, and Dr. Mark Jones desires to ensure the company delivers on its promise to provide high-quality goods and remain cost-effective for its international recipients.
The Skills Assessed
Throughout CapsimInbox: Exporting, participants are challenged in:
Interpretation of Data
Research
Problem-Solving
Interpersonal Skills
Learning Objectives
By the end of the experience, participants will walk away with an understanding of:
How exporting fits into the overall strategy
The process of transporting good
The process of documentation filing
The export sequence and associated costs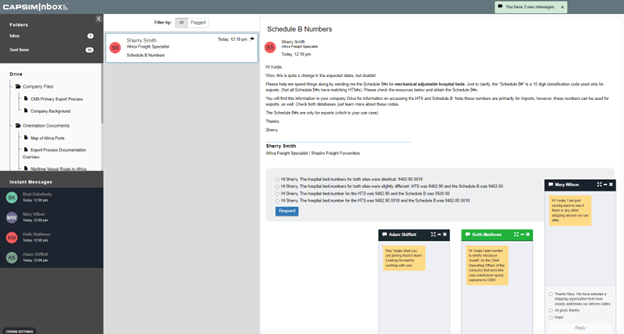 To try out CapsimInbox: Exporting, visit our inbox simulations webpage and request a demo.