Minecraft, Marshmallows and Microsimulations: 3 Innovative Learning Experiences One Management Professor Used to Drive Student Engagement and Boost Classroom Attendance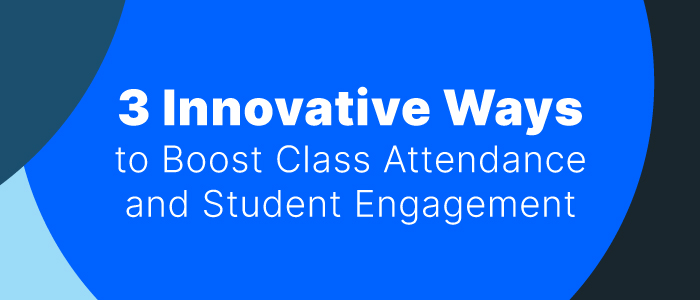 After teaching Curtin University's Capstone course for six years, the opportunity arose to adopt innovative tools into a brand-new program: Enhancing Your Business Mind. Dr. Michael Baird, Director of Learning and Teaching for the School of Management and Marketing, realized that student engagement was one of the most significant challenges he faced.
Over the years, Dr. Baird noticed a similar trend from thousands of students across multiple countries: the new generation learns vastly differently from previous generations.
Millennials are… different. How could Dr. Baird entice them to come to class when so many other priorities pull students in other directions? What could make students pay for a parking pass and drive into campus when they could save time and money by staying at home?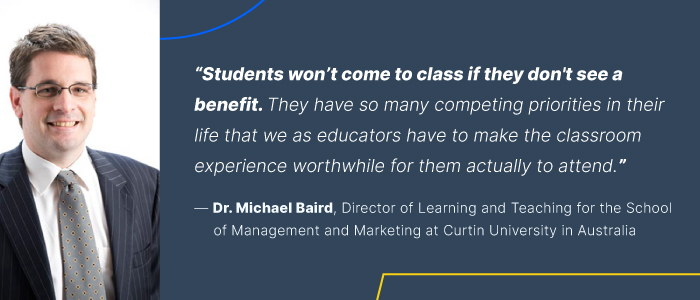 That's where Dr. Baird's new program--Enhancing Your Business Mind--enters the picture. He placed a few calls to industry professionals from organizations like PriceWaterhouseCoopers, Microsoft, and a few other Australian-based businesses, who helped Dr. Baird develop his new program. Enhancing Your Business Mind was different from the rest.
Unlike traditional classroom formats, Enhancing Your Business Mind has no lectures. Instead, all the learning takes place in class, and assessments are based upon learning that takes place during class time. If students don't attend class, they have no way of completing the assessments.
So what is the course model?
An Innovative Approach to a New Course and an Immersive Classroom Experience
Students walk away from Dr. Baird's course with elevated gratitude toward team projects.
Upon graduation, many of Dr. Baird's former students used to share, "I wish I would have met more people and graduated with a bigger network," he said.
So now, when it comes to assigning group projects, Dr. Baird randomly assigns students to different groups every week instead of semester-long projects with the same group members.
Together, these groups in Enhancing Your Business Mind dive into engaging experiences with the help of Ted Talks, Lego cities, and team-building with CapsimInbox: Escape Room.
With the marshmallow tower challenge, Dr. Baird provides his students with raw spaghetti and marshmallows to build the tallest structure imaginable. It isn't until the very end where many groups decide to test out the weight of their designs with the finishing touch of the marshmallow. Many teams watch in dismay as their spaghetti structures clatter to the ground in defeat.
When it comes to Lego building, Dr. Baird puts his students' agile thinking to the test with building blocks. He divides his students into various groups tasked with the same project and three-word directions projected onto the front of the classroom: "Build a City."
Inevitably, they all start building five different cities from the five other groups we put them in. Finally, after 20 minutes, Dr. Baird stops his class and asks--why didn't you all build a city together? The instructions say to build a city.
The students rise in protest, "but you put us into different groups!" Surely he did. But he never said the whole class couldn't be a group.
Another week, the course addresses negotiations. Teams enter fictitious negotiations taking the stance of either the employer or the union. Students must negotiate the salary for their employees. The union fights for higher wages, while the company strives to cut costs and earn lower salary contracts.
One anonymous student feedback praised Dr. Baird's course as "the best unit I have taken throughout my degree," the student's feedback begins. "The course is engaging and teaches highly transferable skills. The unit's low preparatory work but high amount of in-class participation mean we get the most efficient and effective value out of the class. This is the first class I have attended all meetings!"
Finding Tools for Hybrid Learning: Enter CapsimInbox and Minecraft… Edu
While the primary goal of the marshmallow challenge is to build teamwork and leadership, those crucial soft skills are harder to parallel in a remote environment. But not impossible.
For students that can't attend class in person, Dr. Baird throws them into Minecraft (yes, the video game), Edu. It happens to fall under Curtin University's Microsoft contract. But more importantly, it parallels the same teamwork and leadership skills he instills in his students with the immersive, hands-on, in-class activities.
Dr. Baird devoted one week of his course to CapsimInbox: Escape Room because "nothing else was as suitable for a single in-class exercise that would keep students engaged whilst using a learning tool that was new and different," he said.
CapsimInbox: Escape Room transforms the traditional escape room and team-building exercise experiences to provide participants with a chance to develop practical business skills and delivers results back into the classroom or their future workplace. The microsimulation creates a fun and competitive experiential learning program that challenges participants to enter into a day-in-the-life at an executive's office to search for clues and make decisions while running a simulated company.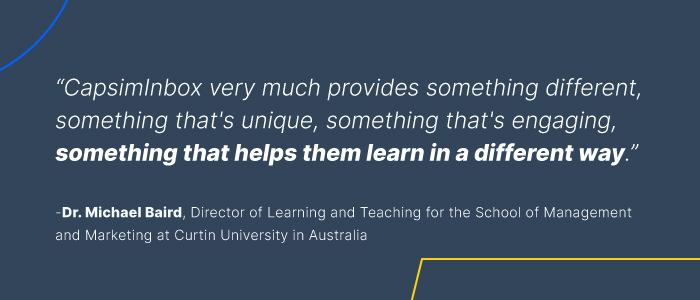 Enhancing Your Business Mind has gone through one semester so far, and moving forward, it will continue to undergo enhancements. Enhancements like changing CapsimInbox: Escape Room from an in-class exercise to completing the simulation experience separately, online.
Preparing Students for a Remote Work Environment with Virtual Team Building in CapsimInbox: Escape Room
"Even though students come to class every single week, I'm going to force them to do this exercise online," Dr. Baird began, "because I think we live in a world now where having to work online in any workplace around the world is going to be more common than it ever has been before."
Although many of his students still yearn for the in-class experience because they aren't the biggest fans of online learning, encouraging students to complete CapsimInbox in an online environment teaches them new skills.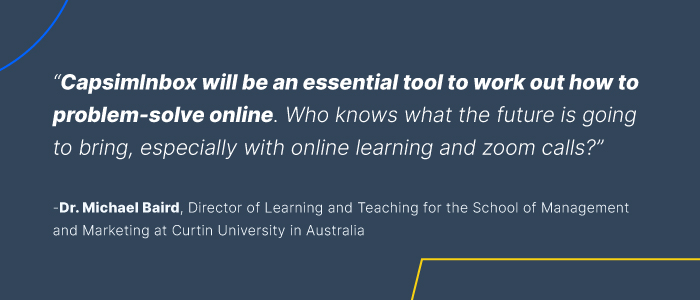 One thing remains certain: Dr. Baird's commitment to preparing his students for ambivalence in the future.
While in the first semester's launch of his course, Dr. Baird titled the specific chapter with CapsimInbox: Escape Room as "CapsimInbox Simulation," he's since adapted the unit title to "Online Problem Solving."
Toward the end of his course, Dr. Baird incorporates theory and challenges students with questions like: What did you learn? What was the point of those exercises? And, describe the team dynamics for each exercise.
"We're not really teaching students much content," Dr. Baird said. "It's more that we're getting them to do things, rather than just teach them theory from a textbook."
Anonymous student feedback from Dr. Baird's course gushed excitement for more immersive and hands-on experiences.
"All information that was taught in this unit was useful and relevant for my future career. The innovative use of Minecraft Edu and CapsimInbox was a way to increase students' engagement and competency to empower the learning outcome better. My lecturer was excellent in the delivery of the learning outcome. He induces a fantastic way of learning and developing students' skill sets and brings about his own Philosophy when teaching."
-Anonymous Student feedback from Curtin University
Discover a CapsimInbox Microsimulation that works for you.
If like Dr. Baird, you're looking to bring immersive and engaging experiences to your students virtually, we have over 20 off-the-shelf microsimulations for you to incorporate into your course.