Changing, Adapting, and Recruiting During a Pandemic: How a Star Swimmer is Making a Splash in the Pool and in the Classroom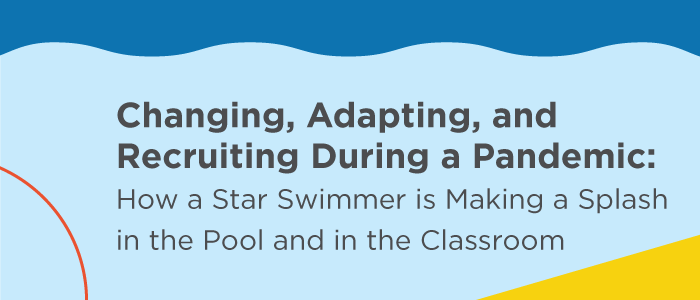 Educators have had their fair share of challenges in adapting their teaching methods to engage students.
And so have students adapted their learning–and training–methods this past year.
Student-athletes, like Madi Dohrn. The junior from Schaumburg High School kept training during the pandemic. When all pools were shut down in the summer, she tethered herself to a post with a bungee cord and trained against her own resistance in an above-ground circular pool.
It turns out the limitations weren't a problem. "The smaller space actually helped me improve my technique," she said with a smile.
The circumstances that may seem like limitations may encourage us to find innovative solutions to engage students. Despite everything educators have endured this past year, opportunity lies ahead.
Adapting Tools and Teaching Methods is Crucial for Student Success
Now more than ever, educators need to adapt tools to help students refine their techniques. In the classroom, in the pool, and in the workforce beyond graduation.
In between morning weights and dryland training sessions, you'll find Madi Zooming into virtual AP Physics and AB Calculus during the day, among other challenging coursework at Schaumburg High School. After remote learning, she heads off to Reach Aquatics for an hour of club practice. Usually, it's two hours, but with COVID restrictions, lanes are booked well in advance, allowing only one athlete at a time.
After all the hassle of her busy days, if you're lucky enough, you can catch a glimpse of Madi's walls.
They're covered in excel spreadsheets.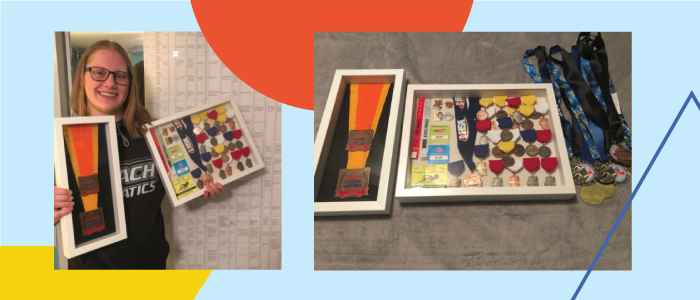 Madi's method to navigate the new normal for classroom success and recruiting advancement
Initially, her virtual recruiting visit notes started in two notebooks. But she quickly ran out of space. Now, she's filling out Excel spreadsheets filled with different questions and categories to determine what future schools will propel her to dive into a bright future.
How do you accommodate athletes with class conflicts?
What does the security of your swimming program look like with COVID?
Do you live stream meets?
What kind of feedback do you provide to your student-athletes?
Can you describe the academic support options for your athletes?
Madi's virtual recruiting visits have been full of questions. And coaches are armed with answers. Zoom meetings now take prospective students on virtual tours of the campus. After a while, coaches leave the "room" and allow their student-athletes to have honest conversations and raw sessions with prospective recruits.
Creative methods to prepare for success—mentally and physically
Staying in shape during the pandemic involved some creativity. Madi and her younger brother, Will (also an avid athlete), grabbed a deck of cards. Each suit aligned with a different workout.
"If we pulled a nine of diamonds, we'd do nine pushups," she shared.
Recruiting during the pandemic has been different. On-campus visits are postponed until spring. For now, the dead period for recruiting is extended until April 15.
So Madi adapted. Instead of booking a flight to visit her dream school, she logged in to CapsimInbox. She enrolled in a microsimulation that paralleled a 'day in the life' of a high school student-athlete on a mission to find a place to call home for the next four years.
CapsimInbox as a training tool for prospective student-athletes
As a training tool, CapsimInbox challenges ways of adapting and the traditional approach to education. Previously, I wrote a series on building a microsimulation from beginning to end. I leveraged my experiences as a former Division I student-athlete at DePaul University to help high schoolers navigate the recruiting process—amid a pandemic.
The aim was to see how my former experience and 'expertise' resonate with someone going through those challenges right now. The CapsimInbox Authoring Platform serves as a vehicle to help learners navigate challenging scenarios—from Zoom meetings with potential coaches and teammates to ethical decision-making and value alignment.
Unlike the Inbox, Madi is lucky to have had mostly positive experiences with coaches so far. In general, their ideologies toward academics align with her future goals of pursuing swimming and a STEM career.
We were thrilled to share Madi's story–the first student to complete Capsim's High School Student-Athlete Recruiting Experience.
This past year, Madi's been incredibly responsive to her email–for school and recruitment purposes. The emails that popped up in the Inbox Microsimulation paralleled many of the communications she's been exchanging with prospective coaches.
Timely, professional responses are crucial to maintain positive relationships with coaches–and score well in CapsimInbox: High School Student-Athlete Experience.
Aside from the platform assessing email etiquette, professionalism, and time management, participants are tested on their integrity and key decision-making skills.
What surprised Madi in the simulation was coaches responding in a degrading manner toward the importance some student-athletes may emphasize on academics. That, and bribery.
While neither happened to Madi in her recruiting process, both happen in the recruiting world. But CapsimInbox prepares students how to respond to real-life challenges in a safe environment before they step foot into college.
Make a splash with the CapsimInbox Authoring Platform and build yours today.
The CapsimInbox Authoring Platform is free and easy to navigate. Our users have the power to leverage their expertise and experiences to create personalized experiences for their students, peers, or employees.
Experience the life of a prospective high school student-athlete.
Try out a free, 10-minute demo version of what Madi experienced as a student-athlete going through the recruiting process.