Introducing a New Inbox Simulation to Make Business Law Courses Experiential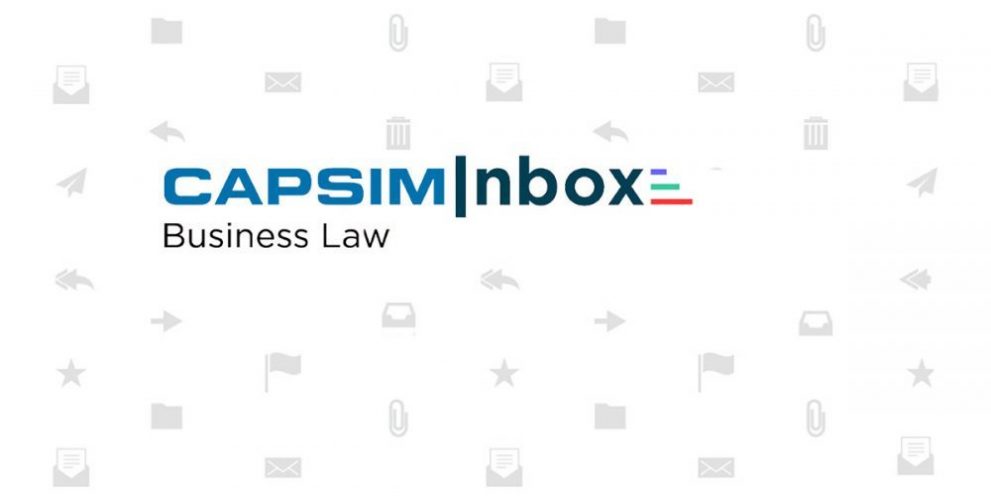 We are excited to announce the release of CapsimInbox: Business Law – a quick and easy way to make your business law course experiential.
CapsimInbox: Business Law is an inbox simulation that helps instructors effectively engage, measure, and develop learners. Participants are immersed in real-world scenarios and measured on their ability to effectively apply key business law concepts.
Specifically, learners are measured on the following skills:
Issue identification
Issue investigation
Issue resolution
Ethics
Cost management
New to this version of CapsimInbox are short answer responses, letting learners explain their decision reasoning to foster more critical thinking and classroom discussions.
CapsimInbox: Business Law was authored by Robert "Rocky" Perkovich, Professor at DePaul University and practicing lawyer with a specialization in labor employment cases. In this inbox simulation, learners experience realistic and common business law scenarios adapted from Professor Perkovich's 20+ years of professional law experience.
Check out our author interview with him below to learn how you can utilize this tool in your classroom.
What is CapsimInbox?
CapsimInbox simulates a 'day in the life' experience by immersing learners in real-world scenarios where they face various situations by responding to emails and instant messages. With the average inbox simulation taking 30-60 minutes to complete, CapsimInbox is flexible enough to be used as homework, an interactive case study, or an assessment.
You can take a closer look at the CapsimInbox simulation interface by clicking on the images below.
Key Features
The Scenario
Learners are placed in the role of a facilities manager at Eco Heat, Inc, a medium-sized heat barrier glass production facility. As facility managers, they are responsible for ensuring the manufacturing and delivery of Eco Heat products are in accordance with the company's mission and values.
Using the resources provided, it is up to participants to evaluate, respond and resolve a variety of challenges and situations related to defamation, workplace investigation, agency law, and many more.
New Open Response Questions
To better enhance students' critical thinking, short answer responses allow them to explain their decisions.
Other benefits of short answer responses include:
Helping you drive better classroom discussion
Eliminating the chances of students guessing an answer
Insights into misunderstanding regarding specific materials
Objective Feedback
After completing the simulation, learners receive a performance-based report that provides them with feedback that is:
Personalized
Objective
Developmental
The feedback report consists of learners' overall score, developmental index, self-awareness score, and skill gap analysis. You can view a sample feedback report by clicking on the image below.
Learners also receive an Individual Development Plan (IDP) that contains evidence-based tactics for improvement on each skill measured in the simulation. The IDP guides participants through the creation of S.M.A.R.T goals (Specific, Measurable, Attainable, Relevant, and Timely) to give them actionable next steps in their development.
Want to learn more?
If you'd like to learn more about CapsimInbox: Business Law, click here or contact us at welcome@capsim.com.