Real-World' E-Learning Through Microsimulations Webcast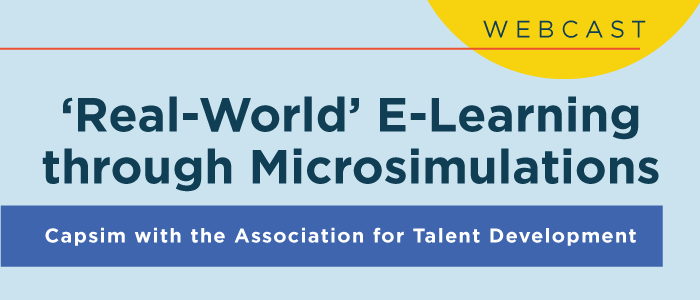 Imagine you can evaluate your employees by how well they respond to situations through emails and instant messages. With microsimulations, you can. During this webcast, we discuss how custom microsims can make e-learning more authentic to your workplace. We also share how our new platform has helped organizations select better employees, uncover gaps in soft skills, and effectively train employees by exposing them to situations before they happen.
Market Development Manager, Capsim Managemnt Simulations
Matthew Shell is the market development manager at Capsim Management Simulations. His primary role is to assist academic and corporate authors with creating custom microsimulations that assess and measure the key skills related to career success. During the last year, he was worked with more than a dozen authors from across the country to create microsimulations for various business areas such as cultural awareness, human resources, and strategic marketing. His most recent work includes authoring a digitized escape room experience that has been used in training programs and classrooms. Shell received a master's of business administration and baccalaureate degrees in psychology from Purdue University Northwest.
Director of Product Design & Development, Capsim
Brendan Langen is the director of product design and development at Capsim Management Simulations. He has led more than a dozen new products to market for Fortune 500 companies and academic institutions around the globe, including day-in-the-life microsimulation, CapsimInbox, and the collaborative business simulation, CapsimCore. With this experience, he created a custom microsimulation around product management that was used to assess new hires at Capsim. Langen received a master's in business administration from University of Florida's Warrington School of business after studying at Indiana University's Kelley School of Business.