Why One Professor Encourages Mistakes in the Classroom, and How He Fosters Them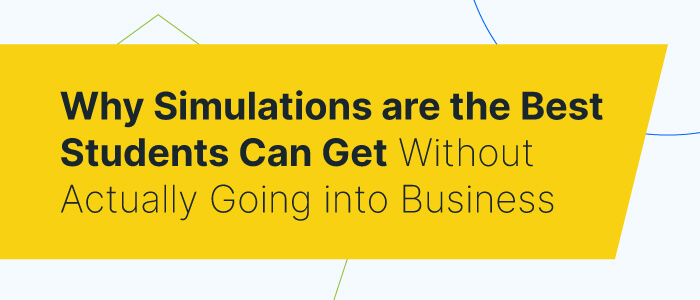 "I've dreaded the day when I can no longer use a Capstone simulation in my courses because it's that valuable to me," Dr. Jorgensen, Assistant Professor of Management at Roger Williams University, said. "Quite literally, I have had nightmares about it, thinking, 'Oh, no, what do I do if I don't have the simulation anymore? How else can I bridge the gap between theory and application?'"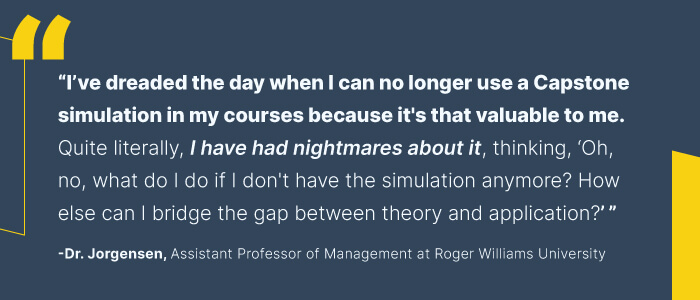 Dr. Jorgensen has used Capsim simulations since he was an undergraduate student. After working as both a research assistant and a teaching assistant for his MBA, he fell in love with academia and teaching.
What common theme carried over from Dr. Jorgensen's undergraduate, graduate, and doctoral experiences–and managed to filter back into his classrooms? Simulations.
How Simulations Translated From His Time as a Student to His New Role as a Professor
"When I was an undergraduate student some years ago and used Capstone, I fell in love with it," Dr. Jorgensen said. During his MBA he then worked with GlobalDNA, delving into the simulation as deeply as he could with the help of informative team member guides and an amazing team–and also by making mistakes.
"Despite the quality and number of resources related to this simulation much of my current knowledge was gained after becoming an educator," he said. This realization informed Dr. Jorgensen's approach to simulations as a professor, providing them with as much opportunity for practice as possible and honing the onboarding process. Providing his students with the opportunity to put what they learn into experience is the crucial ingredient to student success.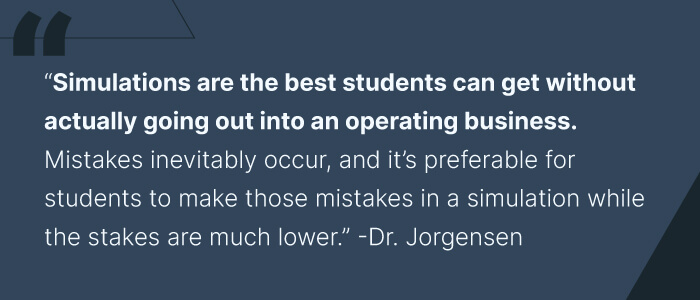 Simulated learning tools allow participants to face real-world experiences without the high stakes of losing a job, tarnishing a company's reputation, or tossing millions of dollars on a poor forecasting decision.
Throughout
H

is
C

areer
,
Dr
.
Jorgensen
U

nderstood
the
V

alue
of
S

imulations
–
E

ven
at
the
C

ost
A

cquired
b
y
S

tudents
.
Although Dr. Jorgensen loved his experience with simulations as an undergraduate and graduate student, he found himself facing a difficult decision when teaching his students.
"There's always a relationship between student pocketbooks and the value that we can provide through additional materials," Dr. Jorgensen said. "Honestly, that tugged at me. I asked myself, 'should I require this despite the additional expense?'"
In the end, simulations found a way into Dr. Jorgensen's Strategic Management classrooms. "I've always found the value is worth every penny, and my students almost unanimously agree," he said.
Overcoming
the
F

ear
of
N

ot
K

nowing
: Adopting
Simulations
D

oesn't
H

ave To
B

e
S

cary
Many educators likely face a fear of the unknown.
In my first semester, I would wonder, "What if I get a question I don't know the answer to?" Dr. Jorgensen shared. "Because there's often a difference between broad theory and precise application," he said. And simulations provide professors with the opportunity to apply theories and see if they work.
The ability to apply information, Dr. Jorgensen realized, was something students appreciated–a break from the typical lecture. Simulations provide learners with a hands-on activity and immediate feedback to refine their understanding.
Capstone 2.0 reinforces the fundamental business strategy concepts taught by Dr. Jorgensen, providing insights he can sprinkle throughout his lectures to promote meaningful development in his students.
"From the beginning of the semester to the end of the semester, my students gain a greater understanding of what goes into controlling all different functions of business," Dr. Jorgensen said. "The knowledge of how one business decision impacts everything else clicks in a way that a lecture can't always convey."
Dr. Jorgensen regularly completes the simulation himself to ensure his feedback to students is current, and has tried every variant of business-level strategy under the sun–from low-cost leadership to differentiation and blue ocean strategy in-between, but no matter how many times he implements the same tactic, not one strategy wins across multiple semesters.
"Success depends on other dynamics at play," he began, "versatility is the beauty of simulations."
In fact, Dr. Jorgensen doubled down on simulations by tacking on CapsimInbox in his Principles of Management classes. While business simulations provide his students the chance to work on a company as a team, CapsimInbox gives his students the chance to work in a company as individuals, navigating real-world scenarios in a familiar email environment, in real-life roles.
"Students enjoy the simulation and enjoy learning about themselves," he began. "They experience situations that have them say, 'Oh, this is what managers actually do.'"
Over time, he realized simulations provide him as an instructor with the opportunity to apply theories into practice–and see if the textbook truth applies in real-world scenarios.
Any remaining questions on the technology side of the tool are typically addressed by Capsim's support team, which helps students and instructors alike navigate unchartered territory. "The resources you all provide are fantastic, and the support is world-class, honestly."
Since implementing simulations into his classroom several years ago, Dr. Jorgensen has left behind the fears of receiving questions he can't tackle. Simulations have proven to possess the power to put those questions and apprehension to the test with real-world scenarios.
Immersive and Engaging Learning Opportunities Reflective of the Real World
As a student, Dr. Jorgensen was one of the self-proclaimed "nerds" who stayed up until midnight to discover where he landed on the world rankings. Years later, he's still competitive. But now, he instills the spirit of competition in his students.
Aside from mirroring the world students may find themselves in after graduation, Dr. Jorgensen points to the hands-on aspect of the learning simulations as an added benefit to students.
When Dr. Jorgensen shows up to share his love of learning with his students, he constantly asks himself, "How do I bridge the gap between theory and practice?"
Elevate the Learning Experience
If you're wondering how to bridge the knowing-doing gap–you're not alone. Capsim has a suite of learning tools to engage and immerse learners in real-world situations. Take our simulations out for a test drive today to elevate your student's learning experience.