Bringing Immersive Business Learning to the Developing World: Remoras Technology Takes First Place in GBSN Microsimulation Competition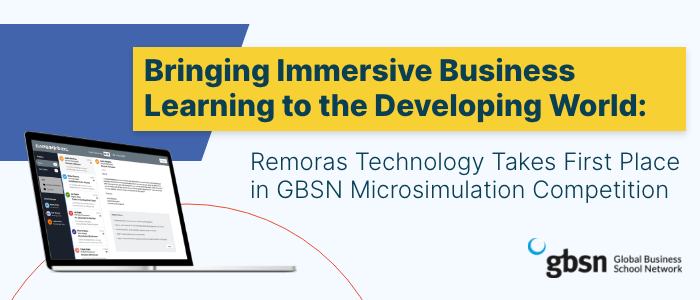 Imagine you're the VP of Human Resources of a FinTech company in Bangalore. You're responsible for setting, enforcing, and evaluating HR procedures to align with the current administration.
What do you do when multiple allegations against a star employee come your way?
You can move beyond your imagination by experiencing this year's winning GBSN inbox simulation for yourself.
Over the past three years, Capsim has partnered with Global Business Sustainability Network (GBSN) to create a competition for educators across the globe to bring their research, knowledge, and experiences to life in the Microsimulation Development Lab Workshop as part of their annual GBSN Beyond conference.
Culturally Relevant Learning
The key to this competition is creating culturally relevant learning. GBSN is a nonprofit organization that aims to increase access to quality, locally-relevant education for the developing world.
This year's competition welcomed over 56 registrants from 13 countries to compete over the course of five weeks to build a 15-30 minute microsimulation in contention for the $5,000 grand prize.
The first place medal went to three business instructors working in collaboration to create their engaging HR simulation: Remoras Technology.
Hinrich Voss of University of Bristol, and Divya Singhal and V Padhmanabhan of Goa Institute of Management were tasked with using CapsimInbox to bring their vision to life. The inbox simulation platform simulates an email environment where learners face real-world scenarios. Educators used current data, research, cases, and more tricks up their sleeves to develop an engaging learning experience.
"As a facilitator, I think we are always looking for something more meaningful, something more engaging, which is contextual, and which students experienced themselves. And this microsimulation fits well with those kinds of intentions," Dr. Singhal, one of the first-place team members, said.
This year's simulation integrated challenges and scenarios related to sexual harassment. Why the controversial subject?
"It happened that Dr. Singhal was teaching a written case on sexual harassment in the workplace. We thought it would be a good starting point for us to develop a simulation because we had prior experience and knowledge around a case we could adjust and continue developing onwards," Dr. Voss, another winning team member, explained.
"Thinking about adaptation in teaching in a classroom, CapsimInbox will potentially allow instructors to use a written case in combination with a simulation. Now, you've got multiple modes of communicating a particular message across or stimulating critical engagement with a topic, rather than just having one mode of engagement," Dr. Voss finished.
If you'd like to put yourself in the hot seat, you can test out this year's winning inbox simulation free for yourself here. Or check out the full list of inbox simulations created as part of the GBSN Beyond competition over the last three years.