The Science-Based Guide to Effective Teamwork: Recognizing Problems & Boosting Collaboration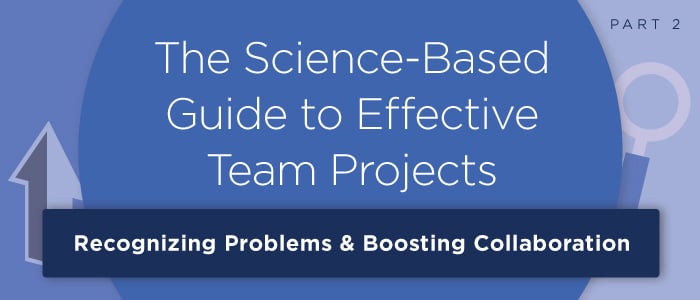 In our last post, we talked about recognizing when it's right to use teams and how to build them. Dr. Erich Dierdorff, an Organizational Psychologist, Professor of Management at DePaul University, and science of teams expert, elaborated on the science-based guide of when to use teams, and how to build them.
Today, we're sharing best practices from Dr. D's webinar. As we move beyond the idea of setting the team up for successful performance, we'll move into what to do when teams encounter problems in collaboration.
We've all experienced the struggles of group projects as students. Perhaps you recall problems working through classroom assignments—unanswered emails from group members, poor communication, and failed collaboration efforts. Team members' refusal to accept responsibility for specific tasks leads to some team members not pulling their weight and others doing all of the work.
How can we recognize when those problems begin to percolate at an individual or team level? This guide remedies the challenging situations educators and students may encounter when working in team environments.
Don't assume "no news is good news."
A passive approach to silence can lead to problems later down the line.
Don't use the same evaluations for development and grading.
Evaluations are an opportunity to measure not just what students know, but also what they can apply. The goal here isn't to measure whether they conceptually know makes up effective teams. It's to make sure they understand how to effectively contribute to them.
Don't assume good peer evaluations equals a well-functioning team.
Especially early on in a team's life cycle, there's a tendency to overestimate or overrate how things are going. Or, if it's too early, the team members haven't worked together long enough to recognize positive or negative behaviors.
Regularly examine rates of participation.
Be proactive. Many Learning Management Systems allow you to examine participation rates like logins and time spent on a learning tool. Capsim products will enable you to check who logs into different simulations and how frequently they do so in teams. Set a routine for how often you check in, and build it in as part of your teaching process.
Provide developmental feedback about teamwork.
When there is a problem, require individuals and teams to create improvement plans on how they will fix it, instead of waiting for everything to fall apart.
More on Developmental Feedback
DePaul University regularly uses Teammate, a Capsim product, to provide real-time developmental feedback during team projects. Dr. Dierdorff has loved using Teammate for seven years now because the tool is based on validated measures backed by the science of teams.
Teammate includes two different assessments: one for grading and one for development. "The tool does the job for me," Dr. Dierdorff said, and provides specific developmental feedback for students, which lessens the load, and provides more specific tactics for teams and individuals to improve.
Pure ratings-based approaches provide developmental tactics for individual and team improvement, and evidence-based suggestions help learners grow. The information in the pure-ratings approach helps teams reduce conflict and increase cooperation.
Educators need to admonish students to be brutally honest and communicate that message more than once. When then they do this, it's all about their own development and building a better team to be straightforward and candid.
Dr. D recommends using these types of assessments at least twice—early on and later on in the project life cycle—to provide the developmental feedback they need to improve.
Teamwork begins with individual-level behavior but ends with team-level consequences. People come together to achieve a collective goal, but some mindsets may surface that may make your goals harder to achieve.
Don't adopt laissez-faire leadership with passive detection.
"They'll let me know when something is wrong" and " they'll work it out" approaches make your job more difficult.
Don't instruct on case-by-case treatments.
"I'll worry about it if or when it happens" creates more headaches and allows problems to fester. Oftentimes, educators address the problems after they've given out project grades, and there's no time to fix behaviors or inspire people to self-manage these problems in their teams.
Allow for "firing" of a team member with a grievance procedure.
Often, the threat of getting fired from a team and knowing it can happen are usually enough to motivate change in people's behavior and start contributing. Problems with team members must first be addressed on the students' own, using a process. Firing someone is a grievance procedure with approval from a professor before the final line is drawn. It turns out that firing someone is quite rare and hasn't happened to Dr. Dierdorff in the past few years.
Have a backup, alternative individual assignment.
With the COVID-19 afflicted times we live in, we're dealing more with illness. When unexpected instances pop up, it's necessary to have backup plans for students who can't follow through with group work when dealing with existential circumstances.
Teach feedback or conflict-resolution skills.
Conflict-resolution skills apply not only in the classroom when working on a specific group project but also beyond the situations most students will find themselves in when facing conflict.
Let's move on from dealing with problems to promoting success. When we talk about facilitating success, we really want to boost collaboration.
We know from research literature that communication, cooperation, and coordination are essential to team effectiveness.
Don't rely too heavily on asynchronous communication.
There needs to be some life for communication in a virtual environment. Limiting communication to only emails, posts, or other one-sided conversations where people read takes out dynamism. And we know that dynamic communication not only impacts students' reactions, which are more favorable to you as an instructor, but it also drives up learning. It allows for more direct, real-time feedback. The impact of direct and live interactions is frequently undervalued, and it shouldn't be.
Don't allow for too many communication options without specifications.
Having options is great. But it's best to specify what mode of communication should leverage a specific purpose. And avoid assuming plenty of communication translates to high-quality communication. Quantity doesn't equate to quality.
Encourage open and unique sharing of information.
There are various forms of information sharing. Open sharing is distributing large volumes of information among team members. Examples include discussion boards and email threads. Unique sharing is divulging information not known by the majority of team members, like living documents and high-priority pages that are largely unknown. The key is fostering open and unique sharing in team projects.
Have scheduled times for monitored, synchronous project work.
Regardless of the technology you use, whether it be Zoom, Google Hangouts, or others, having preset times for synchronous project work you actively monitor is impactful.
Two Tips for Monitored Work:
1. Use breakout rooms (wisely.)
Be sure to visit each team, even if it's performing well. Remain online for the duration of the class session to field questions. Preset times for teams to come together, and make sure you're present to answer questions and help.
2. Schedule synchronous project work around a class-wide "event."
Create concise lessons or modules for the whole class, and debrief the session for the group.
Require "retrospectives," or after-action reviews.
Retrospective review is a structured exercise teams go through to address critical questions in a systematic self-evaluation.
What was supposed to happen? What really happened? Why were there differences? What can be learned?
Track and reward communication quality.
While some professors grade the quality of discussion posts and responses, it does take more time on the professor's part. Dr. Dierdorff grades after-action reviews on a pass/fail basis to ensure there's adequate completion and also to minimize the amount of evaluation he has to do.
You're now an expert on recognizing problems, handling non-compliance, and boosting collaboration. "If you can only remember two things, I would say team charters and retrospective reviews. These things will move the needle immensely," Dr. Dierdorff said.
We've covered plenty of ground, including how to set up teams for success and facilitate in-process work. Our final blog post will discuss tactics to make sure learning is happening in our team projects.