CapsimInbox Crisis Management: "An Experience that Can't be Duplicated."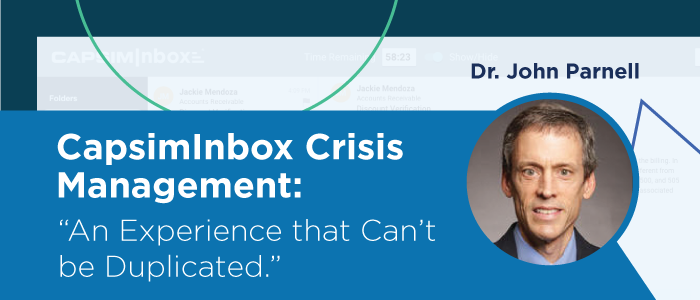 We see the news headlines all the time. Companies struggling to deal with devastating social media and PR scandals or other frivolous disasters, like Nike with Zion Williamson's failed shoe support. Even President Obama stepped in to offer his support to the budding Duke University basketball star. Or brands like Sephora racially profiling customers, like the pop singer SZA. The instance prompted Sephora for a quick call to action with a Twitter apology and an hour of mandatory centralized diversity training.
All companies face a crisis at some point. Don't go into business blindly assuming the best-case scenario without a worst-case action plan.
John Parnell, a Professor of Management & Eminent Scholar of Business at the University of North Alabama, recognized the need for immersive learning. He witnessed too many detrimental impacts of crises firsthand as an expert in the field for over two decades.
Writing a textbook on crisis management, leveraging 20 years of experience wasn't enough. And neither were case studies or exams. "I've used a variety of techniques, but none of the other approaches put students in positions where they have to make quick decisions with limited information, on top of a competitive environment," Dr. Parnell said.
He's been a Capsim user "for about as long as I can remember," or seven years. Dr. Parnell knew about the CapsimInbox Authoring Platform when it was released and was keen to explore what it had to offer.
So he went out to build an experience for his students reflective of his two decades' worth in the industry. CapsimInbox: Crisis Management was born.
CapsimInbox Crisis Management Bridges Gaps in Decision-Making
Business schools typically teach decision-making as an orderly process, failing to include real-world variables like time constraints, ambiguity, and evaluating the reliability of information.
"You can have team projects and case studies," Dr. Parnell said, "but real learning is something other learning methods fail to cover."
Executives claim crisis management is a crucial area in the corporate world, but few programs teach students more than theories from textbooks. The Inbox microsimulation addresses constraints in a timed environment, mimicking reality. That's one of the things lacking: applying decision-making tools in a different world.
In CapsimInbox: Crisis Management, participants enter a day-in-the-life microsimulation overseeing a multimillion-dollar manufacturing company. Students experience real-world crises—in a safe environment—and must respond to them by gathering complex information and making difficult decisions.
Timing decisions is crucial. Aside from encouraging students to focus for an hour without interruptions, it also reinforces real-world situations. Information moves quickly in an increasingly globalized business world—students don't have a chance to Google a response or ask others for their opinions. Learners are forced to make rapid decisions on the spot and move on to the next ones.
"Capsim gives students that competitive environment to make decisions," Dr. Parnell said.
In CapsimInbox, students are challenged to think strategically and make critical organizational decisions to address a wide range of crises that can affect the firm. As learners collect information, they reduce their uncertainty to make the best decision. And responses are quick, thoughtful, and strategic—reflecting the fast pace in the global business environment.
Providing Real-Life Learning Experiences for Students, Unlike Any Others
The best part is that even students who had a chance to experience real-life crisis management find the simulation just as valuable. Those with management positions almost always come back and tell Dr. Parnell the simulation was the most memorable part of the course.
Why?
The simulation is similar to the crises students navigate on the job every day.
"One of the skills that become more and more important is the ability to make rapid decisions," Dr. Parnell said. "You can't just take a problem and say we'll get back within six months after we analyze and re-analyze and figure out what's going to work."
Students are in a race against themselves and a countdown clock.
When developing the CapsimInbox content, Dr. Parnell integrated many of the crises that would be interesting to students—some of the aspects they need to be prepared to deal with after graduation. Social media and sexual harassment for example—where they have to make quick decisions to create effective solutions.
It was all about navigating a flow chart and exhibiting how one decision might affect another. And creating a package of learning experiences where students can come through in a couple of hours and "feel the heat" that comes with a crisis, Dr. Parnell said. Students experience the immediate impact of their decision-making skills in a less-controlled environment. And the consequences are very real.
You can be a Hollywood director, too.
Dr. Parnell developed Crisis Management by putting together a package of real-life experiences he has seen from 20 years in the industry. Students would come forward in class and share discomfort toward how corporations resolved trying situations.
So he recreated those instances for all of his students to experience in the safety of a simulation.
Some of the characters he encountered in real life were better than any born out of fiction. So he did his best to recreate those personas in the CapsimInbox Authoring Platform.
"There's a bit of being a Hollywood director," Dr. Parnell said with a laugh.
Are you ready to write your own script and be the director of the next CapsimInbox microsimulation?
Get started today with the CapsimInbox Authoring Platform.