Registration is Open for the Spring 2021 Capsim Challenge: a Global Student Competition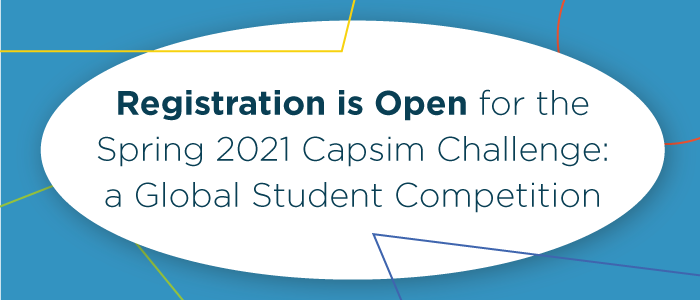 Registration is now open for the 2021 Spring Capsim Challenge! Your students have until April 9th to reserve their spot.
What is the Capsim Challenge?
In case you're unfamiliar with the Capsim Challenge, it's a free, global competition pitting Capstone and Foundation alumni against each other to crown the world's best at running a simulated multi-million-dollar company.
Every semester over the last 20 years, we've seen an average of 2,000 students put their business acumen and strategic decision-making to the test.
The global competition challenges students to put their skills to the test in a more fierce environment than the everyday classroom

Finalists earn certificates that provide evidence of their business acumen for their resumes

Winners enter the Capsim Challenge Hall of Fame and earn recognition for themselves, their professors, and their university
When Foundation and Capstone students log into their account, an additional 'Capsim Challenge' button will appear. Clicking the button will prompt students to create a new account to participate in the Challenge.
To view registration guidelines and competition rules, click the button below.
We hope to see your students compete! If you have any questions about registration, please contact our support team at support@capsim.com or (312) 477 – 7200.