Virtual Team Building with CapsimInbox: Escape Room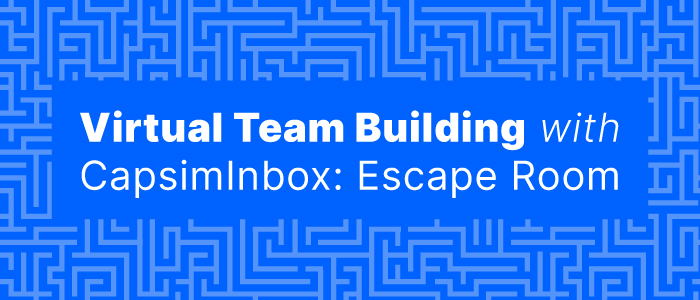 After more than a year in the pandemic, our world is slowly returning to a new normal. For many, that means accepting computers, home workspaces, and virtual conferencing as the new office and classroom.
But how do you instill employee and student engagement, exciting onboarding processes, and a sense of teamwork through a computer?
Simulations are a great way to bridge the gap between virtual life and the in-person experiences we had before. This blog post shares the story of how the builders behind CapsimInbox: Escape Room created a simulation that can serve as an immersive icebreaker to build camaraderie, even through a computer screen.
CapsimInbox: Escape Room began as an Icebreaker for Orientation.
When Monika Murzydlo, Capsim's Product Manager, joined the product team in 2017, she was tasked with leading CapsimInbox. The brand new microsimulation platform had plenty of potential and explored uncharted territory. It was up to Monika to see just how far the immersive learning platform could take the team.
In 2019, DePaul University's MBA program was looking to design an activity for fall student orientation. The institution didn't quite provide guidance on what the icebreaker activity should be.
While Capsim had an office in its downtown building to test out the concept of a physical escape room, "we wanted to digitize the experience," Monika said.
This kicked off a company-wide initiative, involving collaboration, whiteboards, and plenty of scribbles.
The escape room concept focused on the four common departments found across many companies: Finance, Research & Development, Production, Marketing, and Human Resources.
"We asked our team members to come up with different puzzles that would fit under those different departments," Monika said. And from there, she challenged everyone to ask how they could translate business concepts into fun puzzles.
The product team worked to refine ideas over "many meetings and many hours," Monika said with a chuckle.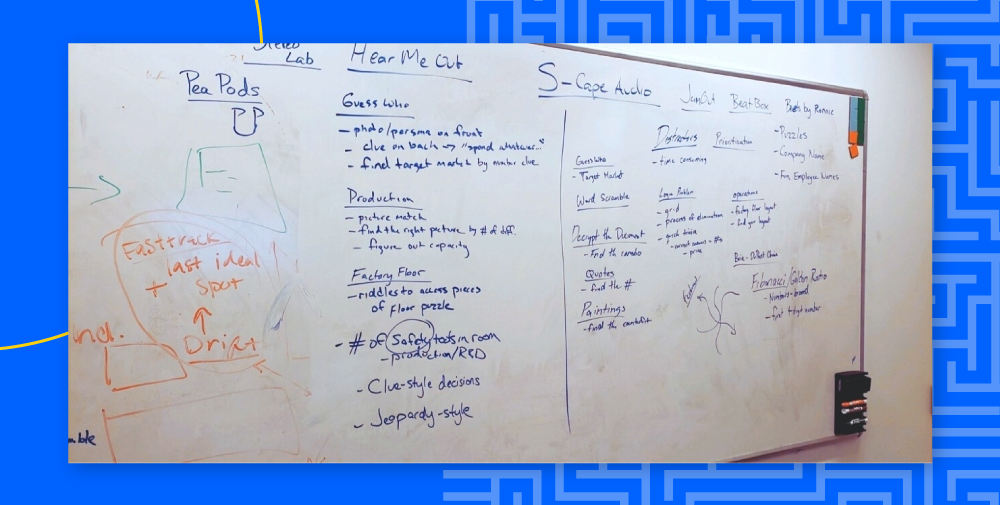 After researching concepts, creating ideas, and putting them together in the form of a simulation, a few internal teams at Capsim competed at the same time for a test run before launching it with the MBA students at DePaul.
A few final tweaks later, and the Escape Room was ready for its debut at DePaul, where a handful of teams dove into the activity as an icebreaker.
The Participant Experience
Working together in teams, Escape Room participants lead the Product Launch Team at S-Cape, a headphone design and manufacturing company. In the middle of the process of designing a brand new headphone concept for an upcoming conference, there's a massive HR scandal: the headphone design is leaked! It's up to the product team to handle the scandal before the situation grows too far out of control.
The interactive simulation purposely excludes skill assessments. "It's more of a fun activity," Monika explained, "meant to foster teamwork and encourage participants to collaborate toward a common goal."
But the builders also took into consideration a growing and irrefutable trend: the importance of soft skills.
"In the academic space, we see soft skills becoming more important than hard skills," Matt Shell, Marketing Development Manager at Capsim, shared. "While many students possess the hard skills of accounting, finance, or programming when they graduate, others struggle in soft skills like communication and collaboration."
CapsimInbox: Escape Room provides learners with a fun, interactive, and collaborative exercise to gain experience handling a challenging scenario they may face in the future, in a risk-free environment. And the best part? The decisions participants make in a fictitious workplace won't result in negative repercussions or losing out on actual money.
"The simulation is a great way to get participants to practice what they've been learning in a safe space and see how it plays out in real-world scenarios," Monika said.
Getting to Know CapsimInbox: Escape Room
In our webinar recording, two Capsimians share the creation story behind their immersive microsimulation. We focus on how you can replicate virtual icebreakers in an engaging Escape Room during the webinar.