Introducing CapsimInbox Authoring Platform: A Transformative Way to Bring Authentic, Experiential Learning to Every Environment
Capsim, an online simulation and assessment software company, today announced the launch of the CapsimInbox Authoring Platform. The web-based builder gives educators a user-friendly way to create inbox microsimulations. These simulated email experiences immerse learners in real-world scenarios, measure career skills, and provide immediate and actionable feedback for development.
"We know students learn best by doing," Brendan Langen, Capsim's Director of Product Design and Development said. "The CapsimInbox Authoring Platform enables anyone to turn their experiences and ideas into experiential learning modules—a way for learners to gain real-world experiences in a contextualized environment that's authentic to today's professional work experience."
Training and education are in the midst of a digital transformation. Like many other education companies, it's critical we invest in eLearning solutions that have long-lasting impacts on student success. In 2017, we launched CapsimInbox, a simulated email experience that measures key career skills with every reply.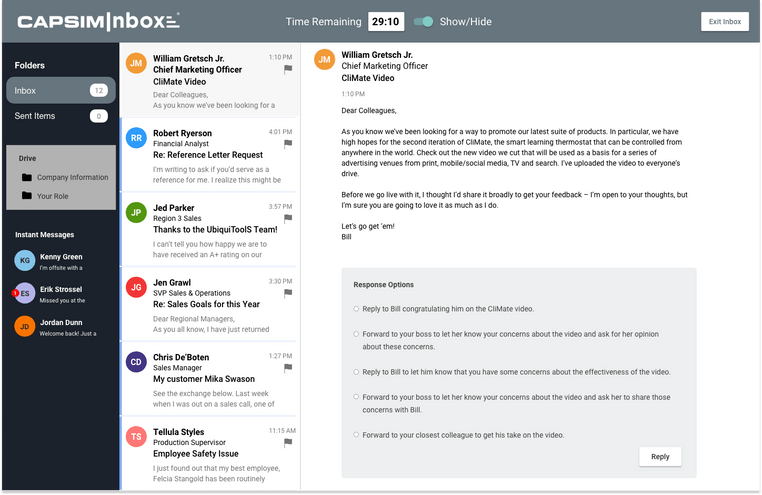 We've been working with professors to bring their vision to life. Now, we're extending that opportunity to everyone. Any environment in any subject, personalized to the creators' experiences and ideas.
About 60% of employers don't believe that recent graduates are well-prepared for their jobs. CapsimInbox prepares learners to effectively apply the knowledge they've gained to real-world situations. Students leverage judgment and innovation to discern what information and skills are relevant in tackling complex cases.
Today's assessments don't measure the right things. They typically measure what students don't know, which is ineffective and creates critical skill gaps.
We've developed a platform to evaluate skills based on how students respond to real-world situations in an online environment. Email is an excellent vehicle for this type of assessment. Users can easily create situations with emails, instant messages, and documents to bring authentic workplace experiences to life.
As part of this launch, Capsim strives toward creating well-rounded learners prepared to take on the workplace by developing self-awareness and fostering growth.
"Education is always evolving, and we've been getting consistent feedback that there's more of a need than ever for student engagement," Luke Courtright, Product Manager at Capsim, said. "With the CapsimInbox Authoring Platform, professors and creators now have a tailor-made vehicle for the current generation of students. It's a perfect tool for assessment and growth."
By helping learners uncover areas of weakness and providing the individualized and actionable feedback needed to grow, each participant experiences practical learning to leverage moving forward.
Elevating Author Expertise
Imagine being able to tell your story of working in a consulting firm for decades. A challenging decision or an eye-opening experience in a career moment can be leveraged and shared for a day in the future life with your learners. The CapsimInbox Authoring Platform extends an opportunity to leverage this expertise and share it with the world.
With the public authoring tool, subject matter experts, professionals, and professors can turn their knowledge and expertise into a gamified story, in the form of an email interface.
Individuals use CapsimInbox for certification courses, knowledge checks, pre and post-assessment, hiring selection, skill gap analysis, and more.
Educators have real-world industry expertise to create authentic learning experiences for their students. And now, it's possible with the CapsimInbox Authoring Platform. Click here to discover more information.
Capsim builds online simulation and assessment software to help educators create meaningful learning experiences that prepare students for career success.
In 1985, Dan Smith founded Capsim to provide business education and training to executives. Taking advantage of the internet expansion of the late 1990s, the company entered the academic arena to reach business professors and students. The company continues to develop new programs, simulations, and assessments to support the needs of business education around the world.
Today, Capsim continues its commitment toward relevant and engaging learning experiences in a continually changing world.
If you would like more information on the CapsimInbox Authoring Platform, please email Capsim at authoring@capsim.com, or visit Capsim's website.