Rapunzl Investments & Capsim Team Up to Open Doors to the World of Finance for Students Who Didn't Know the World Existed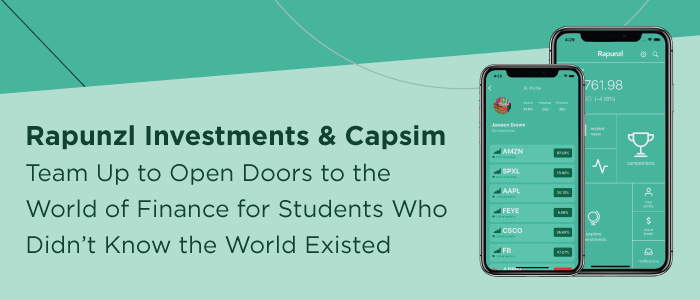 After dropping out of school in fifth grade, Destiny Davis couldn't have imagined winning a scholarship competition centered around financial literacy. She taught herself for four years before entering high school as a freshman. When she entered a virtual competition in April, she emerged victorious, turning $10K in virtual dollars to $12K in one month.
She was shocked at the immediate, real-world impact of trading stocks on Rapunzl's live platform. Her prize? She walked away with a $5,000 scholarship–of real money–to attend Northeastern Illinois University.
Rapunzl Investments works toward inclusive prosperity–with glowing iPhone & Android screens glued to students' fingertips.
Equipping and empowering underserved communities to create the next wave of investors involves innovative solutions. Simulation-based learning builds confidence and immerses participants in scenarios before encountering them in the real world.
Gamified Learning Transforms the Classroom by Bridging the Gap in Knowing & Doing
When Capsim stumbled upon Rapunzl's Nasdaq-sponsored video on the difference financial literacy makes, their vision resonated with us. There was incredible overlap between our visions and we realized that both companies were bridging educational gaps with more real-world learning tools.
We're excited to share the story of how two simulation-based learning companies are teaming up to change the approach toward engaging students in learning finance.
Soft skill development in high school prepares students for careers in finance.
Growing up, Destiny didn't have much of an idea around the stock market or Nasdaq–until she met Rapunzl's co-founders Brian Curcio, Chief Executive Officer, and Myles Gage, Chief Marketing Officer.
After bonding over stocks their freshman year of high school, Brian and Myles realized ordinary investors paid the price to learn to invest. And that price was typically real money ending up in Wall Street's pocket. The duo founded Rapunzl to provide an unparalleled investing education through fun–and free– investment competitions with real scholarships and cash prizes.
"Financial illiteracy and inclusion is everybody's problem," Myles said. That's why Rapunzl is free. And that's why they're focused on the high school demographic. Instilling healthy investing habits early on exposes students to different careers in their futures. "Early exposure to finance and investing presented me with an incredible array of opportunities which ultimately changed my life."
After writing an essay on liquidating his personal stock portfolio to finance his college education in 2008, Myles was the Federal Reserve Bank of Chicago's Money $mart Kid of the year. His victory earned him a full academic scholarship to the University of Chicago Laboratory School–and early acceptance into University of Illinois' Gies College of Business, where he graduated in spring 2016 with a finance degree.
Rapunzl is looking to standardize financial learning to create equitable access for all. "The idea is for schools that can't afford financial education curriculums to receive the same kind of top-tier financial education curriculum as the schools that are paying for it," Brian said. "We want educators, parents, and students across the country to leverage Rapunzl as a free resource to learn more about the world of investing and financial markets."

Capsim and Rapunzl team up to immerse students in the real-world of finance.
After going through a demo, it became clear that CapsimInbox could take gamified learning to the next level. Interactive and scenario-based experiences helped Rapunzl realize how they could evaluate a multitude of soft skills in a single question; an aspect they knew teachers yearn for in their classrooms.
"We should figure out a way to integrate this into the curriculum," Myles said after a 15-minute introduction with the Capsim team.
And they have. This summer, Rapunzl will launch two synchronous learning cohorts, with 15-25 students each. In addition to three days of instruction per week, Rapunzl plans to tack on a fourth day of CapsimInbox-centered curriculum with two-to-three CapsimInbox modules. The total course will consist of 10 modules geared towards financial education, investing literacy, and skills necessary to thrive in financial services careers.
Before Capsim entered the picture, Rapunzl envisioned providing students with assessments and feedback based on their curriculum.
"The CapsimInbox piece became relevant in terms of how we are going to teach students more of the soft skills and applied learning," Brian said.
"Until you showed us Capsim, we didn't know things like that existed," Brian said with a laugh.
Rapunzl plans on making the curriculum outside of CapsimInbox free for all educators nationally starting in the fall to coincide with a national investment competition, free for all high school students to enter.
Simulation-based learning offers a concrete visualization of what a life in finance could look like.
Simulation-based approaches to learning bring engaging, motivated, and real-world learning experiences to life.
"There's an intangible value to letting students see themselves owning a stock portfolio that shifts their mentality long-term," Myles said. "It's the same with CapsimInbox. Students allow themselves to be able to feel like they're in the workforce and that they're responding to emails in real-time with professionals."
Brian also noted the importance of digital learning and scenario-based opportunities in a world that's increasingly turning virtual. One caveat? In-person internship opportunities may be harder to come by in the future.
Simulation-based learning tools like Rapunzl and CapsimInbox provide students with a sense of ownership and exposure to understand what careers are available in the world of finance.
"Students develop the skills necessary that aren't necessarily taught in school, but are essential when entering the workforce," Myles said.
Engagement drives student learning.
Rapunzl elevates financial literacy with next-gen data and leverages real-time market prices to simulate the stock market.
"The key point is trying to make data as real-world as possible and incorporate competitive elements to keep students engaged and drive student learning," Brian said.
CapsimInbox's interactive and immersive simulation technology helps educators–and financiers– engage, assess, and develop students with real-world experiences. For Rapunzl, that means students experience a full workday on the job in just 15 minutes. Students encounter scenarios that test initiative and drive, independent research, and integrity. Skills that are highly sought after–and rarely instilled–traditional classrooms.
Thinking of building your own story or competing for scholarships?