GBSN and Capsim Are Teaming Up to Create Culturally-Relevant Inbox Simulations for the Developing World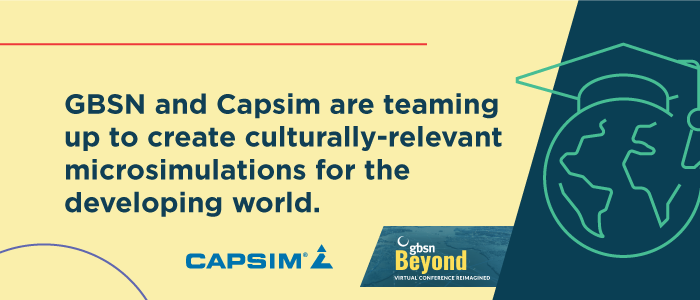 Imagine what it feels like to read a book filled with pages of characters who don't resemble you. Or whose references are from another country and not your own. Maybe you haven't had to think about that before. But we have.
Culturally responsive teaching is a research-based method cultivating meaningful connections between what students learn in the classroom and how it relates to their language, culture, and lives outside of school.
The relevancy of educational content is key to effective learning. Unfortunately, many underdeveloped and developing nations don't have access to quality learning materials. That's why we partnered with the Global Business School Network. The nonprofit organization is already working with many of these nations to improve access to quality, locally-relevant management, and entrepreneurship education.
There aren't enough locally relevant solutions. How do you tailor your educational model to make it personal to the cultural context? How can we collectively, as educators, create learning experiences that resonate with students, are relatable, and give them skills directly applicable to their futures later on in that region?
We're excited to find out this November 9-13, 2020, at GBSN Beyond's Virtual Conference.
No Student Left Behind: The Benefits of Relevant & Engaging Education
Global Business School Network Improves Access to Quality and Engaging Management Education for the Developing World.
GBSN's purpose is for the developing world to grow the management and entrepreneurship talent to generate prosperity. With a growing network of over 100 leading business schools on six continents, GBSN fosters cross-border networking, knowledge-sharing, and collaboration within its network membership and broader business education and development communities.
CapsimInbox Leverages Expertise to Create Authentic Learning Experiences for Students.
There's no shortage of instructional tools to introduce learners to the foundational theories of a given subject. Unfortunately, there aren't many solutions that provide students a way to apply those concepts in a relevant context. That's what makes CapsimInbox different. Now, educators and practitioners can turn their expertise into simulated experiences in a context akin to the real-world. CapsimInbox is a simulated email platform where each day-in-the-life experience immerses students in authentic situations while assessing essential skills with every reply.
Capsim with GBSN Brings Locally Relevant and Experiential Learning to the Developing World.
GBSN focuses on locally relevant education. Capsim focuses on experiential learning. Pair that together, and you have locally-relevant and experiential learning specific to the regions students are tuning in from.
Through this partnership, all Faculty Track registrants have the opportunity to use Capsim's new inbox simulation builder, The CapsimInbox Authoring Platform, to create practical, relevant, and engaging learning experiences that address the most pressing needs of society and business education. We're redefining the boundaries of our work with digital innovation and collaboration.
We had the chance to connect with a few of the authors about their competition experience.
Dorothée Baumann-Pauly on Responsible Coal Mining
Dorothée Baumann-Pauly is the Director of the new Geneva Center for Business and Human Rights. Since 2013, she is also the Research Director at the NYU Stern Center for Business and Human Rights. She holds a Ph.D. in Economics from the University of Zurich (Switzerland) and M.A. degrees in management and political science from the University of Constance (Germany) and Rutgers University of New Jersey.
Dr. Baumann-Pauly created a inbox simulation on responsible coal mining in the Democratic Republic of the Congo in response to COVID-19. Geneva is the greatest commodity trading center in the world. Plenty of Swiss media covers the darkness in commodities trading, so she followed up her research in DRC last year with case studies, interviews, and actual events reflected in the Mercurtrade simulation.
"It was a way to highlight the really real and really wicked challenges in a timely topic," Dr. Baumann-Pauly shared with us.
And she's already integrated it into the syllabus for her Master of Science in Commodity Training graduate-level course at the University of Geneva. The last portion of the Scenario concludes with the CEO briefed by a response chosen by students. Dr. Baumann-Pauly wanted to recreate a similar experience for her students and challenge them to write 250-word briefs of their own.
Dr. Divya Singhal and Dr. Dr. Padhmanabhan Vijayaraghavan Sew a Response to the Textile Industry
Dr. Divya Singhal is the chairperson for the Centre For Social Sensitivity and Action (CSSA) and Distinguished Professor Program. COVID-19 has made many business aspects more challenging. So Dr. Singhal leveraged responsible teaching management to address the pandemic's sudden shock on a labor-intensive industry: textiles.
"We wanted to understand real issues," Dr. Singhal said. After the DP Apparels inbox simulation team conducted primary interviews with textile managers, her team was shocked to find that textile manufacturers cared more for their employees than turning a profit. Putting food on the table outweighed the short-term losses experienced across the industry. The simulation highlights the importance of corporate social responsibility and decision-making skills.
Joan Martínez Manages Mismanagement in a Maquiladora
Joan Martínez Evora is a lecturer in business law at the Miami Herbert Business School. He has taught at the undergraduate, graduate, executive MBA, and law graduate levels. Before joining the School, Martínez Evora was a visiting assistant professor of law at the University of Miami School of Law. He taught law of obligations (torts and contracts) and International Family Law. He had previously been a faculty member at the University of Havana School of Law, where he taught civil procedure.
On a sunny Florida morning, Joan sat down and decided to create an inbox simulation. Professor Martinez sat at his keyboard, furiously tapping away. Thirteen hours later, he leaned back in his chair, satisfied. "Wow, I did it," he thought to himself. He wanted to look beyond the parochial view in management; beyond the corrupt foreign practices or particular leadership skills. And he did.
A maquiladora, or maquila, is a company that allows factories to be largely duty-free and tariff-free. Many maquiladoras in Free Trade Zones and Industrial Parks in Latin America permit the imports of raw materials (like yarn) and export the finished product after tariff-free manufacturing. Maquila Inc. (Maquila of Hope) is the story of a United States manager who was transferred from the U.S. Headquarters to a maquiladora established in Honduras, Central America, in 2018, as part of a strategy to properly manage and sustainably expand manufacturing operations in the region.
In reality, Honduran textiles represent a considerable volume of yarn exports for the United States market and essential imports such as hospital uniforms and PPE. In the Capsim simulation, the United States manager must make a series of critical decisions: whether to pay a fee to the government-supported union leader (clearly not one who represents the interest of Hondurans textile workers); whether to fire an American employee who is pregnant with a child from the prior manager; and negotiating the purchase of a sewing machine, among many other ethically ambiguous decisions.
The simulation doesn't have a happy ending. "If it's too perfect, it's not real," Professor Martinez said. "The story I'm telling is one of those bad apples," he said.
He hopes to expose students to the bad apples to recognize them in the industry before they take a bite.
Try Out the Regionally-Relevant Inbox Simulations Created for GBSN Beyond
GBSN members created regionally-relevant inbox simulations to drive meaningful education in the developing world. Visit GBSN Beyond Faculty Simulation Lab to experience real-life problems in industries spanning across India, Ghana, the Democratic Republic of the Congo, Pakistan, and Honduras.
Capsim will announce GBSN Beyond competition winners on Friday, November 13. Stay tuned!
Build a Relevant Inbox Simulation of Your Own to Make an Impact.
We're looking to create more locally-relevant simulations and bring real-world experiences to life for students worldwide. Do you have what it takes to build an Inbox of your own? Join us in improving higher education with relevant, experiential learning experiences. Visit the CapsimInbox Authoring Platform to get started building for free.