A 24-Hour Race to the CapsimInbox Finish Line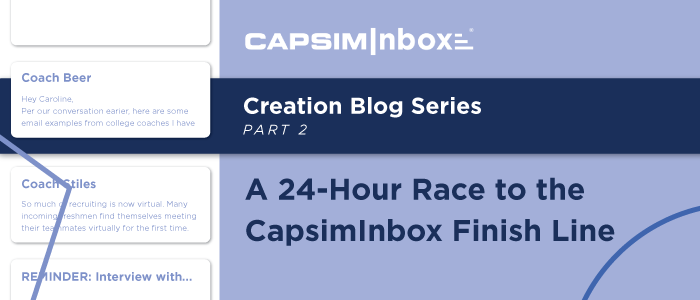 I've written stories on ultrarunners that compete in 24+ hour races, spanning hundreds, if not thousands of miles. I adopted their determination, grit, and to some extent, borderline insanity, and created a CapsimInbox microsimulation in 24 hours. (Disclaimer: 24 hours as in 24 individual hours, not a single day.)
If you didn't get a chance to read my previous blog post, I embarked on an adventure to create an Inbox microsimulation geared toward high school student-athletes to navigate this new normal and recruiting during the pandemic.
Like many educational aspects of 2020, recruiting has gone virtual. Since March of 2020, many college coaches and prospective student-athletes wonder what their futures hold. With the in-person recruiting suspension extended until September 30, many high school juniors in the thick of what would have been their peak recruiting season are left staring at their screens.
Although many high school sports are still continuing, on Friday, Aug. 21, the NCAA Division I Board of Directors announced that it will work to host fall sport championships in the spring of 2021. Cross country, the sport my simulation revolves around, is included in the list of fall collegiate sports postponed for the spring of 2021. An unexpected positive outcome: many college coaches share they've been able to get ahead on recruiting, since their competition seasons are postponed for the immediate future.
I was driving on I-290, windows fully down, Savage Love blasting on the radio, long blonde hair obstructing my view at 65 mph when my phone rang. My solo performance came to an abrupt stop.
"Hi, Coach Beer! How are you?" I asked. "How are the kids?" It's been eight years since Coach Beer showed up to 5 AM practices and ran alongside us on Schaumburg's paved sidewalks. He sweated in solidarity with a bunch of giggling high school girls, six days a week without complaint. I called him Coach Heineken once, and that was the only time he ever got mad at me.
He would stride next to us in the summer, swinging one of his arms, and pull down tree branches so dew would fall on us and cool us off. In the winter, he would hold branches up, so the snow wouldn't drop and freeze us even more than what we were already shivering.
Since then, he's gotten married, had two kids, and now coaches a different girl's team in the Chicago Public Schools system.
"Coach, I need your help," I said. A million questions surfaced, racing at 80 mph, but I tried to consolidate them to a select few. How are you training the girls' team? What does college recruiting look like now? How are you helping in the process as a high school coach?
You see, high school coaches play an essential role in the recruiting process. According to NCAA guidelines, college coaches aren't allowed to reach athletes until their junior year in high school. Student-athletes can reach out to coaches themselves. But if coaches follow procedures, recruits won't get a response until junior year at the earliest.
College coaches are, however, allowed to reach out to high school coaches to see if qualified and interested athletes are looking to pursue their programs.
"I haven't seen that much of a change in recruiting just yet," Coach Beer said. "I'll forward you the emails I've received from college coaches so far."
Hopefully, You Have Enough Email Storage
I excavated emails from as far back as 2012, when I first embarked on my recruiting journey sophomore year of high school. That's when I sent my initial emails to college coaches to let them know I was interested in their academic and athletic programs. I attached my times, qualifications, and resume that included my work and volunteer experiences.
It took about an hour to comb through my Gmail inbox and collaborate with partners in crime for Mission Impossible.
One of the critical things is being able to leverage the experiences and connections you've made with others. For the sake of being completely transparent, here's how I outreached to a former coach I was recruited by in college for insight on building this microsimulation
(Have you ever accidentally pressed "Send" without finishing an email? Talk about lack of email etiquette! Mortifying experience. But I highly recommend owning up to it and pressing forward in your mission anyways.)
Two days later, we met virtually.
"Hi, Coach Stiles!" I breathed excitedly over Zoom. "It's so great to see you again! Although I'm still a little salty I didn't get into WashU," I said with a bitter laugh (really it's fine, I'm over it.)
Six years ago, I submitted an Early Decision application to Washington University in St. Louis. The Division III school boasts rigorous academics. WashU cross country and track athletes display camaraderie in the Christmas-colored red and green body paint the Bears proudly lather on at meets. And I desperately wanted to be a part of it.
Much has changed in the past six years since I walked across lush green lawns and gawked at the collegiate gothic architecture.
"So much of recruiting is now virtual," Coach Stiles said. Many incoming freshmen find themselves meeting their teammates virtually for the first time. There's still team bonding, but much of it is over a computer screen.
Embrace the Changing Landscape and Create a Solution
I knew the problem. I spoke directly with high school and college coaches, athletes, and administrative staff for the inside intel. As a former athlete myself, I couldn't imagine navigating the stress and excitement of recruitment, on top of the pandemic's uncertainty
I had a solution. And now, it was up to me to create it, and fast.
Building an Inbox was easy. As I progressed throughout the building experience, I quickly realized I didn't need a Ph.D. to create something useful and applicable for students. Instead, I integrated my past experiences to tell a compelling story. I leveraged my own inbox to craft sample email responses from coaches, concerned and supportive family members, and administration. Crafting characters, I found, was the most challenging part of the process for me.
My CapsimInbox simulation was full of realistic emails, many of which the content was paralleled directly from my experiences.
The next blog post, I'll stride into specifics on creating realistic and convincing characters, scenarios, and skill sets to empower future leaders.