Authoring Platform Update 2.1: Onboarding Customization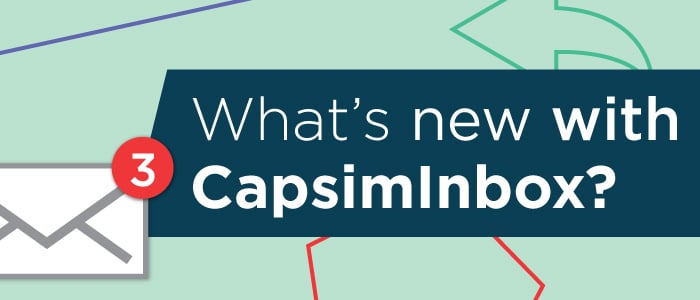 CapsimInbox is a simulation-based assessment platform that uses an email environment to immerse learners in authentic, day-on-the-job situations and assess critical business skills.
Before participants dive into an experience, there's a brief onboarding experience to bring them up to speed on the journey they're about to embark on. But every project is unique, so we want to provide authors the ability to customize the onboarding to meet their exact needs.
That's why we're excited to announce a new custom onboarding setting for CapsimInbox authors.
Onboarding Overview
If you've completed an Inbox simulation, chances are you've gone through a five-step onboarding process:
Self Assessment: participants self rate their competency level on each skill
What is CapsimInbox: a general, high-level overview of the tool
Scenario: introduces participants to the role and overall objective
Practice: a hands-on demonstration of how the tool works
Opening Scene: sets the stage before participants dive into the experience
Starting today, inbox simulation authors will be able to fully customize their participants' onboarding experience by using a set of toggles from within the CapsimInbox Authoring Platform.
These toggles allow authors to pick and choose the most appropriate onboarding steps for their projects.
For example, you may not want your participants to take a self-assessment before their inbox simulation experience. With the switch of a flip, you can exclude that step from the end-user experience.

How It Works
To access this new feature:
1. Log into your CapsimInbox Authoring Platform account.
2. Open the project that you want to adjust.
3. Navigate to the Gadgets page.
4. Click the Edit Onboarding button next to User Onboarding.
5. Select the Custom Onboarding option.
6. Toggle on or off the appropriate onboarding steps for your project!
Click here for a video walkthrough of onboarding customization in action.
Implications
Turning off specific modules will have effects elsewhere. Here are a few aspects to consider:
Self-Assessment – Without an active Self-Assessment page, the Self-Awareness section and Self-Assessment scores will be removed from the Participant Feedback Report.
Scenario – An inactive Scenario page will deactivate the Role Introduction, Introductory PDF, and Business Card fields within the Authoring Platform.
Opening Scene – An inactive Opening scene will deactivate the corresponding Opening Scene field within the Authoring Platform, and the last available page will house the "Launch Inbox" button.
All modules off – Participants will launch their Inbox from the Participant Dashboard if all onboarding modules have been turned off.
Questions?
As always, feel free to reach out to our team at authoring@capsim.com with any questions you may have.