Authoring Platform Update 2.2: Multi-Select Responses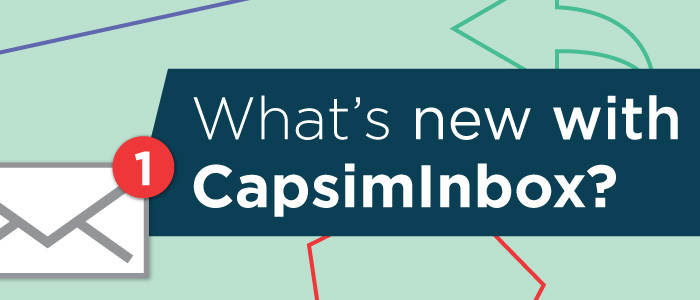 CapsimInbox is a simulation-based assessment platform that uses an email environment to immerse learners in authentic, day-on-the-job situations and assess critical business skills.
We're excited to announce our Multi-Select Response option as an alternate scoring method in the CapsimInbox Authoring Platform.
Previously, when you opened an inbox sim, there were multiple choice and open-response options. You may have dreamed up the opportunity for users to choose multiple options. Now, you can.
Multi-Select Overview
CapsimInbox Authoring Platform authors now wield the power to choose email response options from radio buttons, checkboxes, or open text fields. As of today, our Authoring Platform users can now leverage all three of these response types with an option we're calling Multi-Select.
How it Works
You'll find the Multi-Select option within the Response Type drop-down menu in any email or instant message.
When selecting Multi-Select, all participants will be able to select any (or all) of the response options that have been provided. They will also see an explanation provided that they can select all applicable options.
To learn more about this new response option, please check out this brief walkthrough that highlights some of its capabilities – video here.
Additional Considerations
When using Multi-Select, there are a few considerations to make:
Scoring structure

– If the optimal route is for the participant to select multiple options, you may want to revisit how your skill points are assigned. Skill points can only be assigned in whole numbers, and you may or may not want to make your email more "important" by assigning more skill points relative to other emails.
For example, if you have only multiple-choice emails, and the "correct" answers are 1 point, all emails are equally important. If you add a multi-select email, and both response 1 and response 2 are worth 1 point, technically this email is worth more because participants can earn 2 points.
Verbiage choices – It may make sense to have each response option be focused on an action rather than a fully written out reply (ex. "Confirm with a colleague," "Reach back out to the customer," etc.).
The multi-select scoring approach enables you to create simulations with greater potential responses and challenge your participants' critical thinking skills.
Please don't hesitate to reach out to our team if you have any questions!
Questions?
As always, feel free to reach out to our team at authoring@capsim.com with any questions you may have.