CapsimInbox® Recognized as a Finalist for the 2019 EdTech Awards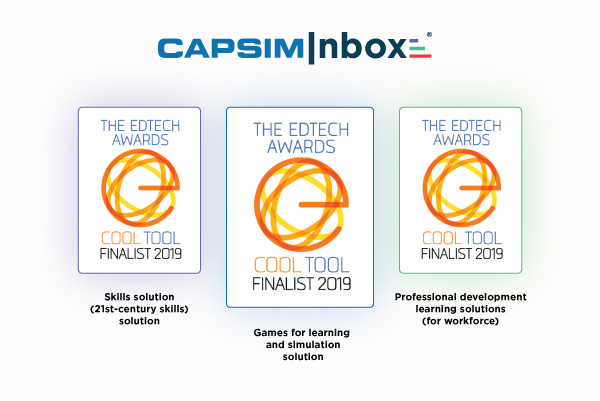 Chicago, IL – April 8, 2019 – Capsim is excited to announce that CapsimInbox® has been recognized as a finalist for the 2019 EdTech Digest: Cool Tool Awards in three categories:
Games for Learning/Simulation Solution
Professional Development Learning Solutions
Skills Solutions (a.k.a. 21st-century skills) solution
CapsimInbox is a simulated email experience that exposes learners to decision-making in key business areas, such as people management, ethical decision-making and strategic marketing. As learners respond to various real-world scenarios via emails and instant messages, CapsimInbox measures their skills and provides personalized tactics for improvement once the simulation is complete.
The EdTech Awards recognize people and solutions enriching the lives of learners everywhere through technology. This US-based program is described as the "largest and most competitive recognition program in all of education technology." Entries for the awards are judged on various criteria, including pedagogical workability, efficacy, results, value and potential.
"The EdTech Awards persist in its salute," expresses Victor Rivero, Editor-in-Chief of EdTech Digest, "Featured are the creators and champions of the sufficiently advanced technologies that sometimes wow us, seek to help us, and ultimately move us forward."
As Capsim continues to deliver engaging and experiential learning experiences that cultivate and inspire the next generation of business leaders, accomplishments like these are why more than 900 organizations across 60 countries trust us to drive the development of over 135,000 learners annually.
If you would like to learn more about EdTech Digest and the 2019 EdTech Digest: Cool Tool Awards, please visit the following link: https://edtechdigest.com/2019-finalists-winners/.
About Capsim
Founded in 1985, Capsim is the global leader in simulation-based experiential learning solutions that measure and develop the critical skills needed in today's business landscape. More than 1,000,000 participants have developed their business skills through Capsim's learning experiences. For more information, visit https://www.capsim.com/.