CapsimInbox: Intro to Accounting and Business Analytics Now Available in Your Shopping Cart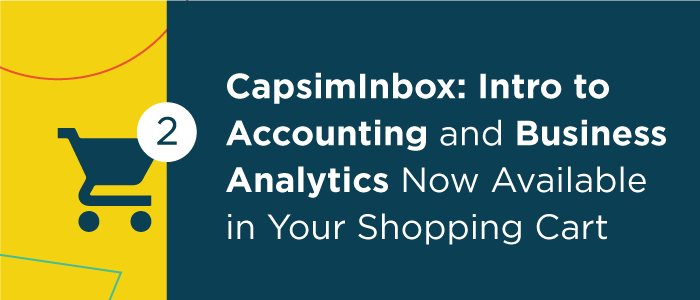 We've been working closely with our educators on fine-tuning our products. After piloting CapsimInbox: Intro to Accounting for feedback purposes, our simulation passed in flying colors.
Now, Intro to Accounting and Business Analytics are available for purchase in your shopping cart.
Business Analytics allows students to experience the role of Senior VP of Brand Management
In Business Analytics, learners take on the role of Senior Vice President of Brand Management at a health apps and services provider. The scenario tasks students with recommendations on the product portfolio's strategic direction by interpreting the available data.
Students manage the existing products of two recently merged companies, grow sales across the U.S., and provide demand forecasts to create production goals and employee incentives.
Students are challenged in:
Critical Thinking

Business Knowledge

Visual Communication

Computational Skills

Integrative Learning and Applications
In building her experience, Inbox author and associate dean of undergraduate business at Baldwin Wallace University, Lori Radulovich, ensured her students would grow throughout the simulation. As each email entered the Inbox, it built on information in previous exchanges.
"The experience was progressive from a beginning stage to a high-level conceptual stage at the end," Lori said.
Students take on the role of a staff accountant at a beverage company in Intro to Accounting
In CapsimInbox: Intro to Accounting, students take on a Staff Accountant's role at a beverage company specializing in craft carbonated drinks.
Blue Mountain Soda Factory is an entrepreneurial startup, and the company's growth is quickly outpacing its financial resources. The scenarios tasks students with recommendations related to income statements, balance sheets, and financial ratios.
Students skills are measured in:
Financial Measurement

Knowledge Application

Critical Thinking

Reflective Thinking
Throughout the simulation, basic accounting knowledge and terminology are assessed, such as interpreting financial statements in a real-world context that demonstrates the cross-functional importance of accounting in a business.
Thoughts from a former CFO: "it was real life."
Dawn Lezon, the Director of Accounting Programs at Monroe College, implemented CapsimInbox: Intro to Accounting in her undergraduate course.
Because Monroe College has a philosophy focused on training students for a job, the program propels students into Introduction to Accounting in their first semester. The course integrates the language of accounting, generally accepted accounting principles, journalizing, and posting. And Monroe's philosophy focuses on training students for the workforce. But something was missing.
After taking CapsimInbox: Intro to Accounting herself, "it was eye-opening to me, honestly," Professor Lezon said. That's saying something, coming from someone with 30 years of experience overseeing the finance industry and working as a CFO of an investment firm.
"It was real life."
Get started with CapsimInbox Microsimulations Today.
If you're interested in Intro to Accounting or Business Analytics, visit the CapsimInbox microsimulations webpage to explore our growing suite of microsims.
Can't wait to get started? Get a free demo of Capsim's microsimulation software here.