How Professor Novak Develops Future Ethical Leaders through Simulation-Based Learning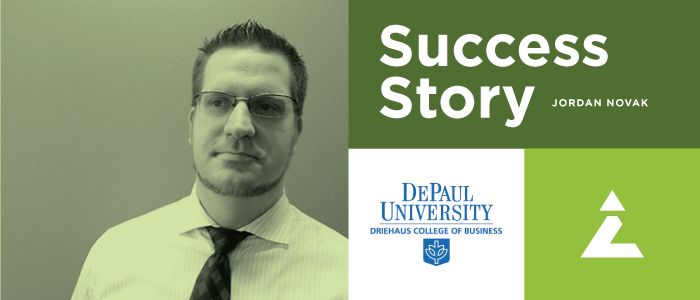 If you search for Jordan Novak on Rate My Professors, he'll pop up under DePaul University's Department of Management and Entrepreneurship… with a 5.0 rating. "The sample size is small, but I'll take it," Novak wrote in Microsoft Teams.
Aside from being deemed a "cool guy" and "amazing professor," Novak also happens to be the VP of Products and Services at Capsim. His roles in the classroom and the education technology company provide him with a completely transformed perspective of what it takes to teach with simulations effectively.
Novak is an undergraduate instructor of Management Strategy and a graduate instructor of Strategic Analysis for Competing Globally. His courses center around Capstone, a business simulation that challenges participants to apply the knowledge they've learned across all business disciplines to develop and implement a corporate strategy.
While both students and professors at DePaul adhere to Vincentian values of integrity to promote student learning and success, the most significant challenge remains. How do professors instill the skills in students required to make ethical decisions?
The Concerning Trends in Organizational Integrity
In 2019, 24% of those surveyed in the Global Business Ethics Survey reported abusive behavior and conflicts of interest as the two most commonly observed misconduct in the United States workplace. Consequently, 46% did not see a strong commitment to ethical leadership.
The national trend of ethical lapses in business has brought ethical decision-making to the forefront of higher education.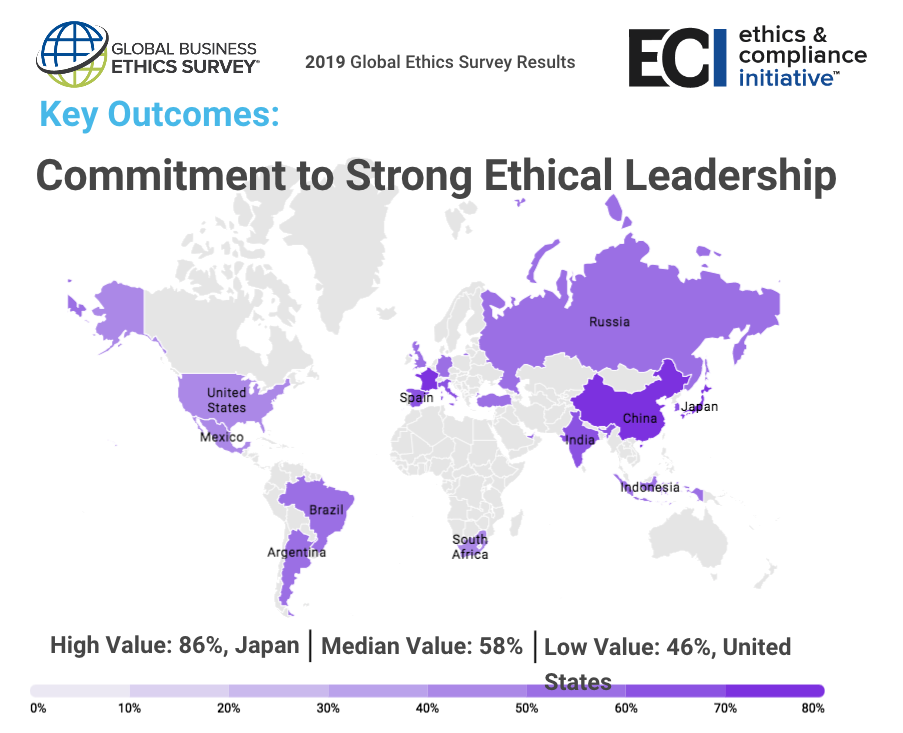 Developing Ethical Leaders through Simulation-based Learning
Novak first uses CapsimInbox: Ethical Decision-Making as a primer for his courses. The microsimulation places students in a day in the life of a General Manager at a boutique hotel where they must prioritize customers' needs and experiences. Participants face real-world situations in an email interface and have their skills assessed as they make decisions.
Scenarios may include emails from the Sous Chef addressing missing cases of wine, enticing travel packages at the risk of divulging personal customer information, and requests to reveal more details on a formal project proposal, before the bidding process.
Throughout the experience, students are assessed on the underlying skills of ethical decision-making and get to see how they stacked up against others and how well those scores meet up to their self-ratings.
The skills evaluated include:
Recognizing Issues

Investigating Facts

Identifying Stakeholders

Generating Solutions

Evaluating Consequences
Novak uses data from the inbox exercise to inform his lectures on ethics and connects why the skills measured are important for future employability and promotability.
Framing questions derived from the help of a teaching supplement available to all professors using the CapsimInbox product include: Is there a potential ethical issue? What kind of ethical issue is present? What should be done first?
"It exposes the students to the desired skills from decades of research that underpin effective, ethical decision-making," Novak said.
This preparation from the CapsimInbox simulation then translates over to Novak's integration of Capstone, the advanced strategic management simulation. The simulation has the capacity to attach various bells and whistles to personalize the experience for students — including ethics vignettes.
Novak tacks on the ethical dilemmas within Capstone to further challenge his students. The add-on exposes students to different scenarios a business leader may encounter — ranging from whether marketing messages are conveyed appropriately, the long-term and short-term consequences and impacts of green initiatives, and the implementation of offshore cost-cutting.
"Those decisions have direct impacts on the results in the simulation," Novak said. "Just as when we face ethical issues in the real world, positive and negative consequences are reflected in the company."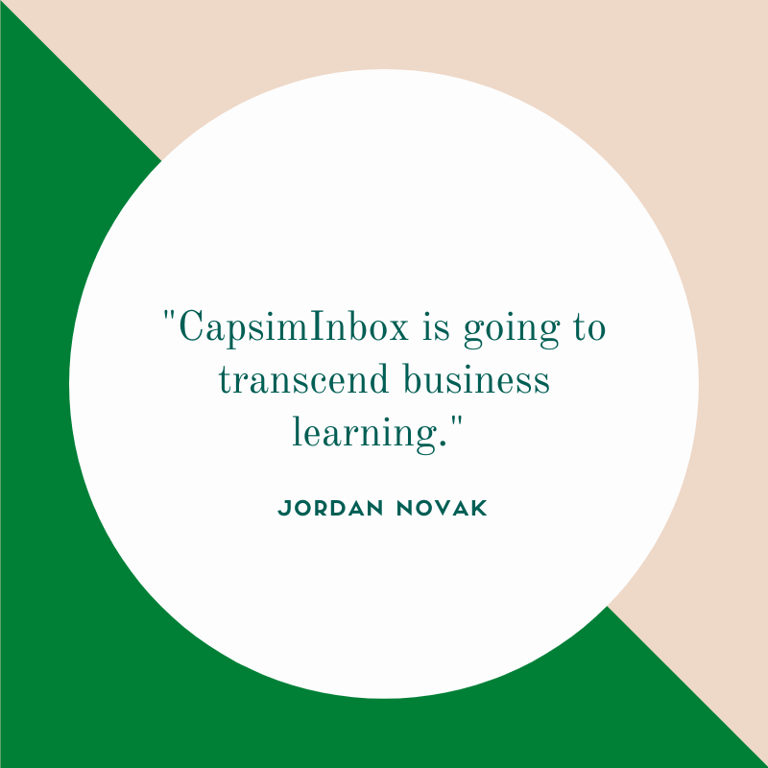 Microsimulations: The Future of Learning
Over his past 10 years at Capsim, both Novak and Capsim focused on business simulations. As for the future? Microlearning and microsimulations will be used in ways others "have never dreamed possible," Novak said.
One of the many great things about Novak beyond helping his students, his career success enables him to empathize and take what he learns first hand directly to both his students in the classroom and his coworkers in the office space.
His integration of product knowledge and teaching enables him to connect different dots that others wouldn't be able to. Utilizing CapsimInbox: Ethical Decision-Making as a primer, in conjunction with the ethics vignette tacked onto Capstone, creates a more meaningful learning experience for his students.
Our microsimulations provide an easy and experiential way to measure key career skills, such as communicating, prioritizing, managing talent, and many more. Capsim makes it possible to give students learning experiences authentic to the workplace.
Are you uniquely using Capsim to meet your learning objectives? We'd love to hear your story.