How Simulation-Based Learning Prepared this Financial Analyst for Success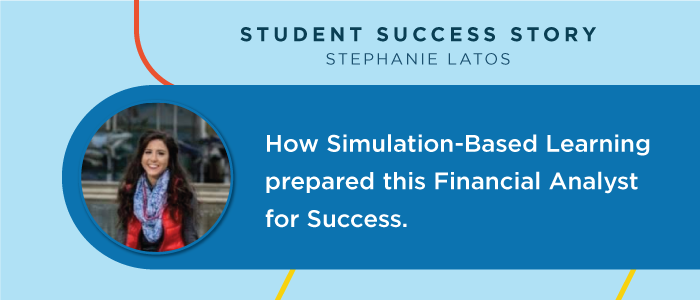 Over half of the students who graduate from undergraduate programs wind up with jobs unrelated to their field of study. More than ever, it's critical that academic institutions focus on developing the skills students need for career success.
Former students and future professionals forcibly adapt to careers outside of their foundational scope. Many of the skills students are learning in the classroom aren't transferring to the workforce.
We had a chance to chat with Stephanie Latos, who shared how her experience with GlobalDNA, an international business strategy simulation, translated to her professional life after graduation.
"Everybody thinks if you go to college and earn a degree, you'll get a job. A + B = C," Stephanie Latos, a financial analyst at a global financial institution, said. "But it doesn't work that way for the job you want."
In December of 2018, Stephanie Latos took Management Strategy at DePaul University. The course promised to synthesize functional business activities into a business enterprise's general management perspective. In GlobalDNA, students present a conceptual framework for understanding a firm's operation within the global business environment.
Throughout the simulation, the realistic, hands-on learning experience encourages students to explore why companies choose to compete internationally. Students gain insight into multinational operations, and differing market conditions influence their business strategy.
Since Stephanie took the course, she's graduated from DePaul University, landed her first job, and in July, she'll celebrate her first anniversary as a financial analyst at a global firm. Today, she's still able to recall what she learned from her class, more than a year and a half later.
Teamwork Makes the Dream Work.
The top skill Stephanie took away from the class? Teamwork. Dependency and trust in teammates proved necessary when trying to accomplish the task of moving through multiple simulation rounds to win.
Her team's strategy separated itself from the rest of the competition in class. Opposing teams chose to divide and conquer by having individual team members make isolated decisions across the various business functions: Research & Development, Marketing, Production, and Finance. Stephanie's team, however, underwent each area together. It took longer, but it was a rewarding process. And in the end, each teammate had a better understanding of a skillset they may not have possessed before. Marketing majors became finance whizzes—it was magic.
"We didn't divide and conquer," Stephanie said, "and that proved to be our competitive advantage."
Overall, working collaboratively, being communicative, and discussing aspects of the simulation democratically went a long way. Her leadership strategy involved encouraging all team leaders to step up, take responsibility, and to become involved.
The decisions and strategy Stephanie presented translate directly to her current role as an analyst. Demonstrating the rationale of her choices is critical in creating alignment and boosting morale.
"I have inputs that I put in, and I have outputs that come out," Stephanie said. "I have to explain to people why I made certain decisions, and what it means to us."
GlobalDNA exposed Stephanie to an in-depth perspective of production, expanding into costs and shipment of products, and the complexities and opportunities that come with relocating plant facilities from the Americas to Europe or the Asia Pacific.
Stephanie shared that some parts of the course felt like a game. Moving plants to a new continent "felt like playing jeopardy a little bit," Stephanie said with a laugh. "Which can be pretty accurate in the real world, especially when faced with emerging markets."
Having an in-depth understanding of her team's decisions, the real-world implications they had, and discussing them with the group was "extremely relevant to a job in business."
Often, the projects extended well beyond the confines of class time. Teammates scheduled times on weekends at late hours across different time zones to get the work done. It didn't always fit into the paralleled structure of the 9 AM-5 PM workday.
Both projects and work can extend beyond the "typical hours." Work needs to get done before the next big deadline. Decisions need to be corroborated and completed before the next round of the simulation is processed.
"Some people have an aversion to working outside of work hours," Stephanie said, "which is fine. But if that's not your work culture, that becomes a big problem."
From Simulation to Real-World Application
Stephanie loved when her instructor walked around to individual teams to pose real-world translations of decisions. He would step away from the simulation and explain how forecasting by luck, as opposed to proven math, would almost certainly lead to an emergency loan. In the game, you can persevere. In life, one too many emergency loans can lead to doom.
"I appreciated when our professor tied back what took place in the simulation back to real-life situations," Stephanie said. "Our group agreed those tended to be the most powerful learning experiences."
Simulation-based learning creates well-rounded students who can adapt to any situation or job opportunity. GlobalDNA encourages students to gain perspective and make better decisions to produce better outcomes in the course, and in the real world like global financial institutions.
Learning with Capsim develops skills that translate to the real-world. We challenge students with simulation-based learning that parallel what they'll experience long after they receive their diplomas.
Have you leveraged the skills you learned in Capsim to accelerate in life after graduation? We'd love to hear your story.
We love to hear about the success of our students and professors. If you have a story you'd like to share, click here.