How a Small-Town Girl Uncovered the Common Thread Between Farming and Experiential Learning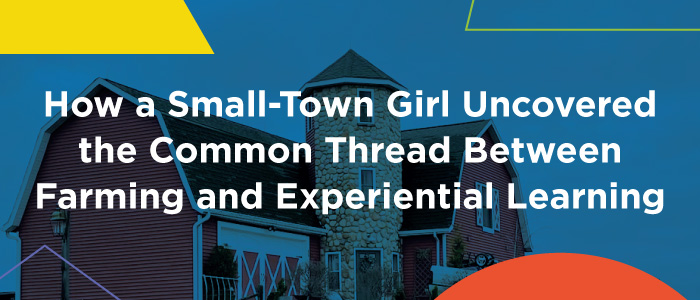 Anna Lennox is a few days away from walking across the virtual stage with a BA in French and business and a minor in Human Resources Management from University of Waterloo. After reflecting on her time at Waterloo, Anna can't help but attribute her success to her roots. And growing up on a small farm.
"I grew up on a farm. And it helped me because we had to analyze every single decision," Anna said. "There was no red tape–we had to identify cause and effect and face the consequences."
Besides earning high marks, she also worked three co-op experiences and partook in a French exchange program for a semester before graduating this spring.
The common thread that emerged throughout her experiences in the classroom and beyond?
Immersive, hands-on experiences, whether growing up on a farm, working in co-ops or simulations, all contributed to preparing Anna for the world after graduation.
Anna chose to pursue a degree in what Waterloo calls Arts and Business. When she stepped foot into the university, she wasn't "business savvy" (nor did she love math nearly enough) to major in business alone. So she pursued a French major. Her courses will sum up to almost a double major with a minor in Human Resources.
On top of her almost double major, Anna already has five different co-op experiences under her belt, each four months long. "That means my four-year program actually extended over five years," she said. Anna took advantage of the Waterloo region's spirit of entrepreneurship and innovation. "I was given real responsibilities that I took seriously," Anna said.
You may recall our previous blog post on Geoff Malleck. In it, we share insight on University of Waterloo's co-op program involving a real-world job application process preparing students for what they'll experience when they graduate. The blend of co-operative programs and simulations creates relevant and meaningful learning for students to take from the classroom and apply to the real world.
The bottom line?
Applying experiential learning entrenches students in real-life experiences.
By the time she graduates, Anna will have 20 months of experience working in various roles: community engagement at a nuclear facility, serving as an HR assistant in recruitment for an insurance company, and even working for the federal government–eight hours away from campus.
Co-op programs inspire decision-making. And so do simulations.
This past semester, Anna was enrolled in Geoff's Capstone course. On the day of our chat, her team was ready to submit final Round 8 decisions. The group started "slow," which in Anna's mind was concerning. But they quickly gained momentum and began emerging as a top competitor in the classroom.
"I have high expectations for myself. And that extends to the people I work with," she said in a tone of confidence.
Each team member contributed to the dynamic and creating decisions that could make or break their fictitious multi-million dollar company. It's a stark contrast to Anna's background.
"I grew up in a rural area where small businesses are something that I envisioned myself doing a lot more than a big multinational company," she said. Every decision-making process in her life boiled down to her parents, or herself, making decisions for the "firm." "There was no red tape. We had to make the decisions ourselves. And I think that helps stakeholders identify cause and effect really well," she said.
Anna was familiar with analyzing the impact of decision-making on an organization. She and the team embraced the challenges of running a company with millions of dollars at stake.
"The fact that I was involved in every component of the decision-making in Capstone was great. It related a little bit to a more small level–like entrepreneurial aspects–because even though we were working with hundreds of millions of dollars in sales, it boiled down to responsibility."
When the team first started, much of their attention and resources were dedicated to sales and profit. As the profit margins diminished, the stress rose. They took a step back. "We put it in a real-life perspective. If we were a new company in our second year of business, we would likely not have profits," Anna said. And that was ok.
The team managed to avoid the much-dreaded emergency loan but scraped by with a 3% ROI. "Trying to bring our real-life perspective to our decisions and to understand our results helped us move forward," Anna said.
Words to the Wise: "Take Responsibility."
Anna's combined co-operative experiences, simulation courses, and background instilled the importance of responsibility time and time again.
In many of her co-op experiences, managers and leaders wouldn't tell her what to do. She would go out and do it for herself.
"It was something that I owned fully and was responsible for," she said. "Take responsibility, and take pride in owning a project from start to end," she shared with a warm smile.
Immerse your students into the real world today.
Ready to transform your classroom learning experiences? Try Capsim's products to immerse your students in real-world experiences before stepping foot into the workforce.
Engage your students and prepare them for the challenges they'll face with our products today by visiting our website.
You can also leverage your expertise and build your own authoring tool to make your stories come to life in the classroom with our free CapsimInbox Authoring Platform.