How One of Canada's Top Entrepreneurship Programs Wins the Fight Against Commodity Graduates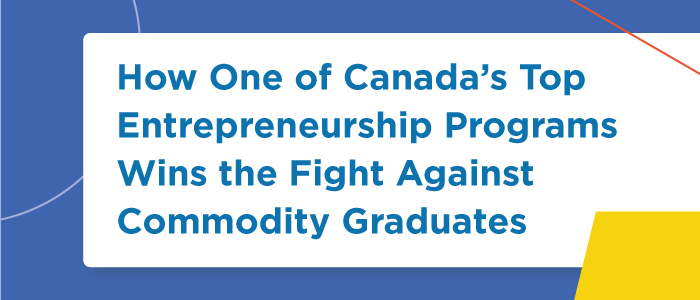 The Toronto Waterloo Region Corridor emerged as one of the world's top 20 technology clusters in 2017. Waterloo companies hold the top three spots on Deloitte Technology Fast 50 ranking. The average three-year growth rate of the Fast 50 winners is 1,689%.
University of Waterloo also ranks 11th globally to create unicorns: startup companies worth more than $1 billion.
What makes the Waterloo region informally one of the best entrepreneurial hubs in Canada? And what makes University of Waterloo students emerge with wildly successful startups, despite not having a school of business or commerce?
Collaboration, co-operatives, and experiential learning combine to create an unstoppable triple threat–a Canadian region that fosters leading startups and tech companies.
But first, what are co-operatives?
Geoff Malleck, Continuing Lecturer at University of Waterloo and self-proclaimed "Learning Evangelist," describes Waterloo's co-operative program as applied learning experiences. Students learn at Waterloo for a semester, and you then have the opportunity to practice while gainfully employed.
Waterloo's co-op program involves a real-world job application process, preparing students for what they'll experience when they graduate. These co-op jobs take students to all corners of the world; from Silicon Valley to London's financial district. The blend of co-operative programs and simulations creates relevant and meaningful learning for students to take from the classroom and apply to the real world.
Applying experiential learning to entrench students in real-life experiences.
In 2008, Geoff introduced Capsim to students enrolled in the Masters of Business, Entrepreneurship and Technology (MBET) program. The program is geared toward more innovative or entrepreneurial-minded students seeking a highly experiential graduate degree.
"I was looking for something that was less strategy out of a textbook and more 'get your hands dirty,'" Geoff said. After researching, Capsim emerged as a tool that could fit perfectly into his course design.
He was later brought into the Faculty of Arts and assigned the task of developing a series of courses in the popular Arts and Business Program. The University of Waterloo doesn't have a business or commerce school, per se, Geoff says. This program is designed for students who wish to pursue an Arts degree while, at the same time, acquiring essential business skills and knowledge. This gives students deep expertise in two areas of expertise: their Arts major in the Humanities, Languages, Social Sciences or Performing Arts, plus skills in marketing, finance, accounting, entrepreneurship, strategy, and more. Since developing the course in 2012, Geoff has delivered the fourth-year Capstone course on Strategy and Program Integration.
"I still thought Capsim had an application to students that are not in business because they're going to get jobs that require business acumen and knowledge," Geoff said. "Business acumen, while important, is second only to the desire to learn."
Time and time again, Geoff's students proved soft skills, such as critical and innovative thinking, accountability, initiative, and professionalism are crucial success factors for excelling in the course, which features Capsim.
Like the rise of success in Waterloo's entrepreneurship startups, The Arts and Business program has witnessed a growth in popularity in the last couple of years, a trend that Geoff says is "unusual" in the arts. Now, his courses have at least four sections, with 60 students per section per year.
Preparing students for interviews with simulation-based learning experiences.
Geoff gives his students the gift of storytelling during the interview process. As opposed to sharing theoretical knowledge they gained from a book on strategy, Geoff's students get to share how they applied those concepts to real-world experiences and the lessons they learned.
Geoff has received emails from past students after landing a job saying they described the Capstone simulation experience in the interview process. Moments when the interviewer asked, Describe a moment when you were working with a team, and you had adverse conditions.
"Capsim gave them that," Geoff said.
In his introductory session to the course, Geoff tells his students, At the end of the day, I'm giving you a story. And I'm also giving you tools that you're going to apply. Don't ever let these tools go away because you will use them.
As the world's largest Co-Op University, Waterloo has most of its students go out into the world every semester, applying learning through co-op experiences.
And Capstone adds to the value. Geoff takes his student's co-op experiences, including those happening outside of the classroom, and encourages students to draw from them to succeed in the simulation. Even things like playing varsity basketball, learning the value of teamwork, or volunteering in the community.
Geoff takes all the pieces and balls them up for his students to hand to the interviewer.
His course has two primary objectives:
Create a Capstone experience where students can apply the knowledge they gained throughout the curriculum and apply it in meaningful ways

Develop and hone students' professional skills such as responsibility, taking the initiative, practicing innovation, effective decision-making, and critical thinking
He encourages his students to take the initiative, practice innovation, make effective decisions, think critically, manage time, and work in teams–invaluable assets in the workforce. Students practice communication skills with presentations throughout the course.
His students apply the critical skill sets employers are seeking. "We want to graduate highly skilled, enterprise-ready, mature, and motivated students. We don't want commodity graduates and everybody looking like Grade A large eggs," Geoff said with a chuckle. "The students can develop and apply their learning and experiences using Capsim."
While Capstone is crucial for strategic decision-making, teamwork, and collaboration, CapsimInbox has a different approach. It's an individual assessment that takes students through a micro focused day in the life of a freelance designer working on multiple ongoing projects. Geoff's course further develops the professional skills of those enrolled, including the effective use of time with CapsimInbox: Time Management. The microsimulation serves as an opportunity to apply some basic time management principles and to receive meaningful feedback to manage time more effectively in his course and in the professional world beyond.
He also incorporates CapsimInbox: Ethical Decision-Making, where his students put on the hat of a general manager at a boutique hotel. Students recognize issues, investigate facts, identify stakeholders, generate solutions, and evaluate consequences–a barrage of related themes throughout the course. In addition to specific lectures, discussions, and the ethics components, the Inbox allows students to immerse in the experience of having to make decisions 'on the fly.' "It's one thing to be able to sit back and contemplate an approach and quite another to be inundated with issues simultaneously," Geoff shared.
Both microsimulations afford a rich, chaotic, time-sensitive, and situational experience. Both help students understand that the big decisions are often made in grey zones.
From serving and attracting businesses to standing in the shoes of multimillion-dollar business owners.
Outside of business settings, Geoff delivers his course professionally to economic development officers seeking certification in a professional association collaborating with the University of Waterloo. Because of Geoff's involvement in Waterloo's program, the professional association sought his ideas.
For the fellowship year of the program, Geoff suggested that we 'get them playing.' The economic development officers' job is to attract and serve businesses into their community region, help them succeed, and grow. That's what economic development is all about, right?
Working with the program director, Paul Parker, we decided to flip it around." Geoff said, "Let's let them feel what it's like to be a decision-maker for a company using Capsim." The simulation taught the economic development officers the ability to empathize with the challenges of running a business.
"Empathy is a powerful tool for any role where you are customer-facing," Geoff said. The program makes sure to integrate empathy into the process and the courses he teaches with Capstone.
Reflect on the learning process and development to see progress.
Part of Geoff's responsibility as an educator is to build reflection pieces into his instructional methods. He recognizes students in this hectic world we live in, "where everything just seems to be running faster and faster on the treadmill," he said. "We need to put the brakes on and take a look in the rear-view mirror."
He encourages students to take a look back at week one of the course. "It is only then that many come to the realization that they've developed in so many different, marvelous ways," he said.
What do you know now that you didn't know then? He challenges his students. What did you learn about yourself in this course?
Immerse your students into the real world today.
Ready to transform your classroom learning experiences? Try Capsim's products to immerse your students in real-world experiences before stepping foot into the workforce.
Engage your students and prepare them for the challenges they'll face with our products today by visiting our website.
You can also leverage your expertise and build your own authoring tool to make your stories come to life in the classroom with our free CapsimInbox Authoring Platform.