How to Author an Inbox Simulation—Even if You Aren't a Writer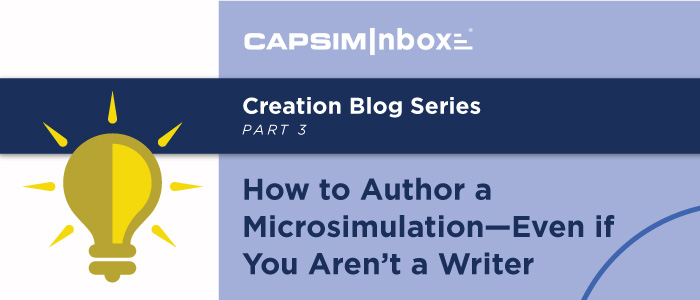 I loved the student-athlete recruiting experience. So much that I wanted to share what it was like with the whole world. My previous blog posts shared my idea around creating an inbox simulation for prospective college student-athletes, looking to compete in college. So I detailed how I created a simulation in a 24-hour race against the clock.
Every race has its challenges. The most formidable opponent I faced in this Inbox simulation was creating the characters.
Creating a fictional universe can be challenging, but it doesn't have to be.
You may not consider yourself a stereotypical storyteller. Maybe you're the furthest thing from a writer.
The great news? Anyone can create an inbox simulation to bring learning experiences to life. Just like anyone can train to run a marathon. Alright, I'm sensing some hesitation. So I'll share how some of our users leveraged their expertise and life experiences to build unique scenarios.
Anyone Can Leverage Expertise & Experiences to Write a Story
Dr. Zack Damon thought higher education was stagnant. He hit it out of the park and brought a baseball doping scandal to life with a sports management Inbox simulation for his MBA courses.
Dr. Lori Radulovich, the assistant dean of undergraduate business programs at Baldwin Wallace University, realized students aren't generally trained in approaching other cultures. So she created an inbox simulation to build cultural awareness.
Dr. Robert Portnoy, a human resources management professor at Washington University in St. Louis, noticed a significant gap between what he was teaching in the classroom and what he learned from years of experience in the airline industry. Traditional approaches to Human Resource Management instruction didn't effectively prepare students to apply the concepts to real-world situations, so he created a solution of his own.
Two experts from the University of Nebraska contextualized microeconomics to meet the demands of employers.
What sets these individuals apart? These professors aren't stereotypical authors. What brings them together is their ability to leverage industry expertise to share their stories.
Whether or not you consider yourself a writer or storyteller, we're all protagonists in the story of our own lives. We're all storytellers, overcoming new challenges every day.
We wanted to put our theory of accessibility to the test: Could anyone create anything on our platform? That's where I came in with the student-athlete simulation. I haven't earned a Ph.D. And I had accumulated a total of four months of full-time work experience when I set on the building process.
That's Not to Say There Weren't Any Problems.
Actual events inspired the best stories I wrote in college. My favorite story that won the creative fiction submission at DePaul University's Spring English Conference was about a father and daughter battling their way across two miles of Devil's Lake State Park in a summer storm. They nearly drowned, but he taught her lessons of resilience and determination in a life-threatening situation.
When the judges found out it was a true story, and the little blonde girl protagonist was me, I switched my submission to creative nonfiction.
Character Creation in CapsimInbox
The point is, I struggled then, and I struggle now, in creating compelling characters outside of the people I directly know.
So much so, that I named one of the characters in my simulation, "Joe Baskin." A twist on Netflix's original documentary series, Tiger King.
But it isn't just about the names. It's about implementing distinctive traits to separate the emails flooding in the Inbox, only by glancing at the content. A user should distinguish Joe Baskin's email from Mary Lou's without needing their names.
I spoke to my colleague about his character creation process. Brendan Langen, Capsim's Director of Product Design and Development, drew upon inspiration from books and movies to craft his character personalities. He reads lots and lots of books.
That got me thinking, if I wasn't as apt to refer to popular culture, how could I create compelling characters that reflected who I've encountered in real life?
You can find inspiration in any facet of life, just by living it.
When creating an Inbox relevant to your professional world, you can draw on the many "characters" you run into every day. The patient and encouraging boss. Or maybe you're unfortunate and have an angry and hostile one.
I thought back to my recruiting experiences when I met with a Big 10 coach. The first thing he greeted me with after he shook my hand wasn't Hi, nice to meet you. It was, what cold hands you have!
How was I supposed to respond to that?
I looked at him in uncertainty, not sure if this was his sense of humor or if he expected me to come back with a candid reply. I laughed it off uncomfortably instead. From there, my interaction with that coach grew worse. And that's fine. But I didn't want to buy into someone else's vision for my future.
He asked me what I envisioned in my college experience. When I adhered to academics as a top priority and athletics as a passion I wanted to continue, he countered it with his view—convincing me that I will leave and breathe running. And that's fine. But I didn't want to buy into someone else's vision of my future.
I vented my frustration with this coach, and six years later turned him into an antagonist in an Inbox simulation. (You can say I hold grudges for a while.)
But there were good guys too. And great women. Some of my favorite recruiting experiences with coaches involved strong women who were great runners when they competed in college and who also happened to be moms.
They had a team of minions at home and a team of fifty kids at college, and it showed.
Looking at my Inbox context: I found myself asking, what characters have I encountered in real life? What challenges have I faced that I can replicate for our learners?
I thought back to a different recruiting visit, with a larger Division III team of over 100 athletes. It was a pre-meet day, so all 100 men and women went out for a "shakeout" run together. A sea of red and green embarking on a four-mile easy-paced run.
And that's something you don't often see in teams. Men and women typically have separate coaches and distinct training programs. But that's one of the aspects that drove the university to win 22 NCAA Division III Championships.
I picked out key traits from the antagonists and protagonists I encountered in real life and placed them into my simulation as the characters driving my story forward.
You'll have the most success with the things you know the best and the things you've experienced firsthand. Every day, we overcome challenges. And we are the protagonist of our own stories.
What Are You Waiting For?
Now that you've read multiple examples of wildly successful stories, what's holding you back? Get writing with the CapsimInbox Authoring Platform. Your budding career as an author awaits.