Lockdown intensifies Capsim Spring Challenge in 2020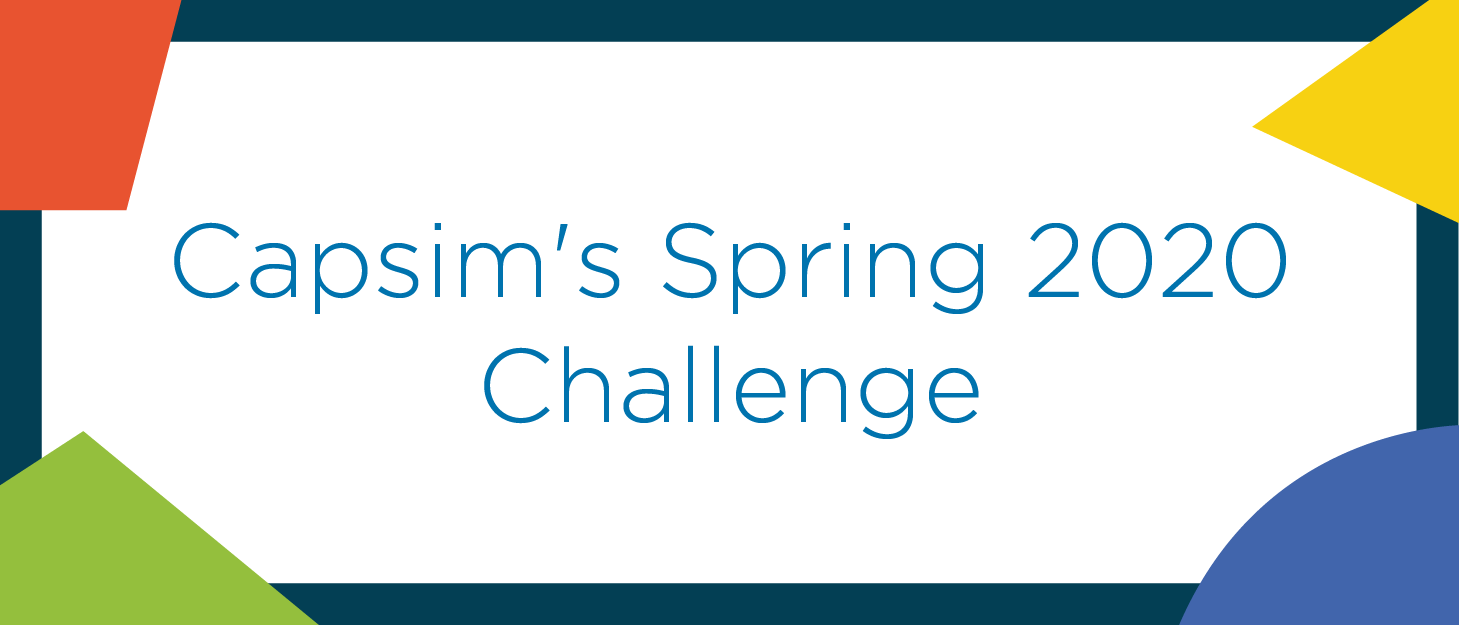 The Capsim Challenge saw increased student participation this Spring after a tough semester, with students in isolation and on-campus life in lock-down. Finalists reported that a lack of distraction made it possible to focus and compete at their best.
Vida Tiu and Darreyl Milledge, from Webster University, won the Capstone Spring 2020 Challenge; and Kamil Bubinski and Maciej Milcarz, from the University of Warsaw, won the Foundation Spring 2020 Challenge.
Finalist Gabe Sayer, from Bowling Green State University, said: "Being isolated while completing this challenge actually proved to be beneficial to me. Without my normal busy schedule and heaps of responsibilities, I was able to focus much more on the challenge."
Christina Lewis, a finalist from The Kings College New York, said being at the epicenter of COVID-19 disease in the United States was, "A bit scary, seeing those numbers continue to climb." However, "Participating in the Capsim simulations was a great way to pass the time during quarantine."
Professor Dawn Fotopolus, whose students have ranked in six of the last seven Capsim Challenges, said: "The post COVID-19 world will be a much tougher and more sobering world, one in which running and maintaining a profitable, viable business will be more important than ever." Supervisors at Kings College have told her that thanks to her students' simulation experience, they: "Understand, at a much more intuitive level, how to run a business, even more so than graduate students. That's deeply satisfying to me, as their professor."
The biannual Capsim Challenge is open to all students who have completed a Capsim Simulation in their course in the last 12 months. Most students join for the same reason as Capstone winner Vida Tiu: "The Capsim Challenge is fun, challenging and highly instructive!"
The Spring 2020 Challenge attracted students from universities around the world, including Australia, Austria, Brazil, Canada, Hong Kong, India, Israel, Jamaica, Malaysia, Poland, Thailand, Turkey and the United States.
With all Capsim simulations available online, this semester's shift from working in class to working in isolation was seamless, according to Professor Simon Fraser from the University of the West Indies whose students were runners up in the Capstone Challenge. While his university closed for face-to-face teaching in mid-March: "The transition with Capsim was straightforward as students continued to meet using Zoom, WhatsApp and Google docs and we did the weekly debrief using Zoom."
All past winners are listed in the Capsim Hall of Fame at /events/challenge/#/hof.
Final results for Capsim's Spring 2020 Capstone® Challenge:
Place
University Name
Participant Name(s)
Professor
Team
Balanced Scorecard
1st
Webster University
Vida Tiu
Darreyl Milledge
John Jinker
Baldwin
768/1000
2nd
University of the West Indies
Ansaar Ali
Simon Fraser
Andrews
736/1000
3rd
University of Toledo
Jeremy Deering
Chloe Michael
Stephen Calaway
Chester
709/1000
4th
University of Northern Iowa
Ningwei Xu
Christine Schrage
Digby
613/1000
5th
New York University
Jiayi Li
Terry McCarthy
Ferris
558/1000
6th
Adelphi University
Hongliang Zhou
Ming Yang
Timo Partanen
Erie
535/1000
Final results for Capsim's Spring 2020 Foundation® Challenge:
Place
University Name
Participant Name(s)
Professor
Team
Balanced Scorecard
1st
University of Warsaw
Kamil Bubinski
Maciej Milcarz
Aleksandra Wasowska
Tomasz Ludwicki
Andrews
664/1000
2nd
UOW Malaysia KDU University College
Mei Yan Wan
Wilson Kong
Chong Feng Cheng
Thiam E Loong
Suresh Kumar Puspowanam
Digby
603/1000
3rd
Sunway College Kuala Lumpur
Yong Kuan Chen
Wong Zhen Xuan
Chee Min Hao
Gan Jing En
Suresh Kumar Puspowanam
Baldwin
591/1000
4th
Manipal International University
Chong Yi Fei
Kelly Tafdzwa Jekera
Eow Sze Min
Yeoh Hao Jing
Seena Biju
Erie
539/1000
5th
The King's College, NYC
Edvin Loefgren
Aidan Gauthier
Micheal Huber
Christina Lewis
Jake Staples
Dawn Fotopulos
Ferris
524/1000
6th
Bowling Green State University
Gabe Sayer
James Zeigler
Chester
465/1000