Presenting CapsimCore Intro to Business: A Primer Edition 2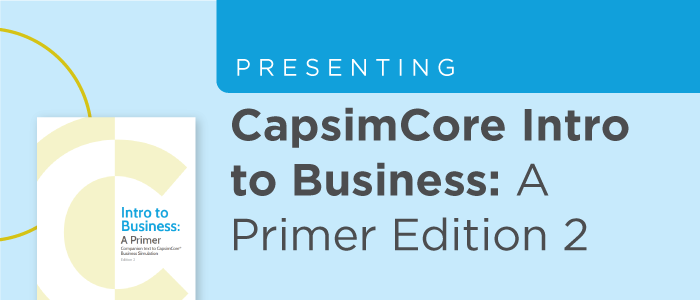 We've updated the CapsimCore Intro to Business: A Primer eText to its 2nd edition, now available to all CapsimCore bundle users.
Intro to Business: A Primer serves as a companion text to CapsimCore® Business Simulation. The eText now includes updated articles, additional content, strategy chapters like incorporating ethics into strategy, and added case stories, connecting aspects from the real-world to the simulation.
The second edition includes a brand-new chapter: Case Stories Application in CapsimCore versus Real-World Application. The primer directs students to articles from the real world to contextualize past challenges many industries encountered (like an oil industry that fell majorly behind drilling production due to unexpected changes in pressure).
Students engage in questions like, What Impact Does Reliability Have on My Material Costs? Follow-up segments tie in customer buying criteria for specific products–reliability, performance, size, and price.
Edition 2 Prepares Students to Expect the Unexpected
With Edition 2 of the Primer, Capsim's case stories help prepare students to expect the unexpected. Educators can challenge students' ethical decision-making skills with real-life cases and real-world consequences.
Let's take Deborah Shank, a Wal-Mart employee who, in 2000, collided her minivan with a semi-trailer. The accident left her with permanent brain damage, and she was awarded a $700,000 settlement for damages from the trucking company.
After legal costs and expenses, she was left with $470,000. Wal-Mart, which provided Deborah's health insurance, sued her for the money. The legal action was a valid clause in Deborah's health insurance contract.
But are certain instances deserving of more discretion?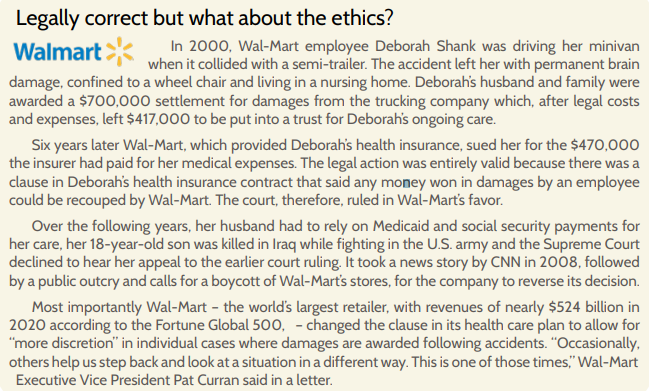 CapsimCore Bundle's content is updated to provide up-to-date information with relevant examples within our material so users can continuously leverage our resources in their current and upcoming courses.
From Chobani® yogurt to smartphones and Wal-Mart, Capsim's primer provides relevant, real-life examples with engaging scenarios for students.
Immerse Your Students in Case Stories Today