Proctorio Partnership Brings Comprehensive Proctoring Solutions to Comp-XM, at No Additional Cost to You.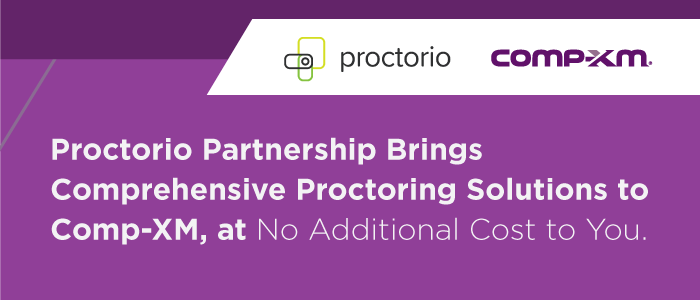 Capsim's partnership with Proctorio brings a comprehensive proctoring solution directly within Comp-XM — at no additional cost to you.
With the automated integration, instructors can:
Validate that their students are the ones taking the exam

Ensure no one else is helping them complete the exam

View flagged recordings of suspicious behavior

Enable students to take proctored exams wherever, whenever

+ more to come
With the simple check of a box, educators can enable Proctorio's automated proctoring solution when they create their Comp-XM exams. They can also enable Proctorio on existing Comp-XM assessments in exam preferences.
Proctorio Gradebook Provides Overview of Exam Results & Analytics
Proctorio Gradebook's features provide educators with an overview of the Proctorio Exam Results and Analytics. This main portal allows instructors to access students' exam recordings, check for suspicious activities, verify students' identities, and view location information.
When student recordings are available, instructors can access Proctorio Gradebook through the link on their Comp-XM dashboard, as well as the button in the Student Scores section.
Interested in Utilizing this New Functionality?
You may want to check in with your department chair before finalizing your decision. And if you are interested in using this tool, we encourage including information about the exam proctoring in your course syllabus.
Reach out to your Customer Relationship Consultant or email us at support@capsim.com to start using Comp-XM Proctorio today.
At the moment, our update is only available to North American institutions.