The Best Online Tools and Platforms for Educators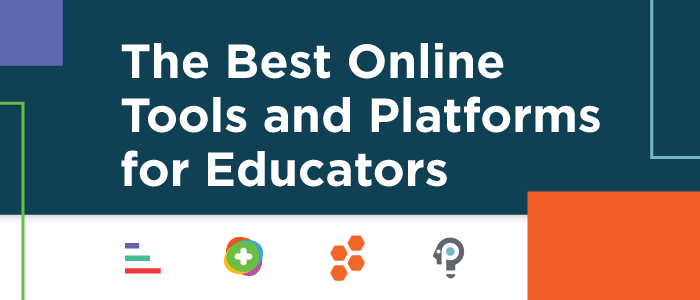 With the global pandemic presenting a clear threat to educators and students worldwide, many schools are switching to online tools and platforms. To reflect this shift, a report from Global Industry Analysts predicts the e-learning market will be valued at $325 billion by 2025.
Michele Eaton, director of virtual and blended learning at the Metropolitan School District of Wayne Township, explains how teachers prioritize ease of use along with flexibility when choosing an online educational tool. In addition, she argues that students benefit from having "a simplified arsenal of tools" because they need to learn how to use these digital tools for learning. In line with this, digital media lecturer Jonathan Fahnestock of Maryville University emphasizes how an accessible user interface and interactivity are key factors that contribute to the success of e-learning apps. With the vital role that digital media plays in education today, ensuring that both teachers and students have access to well-designed learning tools will lead to online learning success.

For students, experiencing real-world scenarios is a significant component of their education. The CapsimInbox Authoring Platform enables educators to create realistic simulations through an email platform. Through a user-friendly interface, they enable learners to build career skills and receive feedback for skills development. While many of today's assessments tend to be limited, this platform aims to provide a practical learning experience that prepares students for their future workplace. Emails, instant messages, and documents help this immersive experience come to life.
Many of today's students have difficulty paying attention in class. To make the learning experience more enjoyable, Flipgrid enables students to create videos with filters and stickers, much like an academic version of Snapchat. It is compatible with a range of mobile devices and can be used to foster greater student engagement. It offers an alternative to written assignments through an oral video and is also free to use. Teachers can use this platform for an assignment on video blogs or video diaries for students to update regularly.

For online quizzes, Socrative is a useful tool for remote assessments. It enables educators to create customized quizzes and quick, timed responses for real-time learning. In addition, the 'Space Race' feature lets students compete in a game-like format, either individually or in teams. The World Economic Forum explains how the integration of games is especially helpful for younger students who require more motivation. Lastly, the 'Exit Ticket' function asks the students several questions, which can gauge learning and provide feedback.

Educators may struggle in allowing students to take the lead in online discussions. A recent research study involving Packback found that the platform leads to improved student grades, greater weekly participation, and peer interactions. Letting go of some control and allowing students to make connections between concepts by themselves can provide them with more independence and promote greater academic interest. For instance, letting them write their questions on the topic and avoiding the over-moderation of student discussion posts allows for more creativity and debate.
In this unprecedented situation, exploring the full potential of online learning is dependent on the capabilities of students and educators to adapt to virtual platforms. While it can be challenging to replicate a physical classroom atmosphere online, focusing on promoting autonomy and curiosity is critical. Rather than memorization and rote skills, there is a new focus on critical thinking and adaptability. Through online tools and platforms, educators can help make learning fun and effective by providing an interactive learning experience.
Written exclusively for Capsim