A better way to teach Human Resources with CapsimInbox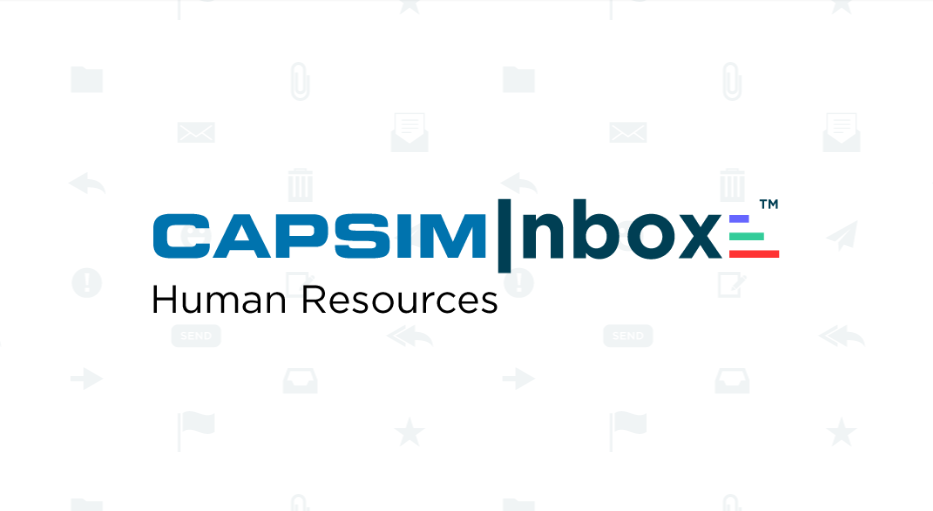 Capsim is excited to introduce CapsimInbox: Human Resources – a new microsimulation that measures the knowledge, strategies and skills required of effective HR professionals.
Developed by Robert Portnoy, Capsim Contributor and Professor at Washington University in St. Louis, the microsimulation leverages his 30+ years of experience as an HR practitioner to introduce learners to real-world, day-to-day issues they'll face in their careers.
Want to hear from the author? Check out our recent interview with Robert Portnoy and learn how this tool can help you bring the world of HR into the classroom.
What is CapsimInbox?
CapsimInbox simulates a 'day in the life' experience by immersing learners in a real-world work scenario where they manage various situations by responding to emails and instant messages. With the average microsimulation taking 30-60 minutes to complete, CapsimInbox provides an adaptable and intuitive experience that you can use as homework, interactive case study, or assessment.
Key Features


The Scenario
Learners experience the role of Vice President of HR at a leading aerospace company with over 10,000 employees. Participants are tasked with responding to a variety of situations, problems, and information related to employee conduct, recruitment and selection, compensation plans and more. It's up to them to gather and evaluate information from their co-workers to make the best decisions and recommendations.
The Skills Measured
CapsimInbox: Human Resources measures critical skills and competencies established by the Society of Human Resource Management (SHRM):
Talent Acquisition and Development
Ethics and Compliance
Compensation and Benefits
Performance Management
Labor Relations and Safety

Objective Feedback
Once the simulation is complete, learners receive a report with tailored and objective feedback based on their performance. This feedback report highlights their specific strengths and weaknesses, increasing their self-awareness and pinpointing areas in need of development.
CapsimInbox: Human Resources also provides learners with an Individual Development Plan (IDP) containing evidence-based tactics for improvement on each HR skill measured in the simulation. The IDP guides participants through the creation of S.M.A.R.T goals (Specific, Measurable, Attainable, Relevant, and Timely) to give them actionable next-steps in their development.
The feedback report consists of learners' overall score, developmental index, self-awareness score, and skill gap analysis. You can view a sample feedback report by clicking on the image below.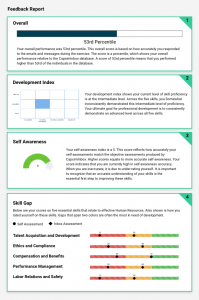 Want to learn more?
Check out our self-guided inbox simulation demo. It gives you a firsthand look at what employees will see in a typical inbox simulation.