Authoring Platform Update 1.8: Improved Context for Authors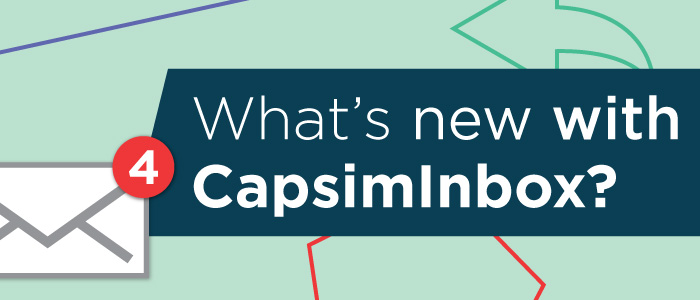 The CapsimInbox Authoring Platform is an inbox builder that creates immersive simulations that measure and develop essential skills in a real-world context. If you can write an email, you can quickly build a day-in-the-life inbox simulation to engage, evaluate and develop your learners in a real-world environment.
We continually incorporate feedback to update our products and improve the user experience. We're excited to share a few recent updates in our CapsimInbox Authoring Platform.
View Mode
Additional context has been added to View Mode—the author view of the Inbox page when not editing content.
You'll find information at the top of the page regarding the timing of stimuli, as well as if feedback is being provided for that item. You'll find similar timing information in the trigger area for responses.
Another critical piece of information is related to scoring. Any skill points assigned to a response will display in that same response area. These are color-coded based on positive and negative values.
The Scoring Report has been restructured to include more details that pertain to authors. In addition to highlighting the stimuli tied to each skill, you can now dive deeper into emails and responses. Each email and instant message will now display maximum and minimum points for each assigned skill, along with details for each response. Authors can filter this report by skills as needed.
After receiving feedback regarding IMs overlapping with the Respond button, we have moved the Respond button to the left side for all emails. This goes for both multiple-choice and ope- text response options.
The Terms of Use of the platform have been updated. Upon logging in, existing authors will see a pop-up to read through the terms and will be presented with the option to accept or decline. Users will be forced to agree to access the platform. New sign-ups will not see this pop-up. However the terms are presented while creating an account.
As always, feel free to reach out to our team at authoring@capsim.com with any questions you may have!